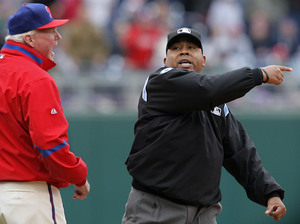 Charlie Manuel earned an ejection from third base umpire Adrian Johnson yesterday for his choice words in a 6-5 loss to the Cubs.
(Nobody ejected Johnson for his clearly blown home run call.)
But Manuel could have been plenty steamed about other things:
His team blew a 5-4 lead in the eighth inning.
They were 2 for 11 with runners in scoring position.
They left 15 runners on base.
They committed two more errors, giving them 15 in 13 games.
The Phillies dropped to 6-7, the third time this season they have been unable to climb over .500. But that shouldn't be much of a surprise, should it? This is how the Phillies play in April. They didn't get over .500 until May 26 last season, and they needed five attempts to do it. They didn't get over .500 until May 5 in 2006, either. For whatever reasons, this team starts slowly. Every year. They haven't had a winning April since 2003. That's a lot of bad baseball in Aprils since.
*
In the Phillies Notebook, Jimmy Rollins could play tomorrow night while Shane Victorino is optimistic he'll be back in 15 days.