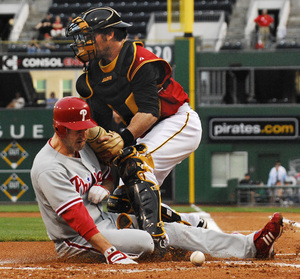 Charlie Manuel had a few hunches yesterday at PNC Park.
He had a hunch Chris Coste would do the job in the five hole. He had a hunch that it would a good time to give Brad Harman his first big-league start. So what happened? Coste went 3 for 5 with a double and three RBIs, and Harman went 1 for 3 with a double and one RBI in a 6-5 victory over the Pirates. But that wasn't Manuel's only two hunches. He had a quick hook for Adam Eaton in the fourth inning, when Eaton allowed four extra-base hits, three runs, a walk and a wild pitch. When Eaton fell behind 3-0 to Brian Bixler, Manuel made his way to the steps in the visitor's dugout. When Eaton walked him on four pitches, Manuel walked onto the field to pull Eaton -- even with pitcher Zach Duke coming to the plate.
"He didn't have a whole lot when he started the game, I felt like," Manuel said. "But I felt like, through three innings, he did make a pitch when he had to every now and then. Then, in the fourth inning, they were hitting the ball hard. He was starting to struggle. I thought they were catching up with him. And if you want to know the truth, I didn't think he was going to hold them. So I took him out."
The bullpen allowed two runs in 5 1/3 innings to preserve the win.
Tom Gordon threw a scoreless seventh to pick up the win. Gordon is 2-1 with a 1.93 ERA in 10 appearances since Opening Day. Opponents are hitting just .147 against him in that stretch. J.C. Romero threw a scoreless eighth. He is 1-0 with a 0.00 ERA in 12 appearances. He has struck out 10 in 11 1/3 innings and opponents are hitting .214 against him. Brad Lidge pitched a perfect ninth to pick up his sixth save. He is 0-0 with a 0.00 ERA in 11 appearances. He has struck out 12 in 11 innings and oppenents are hitting just .128 against him.
That's a pretty good 1-2-3 combo.
*
In the Phillies Notebook, more on Manuel's decisions to play Harman, move up Coste in the lineup and bench Ryan Howard. Kind of.
*
Jim Salisbury attended John Marzano's funeral yesterday.