Sources: Phils agree to Lee trade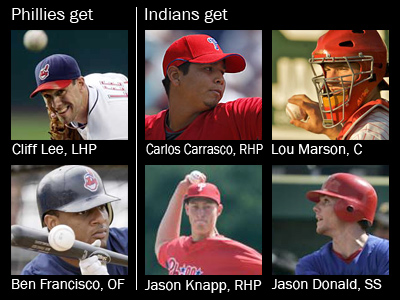 News blogs, sports blogs, entertainment blogs, and more from Philly.com, The Philadelphia Inquirer and the Philadelphia Daily News.
Sources: Phils agree to Lee trade
Andy Martino
Two sources with knowledge of the negotiations confirmed to the Inquirer that the Phillies have agreed to trade Lou Marson, Jason Donald, Carlos Carrasco and Jason Knapp to Cleveland for pitcher Cliff Lee and outfielder Ben Francisco. The deal is done pending a review of medical records, and could be announced shortly.
Lee, 30, the 2008 American League Cy Young Award winner, is 7-9 this season with a 3.14 earned run average. Francisco, 28, is a righthanded hitting outfielder, batting .250 with 10 home runs this season. Francisco has pinch hit twice this season, going hitless in two at-bats.
The Phillies had long been engaged in talks with the Toronto Blue Jays to acquire pitcher Roy Halladay. But the Blue Jays asked for pitcher J.A. Happ and top prospects Kyle Drabek and Dominic Brown. Phils general manager Ruben Amaro Jr. was able to acquire a former Cy Young Award winner without trading any of those players.
The most likely roster moves for the Phils would be to option John Mayberry Jr. to Triple-A, and demote a pitcher like Steven Register or Kyle Kendrick.