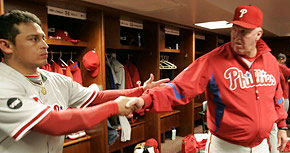 It feels like it happened a loooooong time ago, but just six months ago the Colorado Rockies ended the Phillies' first trip to the postseason since 1993 by sweeping them in the NL division series.
It's the night the lights went out.
Remember that?
"It's unfortunate," Jamie Moyer said after their 2-1 loss to the Rockies in Game 3 knocked them out of the playoffs. "I thought this team had a chance to do some special things in the playoffs. Unfortunately, it didn't work out that way."
Will they be back?
"You never know," Moyer said. "When you have that magic during the course of a season and you fight and you battle and you deal with whatever you have to deal with during the course of the season and you stay together and win, it's very special. These moments don't come along too often. I haven't had them come along too often in my career. And you cherish them. You don't know when you'll get back. You hope to get back. But it's over for us."
*
Chase Utley remains hot. But Greg Dobbs, Pedro Feliz and Eric Bruntlett also contributed in last night's 5-4 victory over the Mets.
*
Here's the scoop on Jimmy Rollins' trip to the disabled list.
*
Funeral services for John Marzano are Friday.