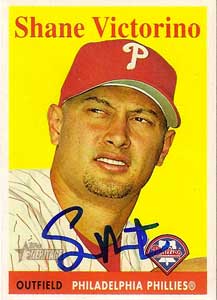 Got a question for Phillies centerfielder Shane Victorino?
If you do, e-mail me here.
Include your first name, initial of your last name and city and state where you're from. Get 'em in soon because I'd like ask Victorino tomorrow. If you've read previous Q&A's with Chase Utley, Mike Schmidt, Rich Dubee, Chris Coste and Ryan Howard you know it's a good mix between legitimate baseball questions and less serious ones.
*
In a real bummer, the New York Mets won't play Rick Astley's "Never Gonna Give You Up" anymore. I guess they didn't like being Rick Rolled on opening day.