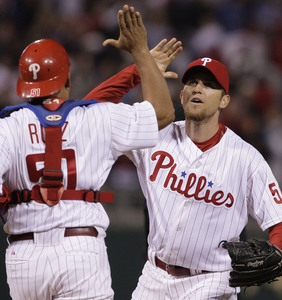 Got a question for Phillies closer Brad Lidge?
Lidge has been money so far for the Phillies. He enters tonight's game against the Nationals at 1-0 with a 0.47 ERA and 10 saves in 10 opportunities.
E-mail me at tzolecki@phillynews.com and I'll try to ask him the top 10 questions later this week. Please include your first name, initial of your last name and city and state where you live. Lidge attended Notre Dame, where he majored in marketing and economics, before the Houston Astros made him the 17th overall pick in the 1998 amateur draft. The Phillies acquired him in a Nov. 7 trade from the Astros. Again, I'll take baseball questions and questions that aren't baseball related. Take a look at last Saturday's Q&A with Jayson Werth for an example. Or take a look at Q&A's we've done with people like Chase Utley and Mike Schmidt.
*