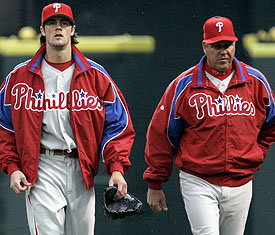 Phillies pitching coach Rich Dubee couldn't have had an easier 2007.
Yeah, right.
He watched the following pitchers land on the DL: Adam Eaton, Freddy Garcia, Tom Gordon, Jon Lieber, Ryan Madson, Brett Myers, Francisco Rosario, Cole Hamels, Mike Zagurski and Yoel Hernandez. Because of injuries and ineffectiveness, he also used pitchers like Brian Sanches, Kane Davis, John Ennis, Zack Segovia, J.A. Happ, Matt Smith, Joe Bisenius and Anderson Garcia.
Dubee is hoping the Phillies have better luck in 2008.
Got a question for Dubee? It can be about anything. If you do, e-mail me at tzolecki@phillynews.com. Include your first name, initial of your last name and city and state where you live. I'll ask him the 10 best questions, and his answers will be published in Saturday's Inquirer.