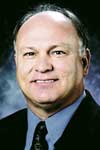 Got a question for Phillies assistant general manager Mike Arbuckle?
E-mail questions to me here.
I'll try to pick 10 of the best and ask him later this week. Actually, later this week is late Thursday night, so hurry up and get your questions in. Arbuckle has been in charge of scouting and player development with the Phillies since Oct. 19, 2001, and he has been with the organization since 1992. But under Pat Gillick he has become more involved in the major-league side of things, so he can take questions about anything in the organization.