Archive: August, 2011
Matt Gelb, Inquirer Staff Writer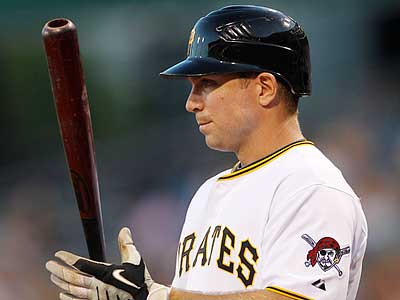 CINCINNATI — John Bowker is not automatically on the Phillies' postseason roster. Just because he was acquired in a trade from Pittsburgh on Wednesday, the day postseason eligibility is determined, does not mean he immediately becomes a key cog off the bench.
He will have a chance in September to prove his value. The Phillies have sought a bench upgrade for the entire season and decided, given the circumstances of having the lowest waiver priority, that this was the best route to explore.
Matt Gelb, Inquirer Staff Writer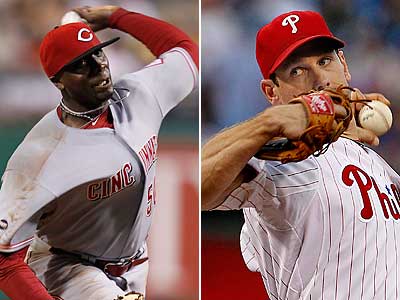 CINCINNATI — Cliff Lee may meet his offensive match at Great American Ballpark.
Lee has homered twice in 2011 and is very prideful about his hitting. In 59 at-bats, he's batting .220 with four extra-base hits. He's also stolen a base.
Matt Gelb, Inquirer Staff Writer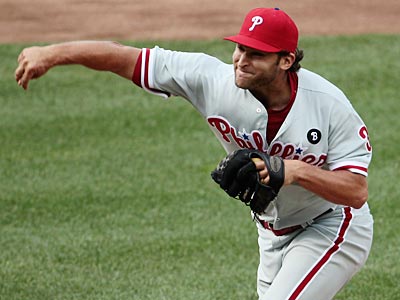 UPDATE (12:30 a.m.): Well, it was someone not currently on the 40-man roster and a position player, but not the one we thought. The Phillies have acquired outfielder/first baseman John Bowker from Pittsburgh, according to CSNPhilly.com. More in the morning.
EARLIER: CINCINNATI — Following Tuesday's 9-0 dismantling of the Reds, righthander Michael Schwimer was optioned to triple-A Lehigh Valley.
It's a curious move for a few reasons: One, the bullpen isn't overly taxed, so there was no need to send down a pitcher who has adequately filled the role of 12th arm. Two, no one is ready to return from the disabled list. Three, Wednesday is Aug. 31.
Matt Gelb, Inquirer Staff Writer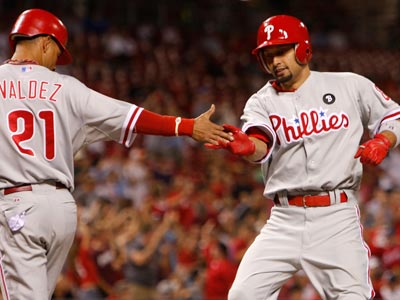 CINCINNATI — No one will say Shane Victorino is the National League MVP, because he isn't. But the fact that we're even having this discussion says enough.
Victorino is unquestionably the Phillies' best hitter through 130 games in 2011. In the National League, he ranks eighth in batting average, eighth in on-base percentage and ninth in slugging percentage. He is second in the league with 14 triples, a career-high. He has 15 home runs and will probably set a career-high there, too.
He missed 27 games because of two disabled list stints.
Poll: Phillies' Fourth Starter

(1375 votes)
Matt Gelb, Inquirer Staff Writer
CINCINNATI — Just like in the past, the Phillies will use this year's Arizona Fall League play to make decisions on a few fringe minor-leaguers. The most notable name is Tyson Gillies, one of the three prospects acquired in the second Cliff Lee trade.
Gillies is one of seven Phillies farmhands who will play for the Scottsdale Scorpions this fall. All seven players are eligible for selection in this winter's Rule 5 draft if they are not protected on the 40-man roster. All seven are not currently on the 40-man roster.
So this fall is just another chance for evaluation. Gillies is joined by righthanders Tyler Cloyd, B.J. Rosenberg, Colby Shreve; lefthander Jacob Diekman; and infielders Cody Overbeck and Darin Ruf.
Bob Brookover, Inquirer Columnist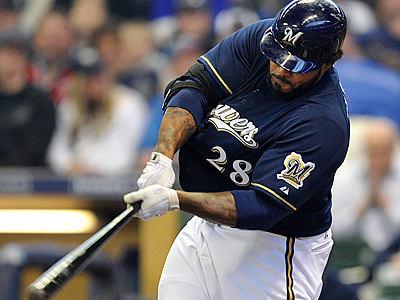 Earthquakes, and hurricanes, and the Milwaukee Brewers, oh my.
Two of those three things have come and gone and now the Brew Crew is closing in on Philadelphia, too.
Milwaukee did not seem like much of a threat to the Phillies' bid to finish with the best record in the National League 2 1/2 weeks ago. After the Phillies finished a 9-1 West Coast trip with a sweep of the Los Angeles Dodgers, they were 10 games better than the Brewers.
Matt Gelb, Inquirer Staff Writer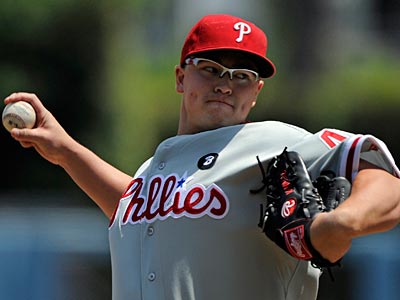 Had a lot of fun writing the story of Vance Worley and his dual existence (at least the way I see it). The more and more feedback I heard from fans in the last month triggered a big feature. The common refrain was: Who is this guy? Where did he come from? And why the hell does he act the way he does?
Sunday's lengthy feature attempted to answer those questions. But there was a lot I had to leave on the cutting board, and here is some of that to bide the time until the Phillies actually play baseball again. (There is no rain in the forecast for Cincinnati this evening.)
***
Ray Parrillo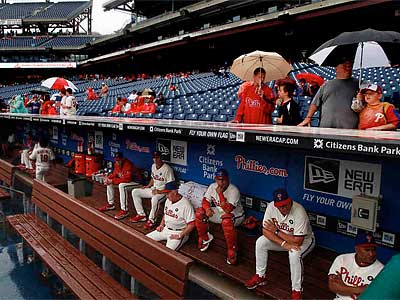 Tickets for the Phillies-Marlins game originally scheduled for Saturday night will be good for the second game of the Sept. 15 split doubleheader, which begins at 7:35 p.m. Tickets for Sunday's postponed game will be good for the 2:35 p.m. game to be played on Sept. 15.
The 2:35 start was deemed necessary because the Phillies and Marlins will be traveling after playing day games on Sept. 14.
---
Have a question? Send it to Matt Gelb's Mailbag.