Archive: July, 2012
Bob Brookover, Inquirer Columnist
WASHINGTON D.C. -- Hunter Pence said his goodbyes inside the visiting clubhouse at Nationals Park exactly 367 days after saying hello at Citizens Bank Park.
The circumstances of the departure and arrival could not have been any more different.
When Pence arrived in Philadelphia from Houston last year at the trade deadline, he was supposedly the missing piece for the team with the best record in baseball.
Matt Gelb, Inquirer Staff Writer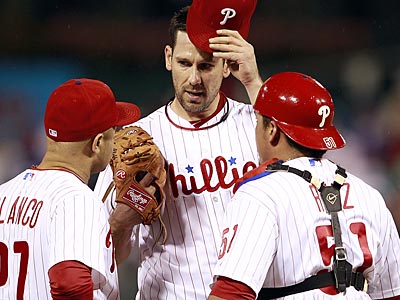 It's Monday, and the last-place Phillies are officially open for business. There are some 26 hours until the trade deadline and just about every rumor you can imagine will be floated in that time.
In all likelihood, the Phillies will trade Shane Victorino, Joe Blanton and Juan Pierre. They are free agents this winter and have been scouted extensively by contending teams.
But Ruben Amaro Jr. is hardly predictable this time of year, as evidenced by an exchange with reporters Friday. The general manager was asked if he planned on keeping his expensive starting rotation — Cole Hamels, Cliff Lee and Roy Halladay — intact.
Poll: Which players should the Phillies trade?

(6636 votes)
Bob Brookover, Inquirer Columnist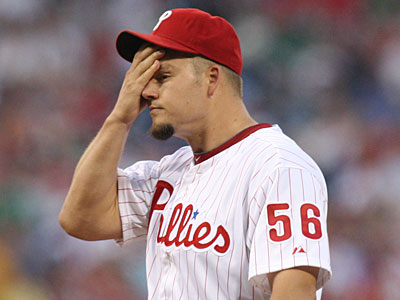 There is a report from MASNSports.com's Roch Kubatko that the Baltimore Orioles have asked the Phillies to fax righthander Joe Blanton's medical records, a sign that the two sides could be near completing a trade.
A baseball source indicated that the player the Phillies want in return for Blanton is infielder Jon Schoop, the Orioles' third-ranked prospect, according to Baseball America.
Schoop, a 20-year-old righthanded hitter from Curacao, has played this season at double-A Bowie in the Eastern League.
Matt Gelb, Inquirer Staff Writer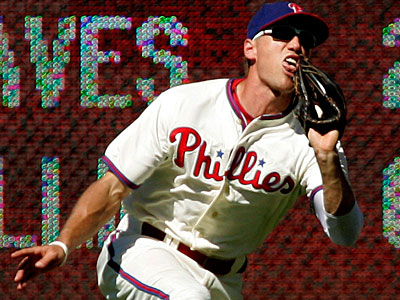 ATLANTA — No, Hunter Pence was not traded. He is not in Charlie Manuel's lineup for only the second time this season and first time since April 23. The manager wants Pence to rest for a day, and it just so happens to come with the trade deadline 48 hours away.
Pence arrived early to Turner Field and took some hacks in the cage. He sat at his locker and smiled as Juan Pierre talked about how he'd coach the U.S. basketball team.
While his name has surfaced in rumors, the Phillies are not willing to deal him unless blown away by a package of top prospects. Remember, they surrendered three top 10 prospects to fetch Pence a year ago. Settling for a much smaller return would be an embarrassing admission of failure.
Matt Gelb, Inquirer Staff Writer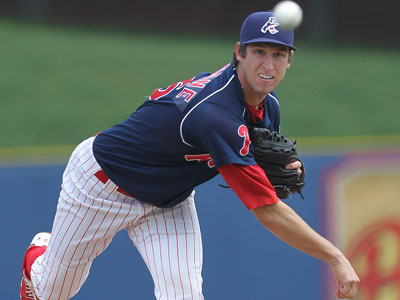 ATLANTA — As the focus slowly shifts toward 2013, we will attempt to do the same here at The Phillies Zone. So on a lazy Saturday, here are some minor-league notes...
PETTIBONE MOVES UP: Benny Looper always thought Jonathan Pettibone could move the quickest of the heralded starters that spent 2011 in single-A Clearwater. He was not the most hyped, but he was the most polished.
"We've thought highly of him," said Looper, the Phillies' assistant general manager. "We thought all along we had a good group in Clearwater last year. We thought he was the guy who could pitch better than the other guys. The other guys may have some more power stuff, but he has a good arm. A good change-up, an above-average fastball. We've thought all along he had better command and might move quicker. We talked about that a year ago."
Matt Gelb, Inquirer Staff Writer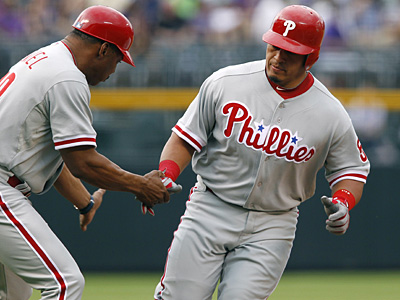 ATLANTA — This was bound to happen. Carlos Ruiz is tied for most games played by a catcher and only three others have squatted behind home plate for more innings. He raced through the first half of the season with a .350 batting average and largely avoided the hazards of everyday catching.
Then he woke up one morning in Los Angeles and his left foot started bothering him. Charlie Manuel termed it as mild plantar fasciitis. It became such an issue he pinch-hit last week vs. Milwaukee wearing sneakers instead of cleats — and tied the game with a sacrifice fly.
"It felt like a knife in the back of my foot," Ruiz said.
Matt Gelb, Inquirer Staff Writer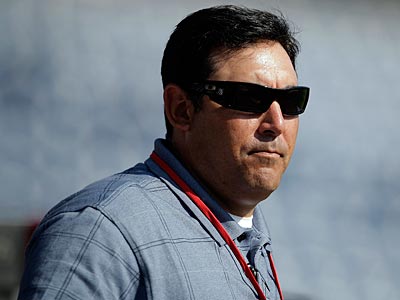 ATLANTA — The Phillies arrived here late Thursday night for a series that could decide their 2012 fate. It is difficult to parse a 162-game season into a three-game stretch in late July, but the Phillies occupy a tenuous position between contending and irrelevancy.
"The numbers don't lie," Ruben Amaro Jr. said. "We've put ourselves in a very difficult position."
The Phillies general manager was accompanied by three of his assistants, or "henchmen" as he calls them. There are decisions to be made with Tuesday's trade deadline nearing.
Bob Brookover, Inquirer Columnist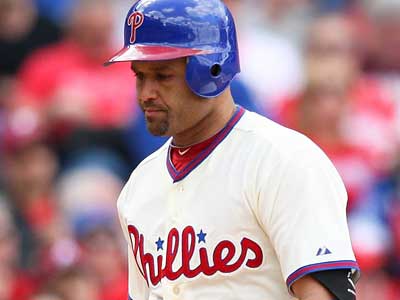 Third baseman Placido Polanco was placed on the disabled list Thursday with lower back inflammation. The team said his roster replacement will be announced before the start of the team's three-game series in Atlanta Friday.
Polanco had missed the Phillies' last three games because of the ailment. Manager Charlie Manuel said the injury is similar to a back injury that bothered the third baseman for much of last season.
The Phillies do not figure to miss Polanco's bat. Since his average topped out at .294 on June 4, he had hit just .184 with five extra-base hits -- all doubles -- in 32 games.