Archive: July, 2010
Matt Gelb, Inquirer Staff Writer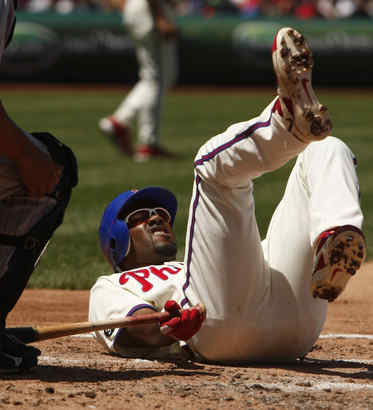 WASHINGTON -- When reporters were allowed in the clubhouse, we found Roy Oswalt seated in what usually is Jamie Moyer's locker at Nationals Park. He was chatting with old friend Brad Lidge.
But most of Oswalt's new teammates have stayed away. It's an odd sort of circumstances. The pitcher is new to the team but it is customary to leave that night's starting pitcher alone. Rarely will a pitcher speak to anyone on his pitching days.
Charlie Manuel said it's probably best that Oswalt is pitching right away. He can forget about the usual distractions that come with switching teams and simply go right to work.
Matt Gelb, Inquirer Staff Writer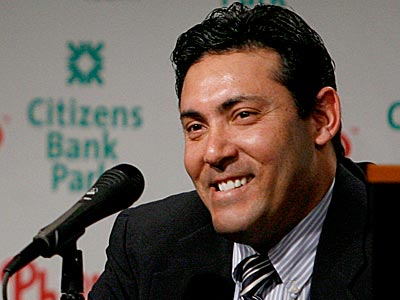 SOMEWHERE BETWEEN PHILADELPHIA AND WASHINGTON -- The Phillies trained down to meet their new ace late Thursday night. I'm doing the same right now, trying to catch my breath after a crazy week of rumors and roster moves.

Needless to say, this is a dizzying time for these Phillies.

Incredible what a week can do. When we left St. Louis, the Phillies had escaped with one victory -- but needed 11 innings despite one-hitting the Cardinals. A rumored deal for Roy Oswalt had hit the skids and the Phils were still teetering on the edge of contention in the National League East.

Incredible what a week can do. Now, we're headed to Washington to watch a pitcher named Roy make his anticipated Phillies debut. Sound familiar?

So much happened Thursday and it was hard squeezing all of it into the paper. But we had substantial coverage of the deal.

A few tidbits that were buried or didn't make it:

-- Phillies GM Ruben Amaro Jr. said he is likely done making moves. "We've added enough payroll, I think," he said. That said, Amaro will keep some discussions open in case anything favorable falls his way, like a lefthanded reliever for example. But I highly doubt another move is made before Saturday's 4 p.m. deadline.

-- When asked about what adding Oswalt's contract means for free-agent-to-be Jayson Werth, Amaro avoided the question. "This is a situation where we'll have to take that matter when it's time," he said. "Right now we're focused on trying to win this year."

-- Details about that 2012 Oswalt club option that turned into a mutual option: If Oswalt opts out of the $16 million option, he receives a $2 million buyout. If the Phillies terminate the option, Oswalt receives a $3 million buyout.

-- We won't be able to speak with Oswalt until after he makes his start Friday night. It'll be interesting to see how much he interacts with his new teammates before the game. Typically, pitchers don't like to be bothered before games they start. But there will be so much going on.
-- Oswalt's career ERA is 3.42. In August, that drops to 2.80. In September and October, it's 2.78.
-- What is Roy Halladay's favorite thing about Oswalt while watching him from afar? "The competitiveness," Halladay said. "He goes after guys. He challenges guys. He competes every time he goes out there."

-- Brad Lidge redefined the role of closer. He spent a good deal of time reassuring Oswalt, his friend and former teammate in Houston, that Philadelphia was a place to be. But Lidge downplayed his role. As he said, "Philly kind of sells itself right now."

"I think he was going to come here regardless," Lidge said. "For the most part, he's pitched in the National League his whole career and he wanted to do that. He's a guy who wants to win. He wants to win a ring. This is his opportunity. This made a lot of sense for him."

-- Jamie Moyer (who has seen his share of midseason trades), probably best sums up the team's attitude at this point:

"I think this club – we're in an envelope of time where, we have a great chance to win, and I think this organization respects how hard it is to win, the players understand how hard it is to win, the coaching staff understands how hard it is to win, and we're making a nice little push right now."

-- And lastly, the Phillies lost a genuinely good guy in J.A. Happ. He has always handled himself professionally -- especially with the writers -- but was obviously overcome with emotion Thursday. Happ is a smart guy (three years at Northwestern will do that, I suppose). He understands the situation, but it didn't make it any easier for him. All he's known is this organization. Wish him the best with Houston, where he starts Friday night.
Bob Brookover and Matt Gelb
The Phillies have completed a three-player trade with the Houston Astros for righthander Roy Oswalt.
Lefthanded pitcher J.A. Happ, outfielder Anthony Gose and infielder Jonathan Villar are going to Houston.
Villar, who has been removed from single-A Lakewood's lineup tonight, is hitting .272 with two home runs and 36 RBIs. Villar, 19, has 42 errors in 99 games as Lakewood's shortstop but projects as a corner infielders down the line.
Poll: Was this the right deal for the Phillies?

(10631 votes)
Matt Gelb, Inquirer Staff Writer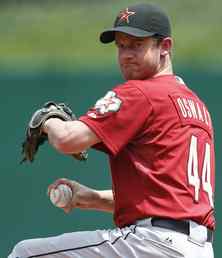 And now we wait. Apparently. Maybe. Possibly.
Multiple outlets are reporting what KRIV-TV in Houston first reported early Thursday morning: The Phillies and Astros have agreed upon a package of players to be exchanged for righthander Roy Oswalt. The trade has been presented to Oswalt, who has a full no-trade clause, for his consideration.
The two teams have also reportedly agreed on a way to handle the remainder of Oswalt's salary. ESPN is reporting the Phillies have asked the Astros to pay a "significant portion" of the $5 million Oswalt is due for the remainder of this season plus the $16 million Oswalt is due in 2011.
Matt Gelb, Inquirer Staff Writer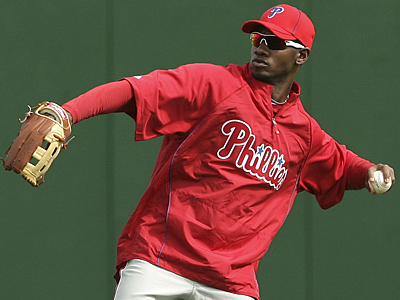 Need we say any more?
The Phillies go for seven in a row with this lineup:
1. Placido Polanco 2B
2. Greg Dobbs 3B
3. Raul Ibanez LF
4. Ryan Howard 1B
5. Jayson Werth CF
6. Domonic Brown RF
7. Carlos Ruiz C
8. Wilson Valdez SS
9. Roy Halladay P
Matt Gelb, Inquirer Staff Writer
He's here. He's wearing No. 9. And he's in the starting lineup, playing right field and batting sixth. So without further ado, here is Domonic Brown and his thoughts before his major-league debut:
How nervous are you?
I'm pretty nervous. But it's a good nervous. I'm excited to be here. Just trying to get this first game out of the way.

Are you aware of all the expectations?
Yeah, I know what's going on. I understand I'm going to struggle, I'll have my ups and downs. It's baseball. I'll just go out there and have fun.

What did you think when you got the word?
Aw man, I almost passed out. It was great. It's one of the best days of my life and I'm just trying to enjoy it.

Who called you?
[Lehigh Valley manager] Dave Huppert at 12-something. I actually did a camp this morning for the kids at the stadium.

How beneficial was spring training?
It's great. Those guys took me under their wing in spring training.

Does it make it easier?
Oh yeah. A lot easier.

Did you know Shane had gotten hurt?
Actually, I heard a fan sitting in right field saying something about me being called up. It didn't dawn on me until after the game.

How long do you expect to be here?
I don't know. I'm not thinking about that. I'm just trying to do the things I've been doing.

Was there a point when you felt like you were ready to come here?
I felt that all year. I'm very confident in myself. I've set big goals. It was just waiting for Ruben and those guys to make the call.

What did you expect coming into the clubhouse?
I thought you guys [the media] were going to hit me right when I walked in. I prepared my mind when I was coming on the hour trip. I just got focused and ready for the game.

What's it like being around Rollins and Howard?
They just keep me humble being around those guys, watching what they're doing on and off the field. I'll just come out here, enjoy my time, and hope I can get up to their level.

Is your family here?
My dad and mom should be on my way. They really didn't tell me. I saw the pass list. Everyone told me what was going on.

Is there a club of prospects that talk among each other?
I texted Jason a little bit. I texted Mike Stanton too. We haven't talked in a while. We talked a little bit.

But there's nothing they can say to prepare you?
You just have to go through it yourself.
What are your impressions of the ballpark?
It's great. The ball jumps off the bat here. Hopefully I can square something up and hit some balls hard.

Who was your favorite player growing up?
Ken Griffey Jr. was the ultimate guy for me. He's never been mentioned in the steroid issues or anything like that. He was the ultimate guy for me.

What will be your biggest challenge?
I really don't know. I'm going out here fresh. I haven't done anything yet. I say that all the time. The prospect thing, that's all garbage. When you get here, those numbers don't mean anything.
Matt Gelb, Inquirer Staff Writer
Domonic Brown is here.
The Phillies have called up their top prospect from triple-A Lehigh Valley when they placed centerfielder Shane Victorino on the 15-day disabled list with an abdominal strain on his left side.
After Tuesday's game, Victorino was optimistic the injury wouldn't require a trip to the disabled list. But an MRI this morning evidently showed the injury is serious enough.
Matt Gelb, Inquirer Staff Writer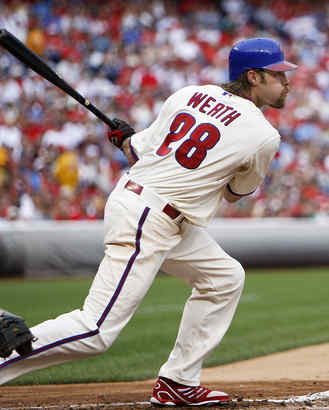 For just the second time this season, Charlie Manuel has filled out a lineup card that does not include Chase Utley nor Jimmy Rollins. The manager's entire middle infield is missing.
To compensate, Manuel will start normal third baseman Placido Polanco at second base again, for the fourth straight game. That leads to a slightly unusual left side of the infield: Greg Dobbs and Wilson Valdez, both of whom have spent time as Lehigh Valley IronPigs in 2010.
In fairness, Dobbs is swinging a better bat during July. He's batting .318 with three home runs and eight RBIs. Valdez, not so much. He has hit into more double plays this month (three) than he has RBIs (two).
Matt Gelb, Inquirer Staff Writer
UPDATE (6:01 p.m.): We spoke with Rollins and he said his bruised left foot is still in a considerable amount of pain, but it's feeling better than it did Monday night. At least, Rollins said, he could walk today.
"That's progress," Rollins said.
He had reserve infielder Cody Ransom wheel him from the clubhouse into the trainer's room after the game.
Matt Gelb, Inquirer Staff Writer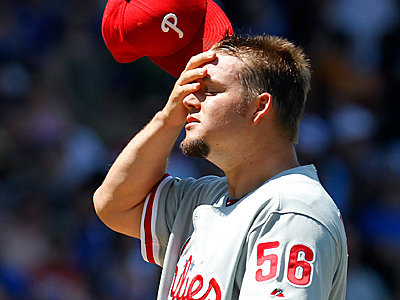 Get this: If the Phillies win today, they will have a five-game winning streak. The last time they had a five-game winning streak? The first week of the season when everything felt oh-so-cheery.
Hard to believe, right?
"No, not really," mused manager Charlie Manuel this morning.