Archive: June, 2012
Matt Gelb, Inquirer Staff Writer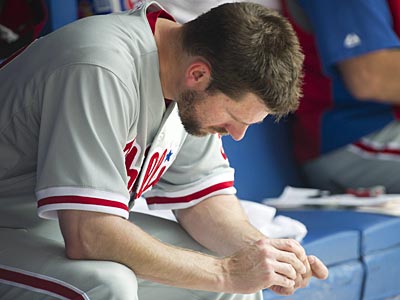 MIAMI — Answers for how a $120 million pitcher has a 7.30 ERA in his last four starts are apparently non-existent or secrets if you ask the Phillies.
"I really don't have an explanation," Cliff Lee said.
"I don't know," Charlie Manuel said. "It's hard to explain."
Matt Gelb, Inquirer Staff Writer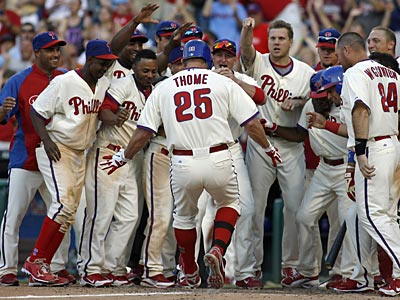 MIAMI — Ten days ago, Ruben Amaro Jr. said he was fielding calls from American League teams regarding Jim Thome. The future Hall of Famer was recently removed from a terrific nine-game stretch as designated hitter. Now he was relegated to the bench.
It's easy to see what will eventually happen. So AL teams called Amaro.
"I may very well have [received calls]," Amaro said June 19. "Fact of the matter was he was great and exceeded everyone's expectations — including mine. And honestly, he was fantastic and in some ways, it is a little bit of a disservice to have him sit there as a pinch hitter when he can't do much more than that.
Matt Gelb, Inquirer Staff Writer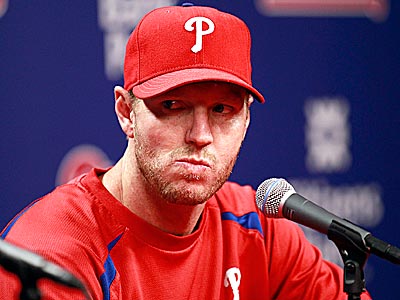 MIAMI — Bullpen coach Mick Billmeyer did not pay attention Friday to how the ball moved from Roy Halladay's right hand to home plate. He was watching something else as Halladay threw off a mound for the first time in almost five weeks.
"His face looked good," Billmeyer said.
That's as good a sign as any. It was a strain for Halladay to pitch in May with a shoulder injury, but the team insists he has overcome it. In fact, pitching coach Rich Dubee said, Halladay is ahead of schedule in his recovery.
Bob Brookover, Inquirer Columnist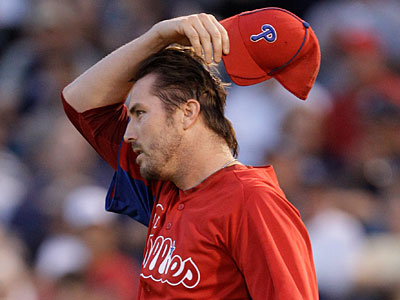 Phillies reliever Chad Qualls asked to be traded Thursday after the team informed him that he was being desginated for assignment.
Qualls, 33, signed a one-year, $1.15 million deal with the Phillies at the end of January and was being counted upon as a late-inning reliever. He leaves the team with a 1-1 record and 4.60 ERA after surrendering three runs on three hits in Wednesday night's 11-7 loss to the Pittsburgh Pirates.
"I felt like I had been throwing the ball well all June," Qualls said. "I had only given up runs in two outings this June. No excuses for (Wednesday). I felt like I was throwing the ball better, but the organization felt like they wanted to make a move and that's fine."
Philly.com Sports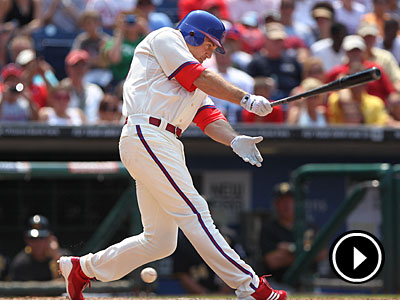 Video: The Phillies completed a 10-game homestand with a 5-4 loss to the Pittsburgh Pirates on Thursday. The Inquirer's Bob Brookover recaps the loss.
Bob Brookover, Inquirer Columnist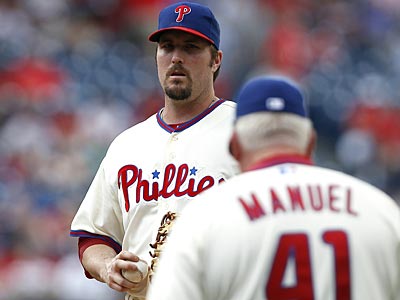 Update: The Phillies have called up lefthander Jeremy Horst and designated Chad Qualls for assignment. Qualls was roughed up in Wednesday's 11-7 loss to the Pirates, allowing three runs on three hits in one inning of work.
Overall, Qualls was 1-1 with a 4.60 ERA in 35 appearances this year. Over the last 29 games, he posted a 5.68 ERA, and opponents hit .333 against him.
Horst has gone 2-1 with two saves and a 2.11 ERA in 26 games with the IronPigs this season. Since April 28, Horst has posted a 1.61 ERA with 22 strikeouts in 27.1 innings for Lehigh Valley. The 26-year-old made 12 relief appearances with the Cincinnati Reds last season, posting a 2.93 ERA in 15.1 innings.
Bob Brookover, Inquirer Columnist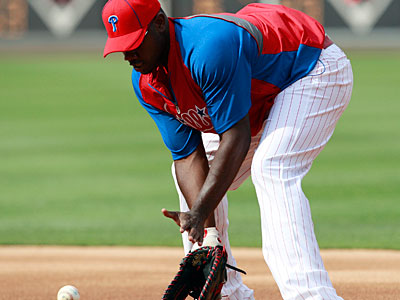 Ryan Howard said he was happy to be a witness to Chase Utley's first game of the season with the Phillies before Wednesday night's game against the Pittsburgh Pirates.
The first baseman who has missed the entire season after undergoing offseason Achilles surgery will be even happier when he rejoins the second baseman on the right side of the infield.
That scenario is likely to take place at some point next month, but first Howard must go through his own minor-league rehab which will begin Thursday at single-A Lakewood where he will serve as designated hitter.
Matt Gelb, Inquirer Staff Writer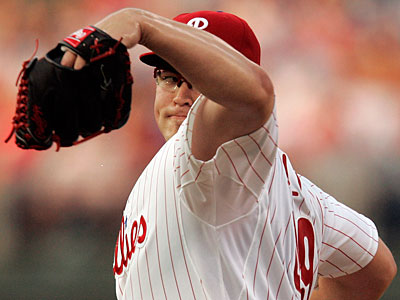 May 13 was a beautiful Sunday. The temperature was 79 degrees at first pitch and the Phillies won a game against San Diego by outscoring them 3-2.
That was 44 days ago, the last time the Phillies won a game when scoring three or fewer runs.
It's not necessarily relevant to anything right now, other than an enlightening look at how the expected narrative of 2012 has fallen by the wayside. The Phillies are 4-28 (.125) when they score three or fewer runs; only Boston, Minnesota, Colorado and Arizona have worse marks.