Archive: May, 2008
Todd Zolecki
You weren't surprised the Phillies hit last night in a 12-3 victory over the Marlins at Citizens Bank Park.
But did you know Brett Myers would recover from a three-run first inning to pitch eight and strike out 11?
Or did you think he might implode?
Todd Zolecki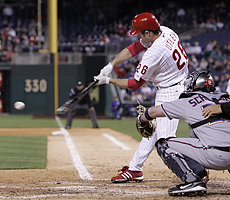 Are the Florida Marlins for real?
It's May 30 and they're in first place in the National League East, a half-game ahead of the Phillies. They're fourth in the league with 4.88 runs scored per game, which trails only the Cubs (5.63), Phillies (5.33) and Diamondbacks (5.07). They have a couple studs in Hanley Ramirez and Dan Uggla. They can hit. They definitely can hit. But it should be interesting to see how their pitching holds up. The Marlins enter tonight with a 4.65 ERA, which ranks eighth in the league. That's behind the Phillies, who rank sixth with a 4.31 ERA. But Marlins starters also have a 5.00 ERA, which is 14th in the league. We saw last season how tough it can be to win without effective starting pitching (i.e. Adam Eaton, Freddy Garcia, Jon Lieber, etc.). The Phillies found some effective replacements for those guys (Kyle Lohse, Kyle Kendrick, etc.). Can the Marlins find some if needed? Will they spend for it?
Jim Salisbury went to New York earlier this week to talk with the Marlins, and they definitely think they're for real.
Todd Zolecki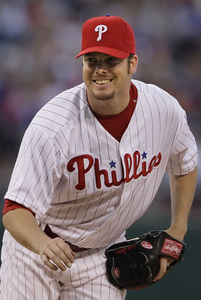 Adam Eaton got his win.
The Phillies got their sweep.
It sets up nicely for this weekend's series against the Florida Marlins at Citizens Bank Park.
Todd Zolecki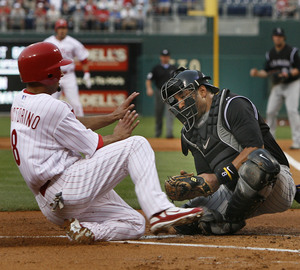 It looked like the Phillies might put up another 20-spot on the Colorado Rockies after they scored seven runs in the first two innings last night in a 7-4 victory.
But then they cooled.
Slackers.
Todd Zolecki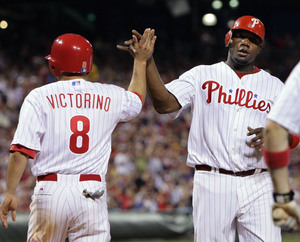 Jim Salisbury asked a question I'm sure on most people's minds last night as they watched the Phillies pound the Rockies at Citizens Bank Park:
"Where was this in October?"
The Phillies scored a season-high 20 runs in a 20-5 victory over the Rockies. They have scored 35 runs their past two games. They have scored 60 runs in their last six. It's the most the Phillies have scored in back-to-back games since they scored 35 on July 2-3, 1999, vs. the Chicago Cubs at Veterans Stadium. Check out those box scores here and here.
Todd Zolecki
Pat Burrell has been scratched from tonight's lineup because of stiffness on the left side of his neck. The Phillies said he is day to day.
Greg Dobbs has taken Burrell's place in left field. He will hit fifth.