Archive: April, 2010
Matt Gelb, Inquirer Staff Writer
On the day the Phillies' closer returns, their interim closer is going on the disabled list.
The injury bug has struck again.
Righthander Ryan Madson has been placed on the 15-day disabled list with a broken right big toe suffered after Wednesday's win against San Francisco, the Phillies announced Friday.
Matt Gelb, Inquirer Staff Writer
Matt Gelb, Inquirer Staff Writer
The Phillies will activate closer Brad Lidge from the disabled list before Friday's game against the Mets, general manager Ruben Amaro Jr. announced Thursday.
To make space for Lidge, lefthander Antonio Bastardo will be optioned to triple-A Lehigh Valley.
Lidge was placed on the disabled list at the end of spring training as his recovery from off-season elbow and knee surgeries had stalled.
Bob Brookover, Inquirer Baseball Columnist
Joe Blanton made what was likely his third and final rehab start at double-A Reading Wednesday night, allowing five runs on five hits in five innings against Harrisburg.
The veteran righthander, barring an injury setback, is expected to rejoin the Phillies Monday in time to pitch against the St. Louis Cardinals.
A team source said before the game that he thought both Blanton and reliever Brad Lidge were ready to rejoin the Phillies. Lidge made what was likely his final rehab appearance Tuesday when he pitched two hitless innings and struck out four for Reading.
Matt Gelb, Inquirer Staff Writer
SAN FRANCISCO -- The Phillies are a second-place team.
OK, OK. Relax. Right now they are. The Mets are a half game ahead of the Phillies, who are looking up in the standings for the first time since May 29, 2009. It was going to end some time, right?
"I think we need to pay attention to what we're doing ourselves," lefthander Jamie Moyer said. "If you look ahead, look behind, it's probably not the best way to look."
Matt Gelb, Inquirer Staff Writer
Here is a full report on Phillies closer Brad Lidge, who had an important day for double-A Reading, courtesy of The Inquirer's Chris Melchiorre:
READING — After months of rehab following two off-season surgeries, Brad Lidge seemed relieved Tuesday as he sat in front of reporters and declared himself ready to pitch for the Phillies.
"After tonight, I feel ready," Lidge said after a two-inning rehab outing for the double-A Reading Phillies. "Being able to use all my pitches effectively, and being where I want to be both velocity-wise and command-wise, I feel like I'm pretty much ready to go. Everything felt really good."
Matt Gelb, Inquirer Staff Writer
SAN FRANCISCO -- At this point, you're almost tired of hearing about Ryan Howard's five-year, $125 million contract extension. Almost.

First, the links from Tuesday's Inquirer:

The news: Phils' Howard gets megadeal

Bob Brookover goes Inside the Phillies: After Howard's extension, eyes turn to Werth, Rollins

Phil Sheridan: Phils' Howard brings more than big numbers

Now, one more take:

Will the Phillies regret this deal in a few seasons? Absolutely. There is no question.

But go ahead and name to me the baseball contracts that were universally free of regret. There aren't many.

It's called the cost of doing business.

Now, in this case, it's a steep price. The Phillies will be paying Howard $25 million per season when he is 34, 35 and 36 years old. Will he be a shell of his former self by then? No one knows. But we can say with great certainty that Howard will not be performing at the high rate he currently is -- let alone at a rate worth $25 million annually.

Howard's contract is effectively immovable. He has a limited no-trade clause that permits him to pick nine teams every year he would accept a trade to. In 2015, he will become a 10-and-5 man, meaning he has 10 years of service time in the majors and five with one club. At that point, he holds full veto rights to any trade.

Consider the hefty salary in 2014-16 as paying for past performance. Should contracts do that? No. Is that an acceptable business model? No. Is it possible to do a deal without paying for past performance? Usually not.

So why, on some level, is this deal OK for the Phillies?

The Phillies get Howard from 2012-13 (and 2011 if you want to include the final year of his old deal) at $20 million per season. He was a late bloomer. (In fact, Howard laughed Monday at the idea of beginning his current training regimen at age 25. If he had done that, the pay day would have come much sooner.) So Howard's peak still has at least a few years to play out. We think.

Phillies GM Ruben Amaro Jr. said he only entertained the idea of pursuing a long-term deal with Howard after he saw what his first baseman did off the field in his conditioning program. He's in better shape than he ever has been and beginning in 2009, Howard's defensive play matured significantly. Early in 2010, he has been very impressive at first.

From 2011-13, Howard's earnings are suitable for the Phillies. Howard didn't take an immediate raise in yearly salary, meaning the Phillies have a tad bit more flexibility (but not much) with the rest of their payroll.

Make no mistake, the Phillies didn't receive any sort of discount from Howard, though. He will average $25 million per season from 2012-2016. Only one player in baseball is making more: Alex Rodriguez.

But if the Phillies wanted to keep Ryan Howard, this is the deal they had to sign. His last contract was three years, $54 million. He wasn't signing another three-year deal. He wasn't taking a pay cut to stay.

And, really, did the Phillies have any other option?

They could have waited. Yes, they definitely could have. There was no need to set the market with this sort of deal.

But who's to say the price doesn't go up later? Albert Pujols and Prince Fielder could be on the market. (The guess here is that whoever trades for Adrian Gonzalez will sign him before the end of the 2011 season.) If the Phillies let Howard walk, do they replace him with either Pujols or Fielder? No. Both of them are going to get similar dollars, if not more.

Do they move Chase Utley to first base and find a second baseman? Possibly, but second base can be an even trickier hole to fill than first.

The Phillies chose Howard and they paid for it. A lot.

Will Ryan Howard be the next Mo Vaughn, Cecil Fielder or David Ortiz? It's quite possible. Even if he isn't, will the Phillies one day regret this deal? Likely yes.

But if the Phillies wanted to keep Howard, this was the cost of doing business.
Matt Gelb, Inquirer Staff Writer
SAN FRANCISCO -- About to jump on a conference call with Ryan Howard's agent, Casey Close, but for now, here are some of the most interesting answers from the press conference that just ended with Howard and general manager Ruben Amaro Jr.
Why now?
AMARO: We just felt it was good timing for us. We felt like No. 1, he's one of the elite offensive players in the game. We could have waited another year-and-a-half or so and dealt with it later on, but the fact of the matter is we decided that he's that important to our organization and our future. We decided to go ahead and work something out with Casey and it worked quite well.
Did the market of other first basemen (Albert Pujols, Prince Fielder, Adrian Gonzalez) play a factor in doing it now?
HOWARD: I know that all of us were going to be free agents around the same time. I think the decision was based more for myself. It wasn't trying to live off what Albert might get or what Prince might get. It was look after myself in this situation. I wanted to stay in Philadelphia. I've had fun here. The fans have been great. The organization has been great. I'm glad we were able to reach the agreement and now I can focus on going out there and just playing ball.
Matt Gelb, Inquirer Staff Writer
SAN FRANCISCO -- The Phillies have locked up their slugging first baseman with the richest deal in franchise history.

Ryan Howard has signed a five-year, $125 million contract extension, the team announced Monday. There is a club option for a sixth year, meaning the deal could reach $138 million in total value if the option is exercised.
Howard would have been a free agent after the 2011 season.

When the deal kicks in, Howard, 30, will become the highest paid player in franchise history. Roy Halladay's deal pays him $20 million per season as a Phillie. The average annual salary of Howard's deal is larger.
Currently, the only player with a higher average annual salary than Howard's in 2012 and beyond is New York Yankees third baseman Alex Rodriguez.
Matt Gelb, Inquirer Staff Writer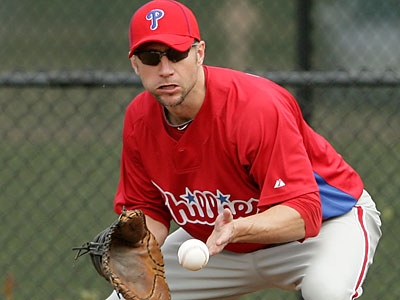 PHOENIX -- It's supposed to reach 89 degrees here on what is shaping up to be a beautiful Sunday in Arizona. The roof is still open at Chase Field and it looks like it will stay that way. The Phillies could hit a rare 6-for-6: Six games in Houston and Phoenix and no closed roofs. Impressive.
Of course, the weather in San Francisco for the upcoming series is less than promising.
Some notes for you...