Archive: March, 2010
Matt Gelb, Inquirer Staff Writer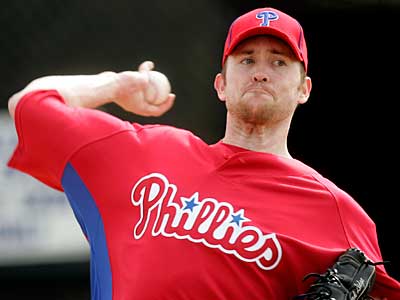 CLEARWATER, Fla. -- Closer Brad Lidge suffered what is being described as a minor setback in his return from two off-season surgeries Wednesday when he received a cortisone shot for inflammation and soreness in his right elbow.
The soreness is not related to Lidge's surgery on his elbow, Phillies team physician Michael Ciccotti said. Lidge had surgery on the inner part of his right elbow for some tendonitis. The soreness is on the outer part of the elbow and is something Lidge normally has in spring training.
But it has lingered longer than normal this spring. And that can partially explain why Lidge's velocity remains in the high 80s.
Matt Gelb, Inquirer Staff Writer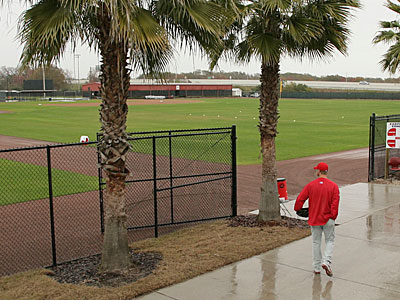 KISSIMMEE, Fla. -- Kyle Kendrick was curiously pulled after pitching two innings against the Astros. It could be the clearest sign yet that the Phillies have chosen Jamie Moyer to be the fifth starter.
It's not official yet, but once the game is over and we can speak to manager Charlie Manuel and pitching coach Rich Dubee, we should finally hear the news: Moyer is the pick.
Kendrick said he didn't know he would be pitching only two innings. When he came out, he said his first thought was, "Something's up." He wouldn't let down his guard when reporters asked, but it seemed like Kendrick already knew that he was headed for the bullpen.
Matt Gelb, Inquirer Staff Writer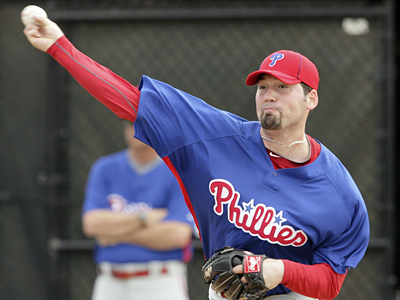 KISSIMMEE, Fla. -- Welcome to Osceola County Stadium, where the Phillies make their final road trip of the Grapefruit League season to take on the Astros. Opening day is less than a week away now, so we'll be a little more focused on the actual game than earlier in the spring.
Here are three things we are watching for today:
1. Raul Ibanez returns to the lineup -- so now what?
Is it time to worry about Ibanez? No. It's March. Yes, he is hitting .098 (4 for 41) this spring. Yes, he had a bad second half of 2009. Yes, he had off-season sports hernia surgery.
Matt Gelb, Inquirer Staff Writer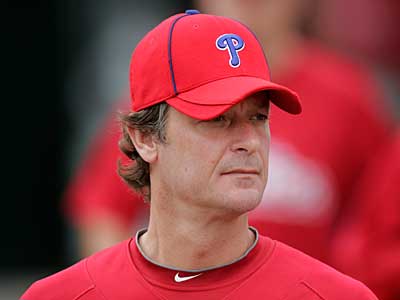 KISSIMMEE, Fla. -- Finally, it's official.
Jamie Moyer has won the final spot in the Phillies' starting rotation, manager Charlie Manuel said after Tuesday's game against the Astros. Meanwhile, Kyle Kendrick, who pitched just as well as Moyer did this spring, has earned a spot in the opening day bullpen.
Kendrick started Tuesday's game and pitched just two innings before he was taken out. In the dugout, pitching coach Rich Dubee told Kendrick of the team's decision.
Poll: Is Moyer the right choice?

(1506 votes)
Matt Gelb, Inquirer Staff Writer
CLEARWATER, Fla. -- If the Phillies would have played on Sunday, Raul Ibanez said he wasn't going to appear in the game as a "precaution" with a bruised right elbow. Both he and manager Charlie Manuel expected Ibanez to be back for today's game, but Ibanez is not in the lineup.
He was wearing a sleeve on his right arm and holding a bat. He took batting practice in a cage under the tunnel at Bright House Field. Nothing much to worry about, only that Ibanez could use as many at-bats as possible right now. Manuel says his timing is off at the plate and that has caused a horrid spring batting average of .098 (4-for-41).
After today, the Phillies have five exhibition games remaining.
Matt Gelb, Inquirer Staff Writer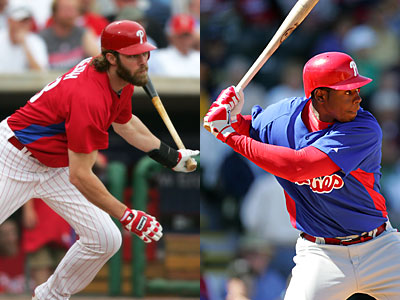 CLEARWATER, Fla. -- I don't want to spend too much time on John Mayberry Jr., who will start the season in triple-A Lehigh Valley, but I was struck by something Charlie Manuel said on Sunday when discussing Mayberry.
"Once he improves against righthanded pitchers, just like I told Jayson Werth, he's got a chance to be real good," Manuel said.
That's an interesting comparison to make. Let's look at both of Werth and Mayberry's age 25 seasons:
Jonathan Tannenwald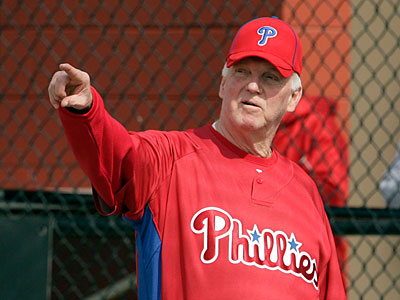 Matt Gelb takes your questions about the Phillies in a live chat at noon.
Matt Gelb, Inquirer Staff Writer
Make sure you pick up Sunday's Inquirer to read the beginning of our nine-part series to preview the 2010 Phillies season. It's called, "The Secret of Their Success" and over the next nine days, you can read in-depth features and analysis on how the Phillies made it to this point -- arguably the most successful period in the franchise's long history.
We leadoff today with a feature on Citizens Bank Park by Frank Fitzpatrick, who writes: Philadelphia's baseball paradigm began to shift on April 12, 2004, when, after a dreary final decade at Veterans Stadium, where their fortunes were crumbling like the concrete, the Phillies moved to the new ballpark next door.
Who was the man who reignited the passion of the fans in Philly according to Ed Wade? None other than Jim Thome, as Bob Brookover writes. There are fantasitc details of Thome's recruiting visit to Philadelphia, which led him to take one of the first lucrative contracts the team offered.