Archive: February, 2012
Philly.com Sports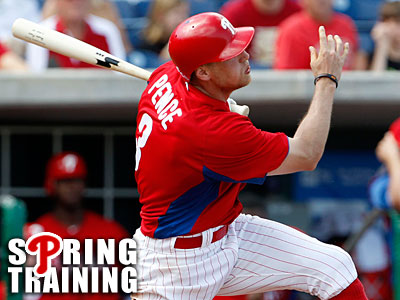 Join the Inquirer's Bob Brookover as he takes your Phillies questions in a live chat, beginning Thursday at 1 p.m.
On a mobile phone? Click HERE to join the chat!
Matt Gelb, Inquirer Staff Writer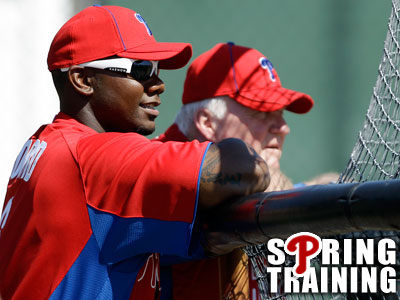 CLEARWATER, Fla. — Ryan Howard has indeed suffered a setback in his recovery from Achilles surgery and will be sidelined indefinitely following a procedure to clean an infection from his original wound.
Foot specialist Mark Myerson performed a "small procedure" Monday to remove the stitches from Howard's wound, Phillies head athletic trainer Scott Sheridan said. Howard is on antibiotics and should return to camp sometime Wednesday. Myerson is the surgeon who originally operated on Howard's ruptured left Achilles last October.
Sheridan is unaware of when Howard will return to his rehab program. When asked if the delay would be days or weeks, Sheridan said, "I truly don't know that answer."
Poll: Are you worried about Ryan Howard?

(1288 votes)
Philly.com sports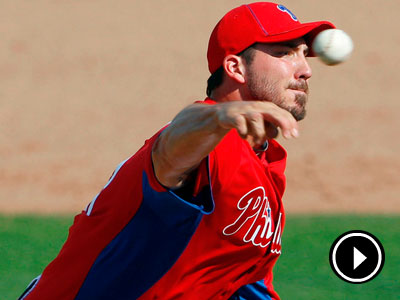 Video: The Phillies beat Florida State University, 6-1, in an exhibition game in Clearwater on Wednesday. Some of the team's top pitching prospects impressed in the Phils' first outing of the spring.
Matt Gelb, Inquirer Staff Writer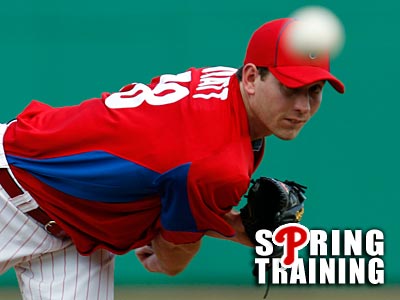 CLEARWATER, Fla. — Austin Hyatt, 25 and unassuming, has a modest goal for 2012: He wants to pitch at triple-A Lehigh Valley.
"That would be the next step along the progression, I guess," Hyatt said, "so hopefully I end up there."
On Wednesday he was bestowed the honor of starting the Phillies' first exhibition game of the spring. In a 6-1 victory over Florida State University, Hyatt tossed two scoreless innings and struck out three. It was his first time pitching in front of Charlie Manuel and Rich Dubee, and for a pitcher who won't have many chances this spring to make an impression, he was pleased.
Poll: Are you worried about Ryan Howard?

(1288 votes)
Matt Gelb, Inquirer Staff Writer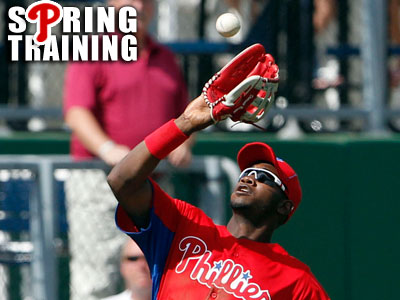 CLEARWATER, Fla. — During early morning batting practice on a back field at the Carpenter Complex, Domonic Brown launched a deep fly. It was headed toward a players' parking lot and everyone knew it. The loud thud was heard from home plate. So was the car alarm.
Brown had struck Jose Contreras' big truck with a home-run ball.
"You park your truck over there," Charlie Manuel said, "you have a pretty good chance of getting hit."
Poll: Are you worried about Ryan Howard?

(1288 votes)
Bob Brookover, Inquirer Columnist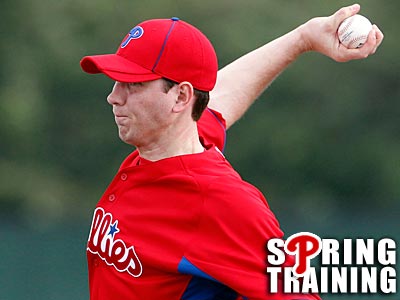 CLEARWATER, Fla. — We get a reprieve from the mundane spring-training workouts Wednesday when the Phillies play a spring-training exhibition against Florida State University at Bright House Field.
Of most interest will be the parade of young pitchers who take the mound against the Seminoles, beginning with Austin Hyatt, the Florida State League pitcher of the year two seasons ago at single-A Clearwater. Hyatt, 25, went 12-6 with a 3.85 ERA at double-A Reading last season and finished strong by posting a 5-1 record and 2.78 ERA after the All-Star break. He is likely to begin this season as part of manager Ryne Sandberg's staff at triple-A Lehigh Valley.
As David Hale from the Wilmington News Journal recently noted, Austin Hyatt is also a fun name to Google because instead of a profile on the pitcher you get a lot of information about hotels in the capital of Texas.
Philly.com Staff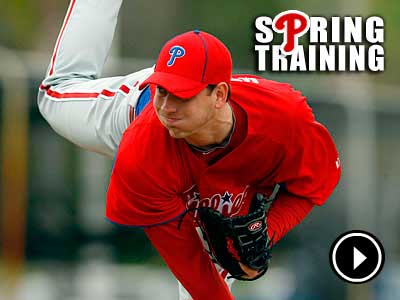 Video: Bob Brookover of the Inquirer discusses some of the young pitchers in camp as the Phillies prepare for their first exhibition of the spring.
Matt Gelb, Inquirer Staff Writer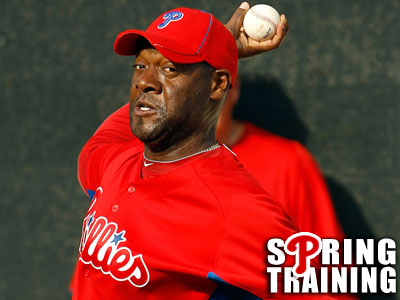 CLEARWATER, Fla. — The feedback on Jose Contreras' recovery from elbow surgery has been nothing but glowing. Pitching coach Rich Dubee watched Contreras throw another bullpen session Monday and said it went "real well."
But the Phillies are taking precautions to limit the 40-year-old's workload this spring. He's not far behind other pitchers; Contreras will throw his first live batting practice Thursday. But Contreras is not throwing every other day like the rest of the staff. He has an extra day of rest built into his schedule.
Still, Dubee believes Contreras can be ready for opening day.