Archive: February, 2011
Matt Gelb, Inquirer Staff Writer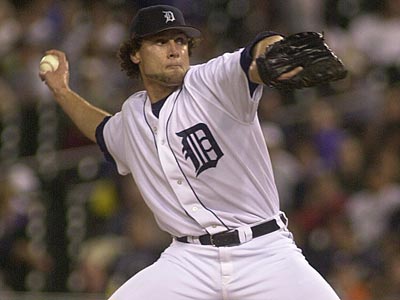 DUNEDIN, Fla. -- In the eighth inning Monday, Matt Anderson faced three Toronto Blue Jays hitters who have never played above single A. Aged 22, 20 and 22, they were kids when Anderson was the No. 1 overall pick in the 1997 draft and could throw 103 m.p.h.
But when Travis D'Arnaud swung and missed at an Anderson breaking ball, the 34-year-old pitcher literally jumped off the mound. He pumped his fist and ran into the Phillies dugout.
Matt Anderson had not pitched in an organized game of baseball since 2008 after tearing a muscle under his armpit in 2002. He last pitched in the majors six years ago. In the eighth inning Monday, he hit 95 m.p.h. on the radar gun and retired the side in order.
Matt Gelb, Inquirer Staff Writer
CLEARWATER, Fla. -- Good morning from sunny Florida, where the third week of spring training begins with a trip to Dunedin, Fla., for an afternoon date with the Toronto Blue Jays. Most of the regulars will make the trip.
With a new week comes a new pitching schedule. It brings good news for those of you who are coming down for the weekend. Here it is:
TUESDAY vs. Detroit
Cliff Lee
Kyle Kendrick
Eddie Bonine
Dan Meyer
Danys Baez
Mike Zagurski
Matt Gelb, Inquirer Staff Writer
Your daily rundown of Phillies coverage in The Inquirer to read while you contemplate how Canada South will honour Roy Halladay today...
-- Chase Utley's knee bothered Ruben Amaro Jr. enough to want an MRI done. It showed Utley has patellar tendinitis, something he has dealth with before. But it used to go away quicker.
-- Time will catch up to everyone in this game, Phil Sheridan writes, and he wonders if it gained another step on Utley.
Matt Gelb, Inquirer Staff Writer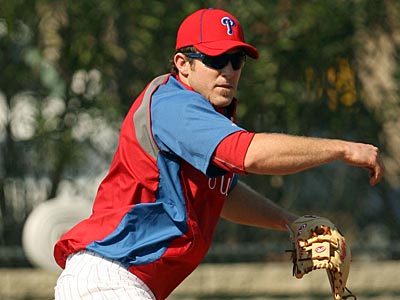 CLEARWATER, Fla. -- The absence of Chase Utley was bothering Ruben Amaro Jr. enough to order an MRI on the second baseman's sore right knee. And Amaro's instincts were correct: Utley has patellar tendinitis that will force the Phillies to limit the 32-year-old in spring training.
There is no timetable for Utley to begin playing spring training games. The tendinitis does not hurt Utley when he is hitting, but he feels the pain while he runs and fields. So for now, he will not do any of that.
"We just don't want it to get any worse," Amaro said. "There's no reason for us to push him now and for it to be a problem in May, June, July, August. So we'll take it easy on him."
Matt Gelb, Inquirer Staff Writer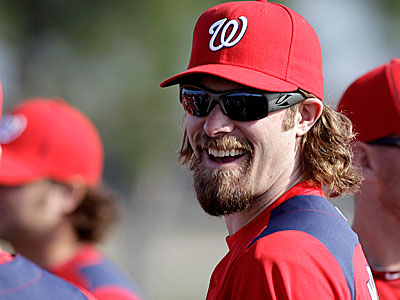 Jayson Werth may have turned whatever cheers he would receive in his return to Citizens Bank Park into boos.
The Washington Post's Tom Boswell wrote about Werth in Sunday's paper. Here is an excerpt:
Once Werth got back behind the cage, Rizzo said, "I hate the [expletive] Phillies." The GM then ran off a list of borderline dirty plays and purpose pitches in recent years by the Nats' nemesis. "I hate the Phillies, too," said Werth. Unspoken, but hanging in the air was a new idea for the Nats: So, let's play more like the Phillies: mean, grimy and a little nasty.
Matt Gelb, Inquirer Staff Writer
TAMPA, Fla. -- We're less than an hour from the first Grapefruit League game, but there was already baseball this morning back in Clearwater. And it wasn't pretty for Danys Baez.
Baez allowed five earned runs on five hits and a walk in two-thirds of an inning in a B game against Toronto. Mostly minor leaguers and non-roster players played in the game. The Blue Jays won, 8-1.
The righthander's roster spot is not viewed as tenuous right now, but a shaky spring can change things. He is owed $2.75 million in 2011 after a lost 2010 in which he had a 5.48 ERA in 51 games.
Matt Gelb, Inquirer Staff Writer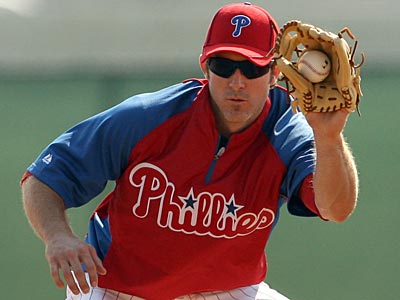 TAMPA, Fla. -- Welcome to George M. Steinbrenner Field, where the Phillies and Yankees will open their Grapefruit League schedules this afternoon.
Once again, the Phillies will play without their starting middle infield. Jimmy Rollins was somewhat delayed in his return from Washington, so he will not start as originally planned. Chase Utley, who is going through "general body soreness" is also out of the lineup.
We won't overreact about Utley yet, but it's something to watch.
Matt Gelb, Inquirer Staff Writer
It's finally that time. Grapefruit League play begins at 1 p.m. today. Read The Inquirer's Phillies coverage to prepare...
-- Tyson Gillies put himself in a bad situation that only got worse. Now, the outfield prospect is looking for redemption as the Phillies stand behind him.
-- Within today's notebook, we discuss Chase Utley's absence from the lineup yet again and the scheduled pitchers for today's game against the Yankees as well as the minor-league B game being played at Bright House Field.
Philly.com sports
Video: CineSport's Noah Coslov gets in touch with the Inquirer's Matt Gelb to find out what's wrong with Chase Utley, and what to expect for Hamels on Saturday.
---
Have a question? Send it to Matt Gelb's Mailbag.
Download our NEW iPhone/Android app for easy access to all of our Phillies coverage, plus app-exclusive videos and analysis. Get it here.
Matt Gelb, Inquirer Staff Writer
CLEARWATER, Fla. -- It's getting a bit dusty in these parts. My apologies, but truthfully, there isn't much happening in Camp Clearwater right now. The workout this morning consisted of light batting practice and few side bullpen sessions for pitchers.
Many players will participate in this afternoon's annual Bill Giles golf tournament. Some will not. They will enjoy an afternoon off.
The Florida State game was an appetizer to Grapefruit League play, which begins Saturday. Cole Hamels takes the mound and will most likely spend two innings out there. Will be interesting to see him. The reviews have been glowing thus far during workouts.