Archive: February, 2010
Andy Martino
Join The Inquirer's Matt Gelb for a live chat from Spring Training at 2 p.m. Monday.
Andy Martino
TAMPA--As a reporter, it is my job to be skeptical of messages like "the Phillies have one of the best clubhouses in baseball, and many players want to play for the team." It's not that I'm supposed to be overly negative about something like that; I just have to make sure that it isn't mere spin, repeated so many times that it begins to feel like truth.
In the past week, I've had the chance to touch base with Cliff Lee and Chan Ho Park, two short-term visitors to the Philly area--and two guys who seem to wish they were in Clearwater this month. Both pitched well in 2009, and both hoped to return this season. Lee, of course, was part of the Halladay mega-deal. Park was, in Brad Lidge's estimation, "the MVP of our bullpen" last season, but the team did not re-sign him.
After failing to reach an agreement with agent Jeff Borris in December, the Phils moved on to sign Danys Baez and Jose Contreras instead. It was a gamble for the team, swapping a known quantity for two players yet to succeed in Philadelphia. And for Park, like Lee, it was extremely disappointing. The more you see former Phillies shake their heads, shrug, and say how much they loved it in that clubhouse, the more real the Phils current reputation seems.
Park was no exception. Standing in the locker room of the defending champs, dressed in the iconic pinstripes, Park made clear that he regretted leaving Philadelphia.
He began by saying the right things about becoming a Yankee. "They have the most history, and they are popular in the world, even in Korea," Park said. "When I grew up, they were a symbol--New York. Yankees."
But he spent most of his time yesterday talking about an off-season he called "frustrating."
"I had a wish after the season," he said. "Philadelphia was the no. 1 choice. I had a tough time leaving there. I had much support from fans and community, and I had the best teammates there, so..."
Well, he was asked, why didn't it work out with the Phils?
"Too late. Too late. Too late. It didn't work well in the beginning, and later on, too late," he said.
Basically, Park orginally expected a raise from the Phils, feeling that a strong performance had earned him more than the $2.5 million he made in 2009. His agents negotiated with Amaro through mid-December, and then the Phils decided to move on. Park was shocked.
"They were talking, and it didn't work," he said. "Trying to get a deal, and it didn't work out, and then later on they just gave up, and I lost."
He eventually signed for one year, $1.2 million to become a Yankees reliever. Park said that while he still preferred starting--and claimed to have drawn interest as a starter from several teams, though he declined to name those teams--he was more comfortable in the relief role than ever before.
"I knew a lot of teams were going to expect more" from him as a reliever, Park said. I" had success in the bullpen last year and the year before."
Park also addressed the criticism leveled by Charlie Manuel this winter. In complimenting Baez and Contreras as pitchers who would never refuse to take the ball, even if injured, Manuel was clearly taking a shot at Park. It is likely that Manuel's view of Park as a victim of frequent minor injuries contributed to the Phils lack of aggressiveness in pursuing the pitcher.
"I was disappointed in what he said," said Park. "That's what he thinks, but I don't think it has any meaning. He still is my favorite manager. I didn't talk to him, and I didn't believe it (when he first heard about the comments). But who cares? He's still my favorite manager. The whole team; they're the best. That's why it's so difficult to leave. The fans, especially the fans. They're the best.
"(It is) mostly sad...to leave Philadelphia. I had fun last year. Good memories and things. That makes me sad, but in the future (I'm on) a good team, and we have a chance to win. That's what's most important."
Matt Gelb, Inquirer Staff Writer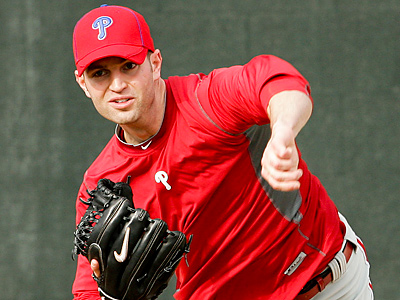 CLEARWATER, Fla. -- You want pitching probables? We got 'em all. The order listed is the order in which the pitchers will throw.
The first time through the rotation, starters will throw around 45 pitches.
Wednesday vs. Florida State
J.A. Happ
Phillippe Aumont
Yohan Flande
Drew Naylor
Joe Savery
Jesus Sanchez
David Herndon
Andy Martino
CLEARWATER, Fla.--In reporting a story for tomorrow's paper about what the Phils infield is working on this spring, I naturally had a long conversation with infield coach Sam Perlozzo. Perlozzo is always good for shop talk, and generous in sharing specific insights about his players.
I did not know that he was good with nicknames and slogans. Impressed by the boldness and skill of his infielders, Perlozzo is experimenting with a nickname for the group.
"I have a whole thing where I call them the Phearless Phour, with a "'ph'," said Perlozzo, the third base coach who also oversees infield defense. "They don't back down off of any play, so I call them the Phearless Phour."
The designation was news to Jimmy Rollins, who chuckled when informed of it yesterday.
"Phearless Phour?" Rollins said. "Oh no. That's good. I hadn't heard that."
Perlozzo has been impressed by the defensive aggressiveness--consistent with the general on-field swagger that characterizes the team--thet he sees from Rollins, Ryan Howard and Chase Utley. Hence the nickname.
"If there's a play they have a chance to make, they go for it," Perlozzo said. "They don't back down or take the easy way out."
But even with a talented and confident infield, the coach has been busy since January. Perlozzo's primary job has been to aid Placido Polanco in returning to third base after playing second for four seasons in Detroit. He is also helping his returning infielders--already widely viewed by scouts and statisticians as top defensive players--identify areas of in need of improvement.
Here is a sample what we learned about Howard and Rollins. Much more on them, Utley, and Polanco's transition to third in your Sunday Inquirer.
HOWARD
Perlozzo's work with Howard led to improvements last season in the first baseman's primary weakness, throwing to second base. As the coach explained it last week, Howard is too tall to make the throw consistently without sending it into the outfield. Last year, Howard began to drop down before making the throw, which led to greater accuracy.
"He's a real big guy, and he knows that he can't stay straight up and throw overhand," Perlozzo said. "We established that last year, so now he gets down into a three-quarter slot and the ball comes out pretty good for him. He likes it; he feels good about himself when he makes good throws. He's way ahead of where he was when he started last year."
For the second consecutive year, Howard contacted Perlozzo in January, and the two worked at Bright House Field five times before spring training.
"It's something we made strides on last year, and now we want to take it to another level," Perlozzo said. "You're always looking for more consistency. When we started with him, it was like he hadn't forgotten anything, so he's in a good place to build on that."
Howard is also looking to improve his range.
"We've got a little footwork thing, hitting the ground on time," Perlozzo said. "That's what gives him the range. When you get lazy and flat-footed, that's when you don't get a good start."
Essentially, Howard is aiming to lift the back of his feet by the time the pitch crosses home plate, rather than have them planted on the ground. That will allow him to react to ground balls more quickly, and give him a better chance to field them.
ROLLINS
The Phillies shortstop asks that his coaches not only tell him what to do, but explain why he should do it. So his sessions with Perlozzo are often discussions of infield theory, and his spring training work is as much intellectual as it is physical. Confident in his speed and range, Rollins' goal is to enhance what he calls "baseball intelligence."
"When I talk to Sammy, it's more about philosophy," Rollins said. "Catching the ball and throwing the ball, either you can do it or you can't. So we talk about positioning, when to play a guy this way or that way. That philosophy stuff is all I care about. Year after year, you still have to ask yourself those questions: Why am I going to do this as opposed to that? That allows me to understand the underlying reasons behind a play."
Rollins and Perlozzo often discuss positioning against individual hitters, studying spray charts and debating different approaches.
"Let's say there's a lefthanded guy up, a slap hitter who likes to shoot the ball between me and the third baseman," Rollins said. "Early in the game I might take that away from him by playing toward third."
But if there were a runner on first later in the game, Rollins continued, he would probably move closer to second base. That positioning would concede the single to left, but prevent a hit up the middle that could advance the runner to all the way to third.
"You give something up--the single--to prevent the chance of something worse from happening--the runner going from first to third," Rollins said. "Those are the kinds of philosophical things I want to talk about."
Rollins also uses Perlozzo as a deciding vote when he is unsure whether to pay attention to the scouting report or a different impulse.
"Sometimes you have to go against the hitting chart," he said. "You have to see what the pitcher is doing, or what the hitter looks like between pitches. If I don't know what I want to do, I'll look in at Sam, like 'what do you think?'"
Matt Gelb, Inquirer Staff Writer
CLEARWATER, Fla. -- It's a slow day on the fields. With a steady rain falling, the Phillies were limited to some batting practice in the cages in the tunnel. But after the shortened workout, pitching coach Rich Dubee provided a glimpse into the starting rotation as Grapefruit League play begins this week.
Here it is (partially complete):
Wednesday vs. Florida State -- J.A. Happ followed by younger pitchers TBD
Matt Gelb, Inquirer Staff Writer
CLEARWATER, Fla. -- Earlier in the week, we wondered about the fate of Cole Hamels' cutter, the fourth pitch he experimented with this off-season and hoped to add to his repertoire. But pitching coach Rich Dubee downplayed the cutter last week, saying he wanted Hamels to focus at one pitch at a time -- the curveball priority No. 1.
Well, when Hamels took the mound on Friday to face hitters for the first time this spring in live batting practice, he threw more cutters than curveballs.
So did Hamels talk Dubee into throwing it?
Matt Gelb, Inquirer Staff Writer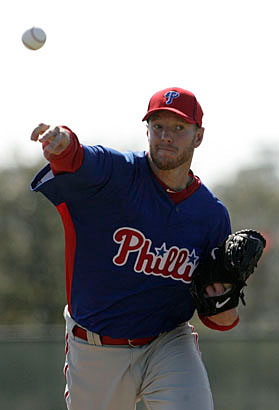 CLEARWATER, Fla. -- Charlie Manuel said he wouldn't hold anyone back from swinging during the first live batting practice of the season. Against their own pitchers, most players will "track" pitches early in spring training, which is baseball lingo for standing there and taking the pitch.
So when Roy Halladay toed the rubber against a group of left-handed hitters that included Chase Utley, Raul Ibanez, Ross Gload and Domonic Brown, the only one daring enough to take a hack was the rookie Brown.
He took three swings.
Andy Martino
PEORIA, Ariz.—Today was an important one for the most popular ex-Phillie of the moment, Cliff Lee. He threw his first bullpen session for the Seattle Mariners this morning, after undergoing minor foot surgery this winter. He threw about 45 pitches, and said his foot felt fine.
Of greater potential interest to Phillies Zone readers, Lee reflected beforehand on his time in Philly, and the December trade. Before sitting down and writing the story, I thought I'd pass along some of what he said.
Was he aware how strong of reaction the trade caused in Philadelphia, and how much fans seem to miss him?


"I think that the fans and Philly wanted me and Halladay there, but it's out of my control, out of my hands. I'm here now, so…Yeah, I guess in a way that makes you feel good that the fans wanted you here."
How long did it take him to get over the shock?
"A couple days, whatever. It's not like I was that out of whack about it. It just caught me off guard, really..It just goes to show that you never know what's going to happen in this game, and that's part of it. You're at the mercy of the team. That's the nature of the game; there's no way around it. So you've got to try to stay positive no matter where you're at, and try to help the team that you're on win. That's it. There's really nothing you can do.
What did he remember most about being a Phillie?
"Probably just enjoying my time with teammates, the staff there. I enjoyed it. It was a good group of guys. It was a lot of fun, it was something I'll remember forever."
Looking back, what did he remember about that transcendant World Series game 1 performance at Yankee Stadium?

"I don't know. It was just one of those games where it seemed like everything went my way. Everything that could have happened positive did. The behind-the-back play was just a reaction-type deal. I don't know, it just seemed like the stars where aligned or something. I don't' know what was going on there, but it seems like everything that could gone good did.
"It was just something that happened. I was confident and calm, and I felt like I put the work in to get ready, so I just went out there and let it all hang out, and that's what happened. It was just one of those days when I was able to throw pitches that I wanted to throw in the spots that I wanted to throw them. Everything was just kind of clicking that day, I don't know."
So it's kind of hard to explain?
"Yeah, it really is. I really don't know how to explain it except that everything was working."
Would he leave open the possibility of returning to the Phils as a free agent after this season?
"That's a long way from now. Right now I'm a Mariner and it's hard to sit here and talk about another organization or whatever. For right now, I'm a Mariner and I'm going to make the best of the situation. I'm excited about the guys we've got in this clubhouse, and it looks like we're going to be a pretty good team.
Who has he kept in touch with since the trade?
"I talked to Werth several times throughout the offseason. Victorino a little bit. That's really it. I didn't have a whole lot of the guys' numbers. I wasn't expecting the last time I saw everybody to be the last time I'd see them in a while. If I would have known it was going to happen this way, I probably would have gotten a few more phone numbers.
Matt Gelb, Inquirer Staff Writer
CLEARWATER, Fla. -- It's one of the most exciting drills of the spring: live batting practice. Why? Well it's the only time all season you can see Chase Utley hit off of Roy Halladay or Ryan Howard take swings against Cole Hamels.
In the grand scheme of things, live BP isn't a huge deal -- but it is a good way for hitters to prepare. On Thursday, Phillies hitters will go against their pitching teammates for the first time. Much of the focus during the spring is on the pitchers, mainly because this time is more important for them. But the hitters need practice, too.
"The speed of the ball, you're not used to it," manager Charlie Manuel said. "It's coming out of a hand and you're outdoors. In the wintertime, sometimes you get a guy inside or a machine. It's completely different. A pitcher is usually throwing better and he'll be mixing in curveballs and change-ups and stuff."
Matt Gelb, Inquirer Staff Writer
CLEARWATER, Fla. -- The Phillies have signed first baseman/outfielder Brad Wilkerson to a minor-league deal without an invitation to spring training.
Wilkerson, who last played in the majors for Seattle and Toronto in 2008. He played just two games for Boston's triple-A team in 2009.
Wilkerson, 32, will go to minor-league camp for the Phillies. He's one of the last former Expos still floating around in the majors. In eight seasons, he has hit .247 with 122 career home runs. In 2002, he was runner-up for the National League Rookie of the Year voting.