Archive: December, 2012
Bob Brookover, Inquirer Columnist
The Phillies officially announced the signing of free-agent reliever Mike Adams to a two-year, $12 million deal Thursday. The contract also includes a vesting option for 2015, which is a lot of money for a guy who admits last season was a physical struggle.
Adams, 34, is expected to take the role as closer Jonathan Papelbon's setup man next season. He has been one of the best eighth-inning relievers in the game since 2008, posting a 1.98 earned run average while striking out 311 batters in 295 innings.
The veteran righthander posted a 5-3 record with one save and an uncharacsterically high 3.27 earned run average in his only full season with the Texas Rangers last year. He was shut down for the final week of the season and underwent surgery in October for a condition known as Thoracic Outlet Syndrome.
Bob Brookover, Inquirer Columnist
The Phillies hit John Lannan in his major-league debut with the Washington Nationals and he hit them, too.
Lannan surrendered five runs on six hits in 4 1/3 innings in a July 26, 2007 game at Citizens Bank Park. His debut ended in the bottom of the fifth with one out after he hit Chase Utley and Ryan Howard in consecutive at-bats. He broke Utley's hand before also hitting Howard and the lefthander and his manager Manny Acta were ejected from the game.
After the Phillies officially announced Tuesday that Lannan had signed a one-year $2.5 million deal that also includes performance bonuses, the pitcher was asked what he remembered about his inauspicious debut.
Bob Brookover, Inquirer Columnist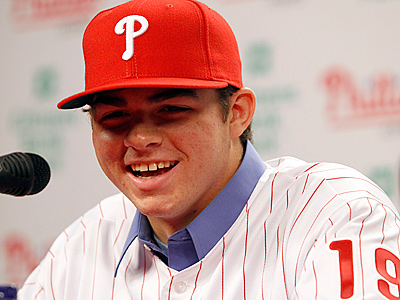 The Baseball America list of top 10 Phillies prospects was released Monday and, for the first time, Jesse Biddle tops the magazine's rankings.
It would be difficult to find someone who disagreed with that selection. A year ago at this time, he ranked second behind Trevor May. Even if May had not been part of the trade that brought in center fielder Ben Revere from Minnesota, Biddle would still deserve the top ranking.
In fact, the 21-year-old lefty has a chance to become one of the best baseball stories in Philadelphia history. It's rare for a kid to be drafted by his hometown team and then become a star for that team. There is pressure on every first-round draft pick in every sport and it increases when that first-round pick is a local kid because of the added attention.
Matt Gelb, Inquirer Staff Writer
After a busy Saturday, the Phillies have filled two holes, a setup man (Mike Adams) and fifth starter (John Lannan). The biggest need, a corner outfielder, remains.
The top available players are Nick Swisher and Cody Ross. Both are reportedly seeking at least three-year contracts, with Swisher probably looking for four years. A part-time player like Scott Hairston is said to be demanding two guaranteed years.
There is still money for Ruben Amaro Jr. to spend on an outfield upgrade. Amaro said at the winter meetings he expects a payroll similar to that of 2012, which at opening day was near or above $178 million.
Matt Gelb, Inquirer Staff Writer
The Phillies filled two holes Saturday, first with the addition of setup man Mike Adams, and then John Lannan as the fifth starter.
Lannan agreed to a one-year, $2.5 million deal as reported by CSNPhilly.com and CBSSports.com. The 28-year-old is the favorite to slide into the rotation spot vacated by Vance Worley. At $2.5 million, the risk is small, and Lannan could shift to the bullpen as a long man if ineffective in the rotation.
The lefthander fits the description of a "low-risk, high-reward" starter Ruben Amaro Jr. said he was seeking. Marginalized in Washington, Lannan made only six starts in 2012. He has a career ERA of 4.01 in six seasons.
Matt Gelb, Inquirer Staff Writer
On the 42d day of an uncharacteristically quiet Phillies offseason, the team finally spent money in the form of a two-year agreement with reliever Mike Adams, a source confirmed.
Adams, one of the game's dominant setup men, will sign a two-year, $12 million deal, pending a physical. The deal reportedly contains a vesting option for a third season. The agreement was originally reported by KRISTV in Corpus Christi, Texas.
The Phillies craved stability in the eighth inning. They lost 12 games, the most in the majors, when holding a lead entering the eighth inning. Adams, 34, could be that presence, provided he is healthy. The righty underwent October surgery to remove a rib that caused Thoracic Outlet Syndrome, a numbing sensation in his fingers.
Matt Gelb, Inquirer Staff Writer
The Phillies claimed hard-throwing lefty Mauricio Robles off waivers Friday from the Seattle Mariners.
Robles, 23, lacked command as he ascended Seattle's system. He posted a 5.78 ERA across double A and triple A in 2012 while walking 63 in 71 2/3 innings primarily as a reliever. Before 2012, Robles was a starter.
The Phillies' 40-man roster is now at 37 players. Six of them -- Antonio Bastardo, Jake Diekman, Jeremy Horst, Joe Savery, Raul Valdes and Robles -- are lefthanded relievers.
---
Matt Gelb, Inquirer Staff Writer
Ichiro Suzuki was rejuvenated by a mid-season trade to New York, and he will remain a Yankee with an agreement forthcoming, believed to be for one year. But, according to a report by ESPN.com's Buster Olney, Ichiro may turn down more money and a longer guarantee from the Phillies.
Olney reported the Phillies offered Ichiro a two-year, $14 million contract. The New York Times also reported strong Phillies interest. Charlie Manuel has long been an admirer of Ichiro. He would have probably batted leadoff in the Phillies lineup and played right field.
The offer is surprising for a few reasons, most notably, Ichiro is not the prototypical corner outfielder the Phillies require. He's 39 and posted the lowest on-base percentage of his career (.307) in 2012. He has a career slugging percentage of .419. (Although, in a small sample size, he slugged .454 with the Yankees in 240 plate appearances.) He led all of baseball in hits for five straight seasons from 2006-10.