Archive: November, 2009
Andy Martino
Phillies pitcher Jamie Moyer had surgery today after an MRI exam showed a small blood collection that could have been infected, the team said tonight.
Moyer was admitted to Thomas Jefferson University Hospital in Philadelphia Tuesday after experiencing lingering pain related to October 2 surgery to repair three muscle tears in his groin and lower abdomen.
He was previously hospitalized from Oct. 6-10 with a blood infection caused by the surgery.
In a statement, the Phils called yesterday's procedure, performed by Dr. Bill Meyers, "minor."
"Jamie is doing very well," said Phillies Team Physician Dr. Michael Ciccotti in the statement. "The surgery is not likely to impact his rehab schedule and is likely to have minimal impact on his spring training schedule."


Moyer is likely to remain hospitalized until Monday.
Andy Martino
The Phillies team physician said tonight that pitcher Jamie Moyer was not seriously ill, but would likely be hospitalized for several days after experiencing lingering pain related to October surgery.
"Jamie is a healthy guy," said Dr. Michael Ciccotti. "He is in no way seriously ill."
Moyer, 47, checked in Thomas Jefferson University hospital in Philadelphia Tuesday night after experiencing increased pain that Ciccotti traced to Oct. 2 surgery to repair three muscle tears in the pitcher's groin and lower abdomen.
The week after undergoing surgery, Moyer was hospitalized with a blood infection, but recovered in time to join the team during the National League Championship Series and World Series.
Ciccotti did not believe that the pitcher's current issue was related to the blood infection, but said that Moyer would undergo testing over the next several days, including an MRI. After Moyer reported the issue early this week, team medical staff decided that the pitcher should travel north to see Dr. William Meyers, who performed the September surgery at Hahnemann University Hospital.
"Maybe since the weekend he started to have some increasing discomfort, some symptoms, and that prompted us to have him come to Philadelphia (from Florida) to be evaluated," Ciccotti said. "Our feeling was we would have him admitted to Thomas Jefferson. We're in the midst of evaluating him. He's very comfortable. He's walking.
"You can re-strain that area (repaired by the surgery) during the recovery or rehabilitation period. That's where the MRI is helpful because it can help us determine if that's the case and then that's just a matter of adjusting his rehab and his therapy."
Ciccotti added the hospitalization would probably cause only a slight setback in Moyer's rehabilitation, aimed at preparing him to participate in spring training.
"It is possible it could be a little bit later," he said. "But he's still on the timeline that would allow him to participate in spring training with hopefully minimal effects on his early spring training participation."
Andy Martino
The Phillies and veteran utilityman Juan Castro have agreed in principle on a contract, and will likely finalize the agreement with a physical next week, Castro's agent told the Inquirer today. Additionally, there were strong indications in baseball that a one-year deal could be announced next week, pending the results of the physical.
According to agent Oscar Suarez, Castro is out of the country, which is why he will not likely take the physical until next week.
"We have been in discussions with his agent," said general manager Ruben Amaro Jr. "That's all I can tell you right now."
Castro, 37, is a .230 hitter, with a .270 on-base percentage, in 15 major league seasons. In 57 games with the Dodgers last year, he batted .277, while playing shortstop, second base, third base and left field.
He fits the profile of what the Phils are seeking at the utility position: a versatile defender who can provide a modest offensive upgrade over Bruntlett, and can fill in for shortstop Jimmy Rollins.
Manager Charlie Manuel is notoriously reluctant to utilize his bench players extensively, and has said publicly that he wants a utility player capable can of starting in place of Rollins and Chase Utley. Bruntlett, who batted .171 in 72 games last season, clearly never gained Manuel's trust.
Rollins and Utley will both be 31 next season, and would benefit from regular time off. Rollins played in 155 games last season; Utley 156. The second baseman in particular endured a rough September, batting just .204. He later admitted to suffering mental and physical fatigue late in the season.
Poll: Is Castro a good fit for the Phillies?

(1819 votes)
Andy Martino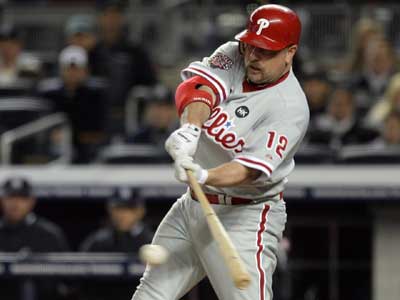 While the Phillies' primary pursuit is the search for a third baseman, yesterday's removal of Eric Bruntlett from the roster offered a reminder that the front office is also working to retool the bench. Here is a window into their thinking:
--Matt Stairs, who wants to return for one more season with the Phils before retiring, is welcome at spring training on a minor league deal. But the team is looking for a different type of player to fill his roster spot. Stairs is a power/on-base guy who can barely play the outfield and certainly cannot handle the infield at this stage of his career.
"Ideally, you would like to have as many defensive options as you can with guys," Amaro said today. "Versatility plays. Matt Stairs was a specialty guy."
--The Phils most pressing bench need is to find a super utility-type, a player who Charlie Manuel can trust to fill in for Chase Utley and Jimmy Rollins. Those talented middle infielders have arrived at baseball middle age, and need more rest than Manuel has provided.
So here is what Amaro needs to find: A guy who can play shortstop, and is willing to accept a bench role, and can handle the bat well convince Manuel to use him.
One problem. That guy probably does not exist.
"If the ideal guy was there, he would be playing every day in the major leagues," Amaro said. "The likelihood is not great that we're going to find a guy who can hit enough and field enough. You're going to have to make a sacrifice."
So where will Amaro make that sacrifice? On offense, apparently. He is seeking someone who can play the difficult position of shortstop, and has played that position regularly. By cutting ties with Bruntlett, the Phils sacrificed their only player who could sub for Rollins if the shortstop were injured for a significant period of time.
"Shortstop is a specialized position, almost like catcher," Amaro said. "You would err on getting defense over offense."
That would seem to eliminate the following names from the super-utility hunt, among others who haven't played much shortstop lately, if ever: Jamey Carroll and Ronnie Belliard.
In light of Amaro's comments, Juan Uribe and John McDonald become intriguing options, as does Bobby Crosby. Cairo also fits the description, but it is difficult to imagine Manuel penciling in Cairo over Rollins very often.
Ben Francisco is returning, meaning that the other bench search is for a backup catcher. The Phils value defense at that position—they replaced Chris Coste with Paul Bako this year because the organization considered that a significant defensive upgrade—and would ideally like to find a younger option than the 37-year-old Bako.
But the Phils pitchers loved working with Bako last season, which is why I wouldn't be totally shocked to see the team begin 2010 with him as Carlos Ruiz's backup. If the team cannot find an affordable upgrade, they could do worse than Bako. He is certainly not their Plan A, but he remains in the mix.
***
It is clear that Amaro wants to improve the late inning relief corps by adding a free agent or two. Brandon Lyon and Fernando Rodney would be perfect fits, because they have been closers and setup men—and it wouldn't be the worst idea to have an insurance policy in case Brad Lidge's 2010 performance resembles his 2009.
Without mentioning names, Amaro made it clear that he did not want to rely on the farm system to restock his bullpen for next season.
"I'm trying to get someone who would be a little bit better than our possible candidates," the GM said.
Scott Eyre was an important part of the late-inning mix last season, and he wants to either retire or return to the Phils for one more year. He had minor elbow surgery after the World Series, and we knew that the team was waiting on that to decide whether they were interested in retaining the lefty. Yesterday, Amaro added money as a factor.
"We think the surgery went well," Amaro said. "We're deciding whether the cost of bringing him back will be prohibitive. He may have priced himself out of our range."
Andy Martino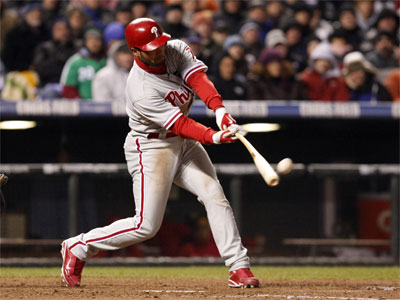 Join the Inquirer's Andy Martino for a live Phillies chat Wednesday at 11 a.m.
Andy Martino
Awards are dumb. MVP and Rookie of the Year are particularly dumb. At least the dumb Cy Young Award compares people who do the same job. But in weighing J.A. Happ versus Chris Coghlan versus Tommy Hanson versus Garrett Jones versus Andrew McCutchen, how do you compare a talented outfielder to a talented pitcher, anyway? That is just one of many reasons why I do not, and will never, vote for athletic awards.

The news today is that Coghlan beat Happ (and the others) for N.L. ROY. I don't care, and I don't recommend that you get bothered over it (caveat--the players care, and there is nothing wrong with that; it always feels good to be recognized, whether or not the award is dumb. Philly.com could give me the Pointless Post of the Day Award, and I'd probably feel all good about myself for a few hours).
But here's the only important thing for baseball fans: All of these players will likely be fun and interesting to watch for several years. They are all talented, in different ways. They are all fun to watch, and they all deserve praise for strong performances in 2009. Why this annual need to categorize people with fuzzily-defined awards?

***
The Phillies did some maneuvering of their 40-man roster today, removing utilityman Eric Bruntlett, RHP Tyler Walker, C Paul Hoover, INF Andy Tracy and RHP John Ennis. All are free agents.

If Bruntlett's time in Philly is over—and he has seemed headed out of town for a while now--the Phillies Zone wishes him luck. A good guy, and scary smart (he holds a degree in economics from Stanford University, and scored a 1440 on his SATs), Bruntlett kept his on-field struggles in perspective this year, and always handled them with class.

Now, the Phils continue their search for a upgrade at the utility position—something that is increasingly essential, as Chase Utley and Jimmy Rollins settle into baseball middle age and require more rest.













Poll: Should Happ have won the award?

(1875 votes)
Andy Martino
Brett Myers was told today that his Phillies career is over, the Inquirer's Jim Salisbury reports.

``I officially won't be a Phillie next year,'' the 29-year-old pitcher told The Inquirer this afternoon.

In a meeting with general manager Ruben Amaro Jr., today, Myers was told that the team will not attempt to negotiate a new contact with him this offseason. Myers contact expired after the World Series. He said he will file for free agency today.

``Actually I'm not as disappointed as I thought I'd be,'' Myers said. ``I don't know if it's because other things are in front of me, blurring my vision. I'm packing and getting ready to drive home (to Jacksonville, Fla.) tomorrow.

``It just didn't hit me as hard as I thought it would. I kind of felt it coming.''

Myers said Amaro gave him no reason for the decision not to attempt to extend the relationship between the team and the pitcher.

``I was just like, `OK, thanks for putting up with my (stuff),' '' Myers said. ``He thanked me and wished me and my family well.

``I'll miss the guys on the team and the fans who have supported me. Hopefully I'll be playing against the Phillies and when I do I want the roughest treatment the fans can give me – when I'm pitching. I'm an opposing player – you have to give it to me.''

Myers was the Phils' top draft pick in 1999. He spent eight seasons with the club and was 73-63 with a 4.40 ERA in 240 games.

The righthander had his ups and downs as a Phillie. He made three opening day starts and closed out a division championship clincher. In June 2006, Myers was charged with assaulting his wife in Boston. The charges were dropped. Myers missed several months this season with a hip injury that required surgery. He rehabbed aggressively and made it back for the postseason.

``The last two years, going to the World Series and all, have been exciting,'' he said. ``Other than that, I'm disappointed with how I did the last few years. My last three years weren't as productive as I would have liked.''

Myers is open to working as a starter or a reliever with a new team.

``I'll just go out there on the market and see what happens, dude,'' he said.

Andy Martino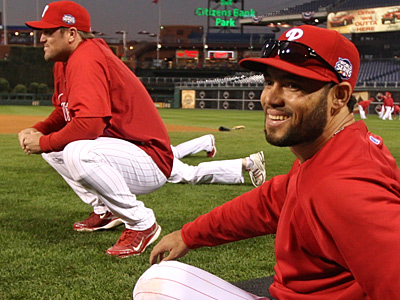 The Phillies are actively exploring options at third base other than Pedro Feliz, general manager Ruben Amaro Jr. said today.

The team has until Monday to exercise a $5.5 million dollar contract option on Feliz for the 2010 season.

"More than anything else, we want to see what options may be out there for us and decide whether picking his option up is best suited for this club to try to move forward," Amaro said. "He had a solid year for us. I like the man personally. He's a great person and a great teammate, but I also believe in trying to improve and sometimes change can be for the better. It doesn't necessarily mean we're going to, but it's just something that we're thinking about."

Feliz, 34, is a top defensive player, but subpar offensively. In 2009, he batted .266, with a.308 on-base percentage and .386 slugging percentage.

Amaro could pursue a trade to upgrade the position. The general manager meetings begin on Monday in Chicago, so Amaro will gather with executives from other team's before he needs to make a decision on Feliz's option.

The GM could also replace Feliz with a free agent—though teams have a 15-day window to negotiate exclusively with free agents. Of the potential third basemen on the market, three stick out as potential fits for the Phils: Seattle's Adrian Beltre, Anaheim's Chone Figgins, St. Louis' Mark DeRosa.

Because the Angels figure to aggressively pursue Figgins, and DeRosa is also 34 years old, Beltre, 30, stands out. A strong defender with a power bat, Beltre is coming off a five-year, $64 million contract. Injuries limited Beltre in 2009 to 111 games and eight home runs—but that performance might have made him affordable to the Phils. Amaro was vague yesterday when discussing payroll flexibility, but the team is unlikely to add significant money to a payroll that exceeded $130 million last season.

***

Closer Brad Lidge is scheduled to have his right elbow examined today, said Amaro. Lidge might have "loose bodies" in the elbow, the same issue that sidelined lefthander Scott Eyre in September.