Archive: October, 2010
Matt Gelb, Inquirer Staff Writer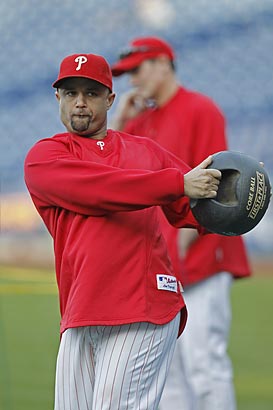 I'm here in San Francisco preparing for Game 1 of the World Series, but Phillies news never ends, right? An update on Placido Polanco...
It was the middle of August, between his third and fourth cortisone injections, when Placido Polanco first acknowledged he'd probably need surgery on his left elbow following the season.
Polanco was hit by a Tim Hudson pitch on the elbow April 21 in a game at Atlanta. That merely aggravated what was a chronic injury to Polanco's elbow, full of tendinosis and bone fragments.
Matt Gelb, Inquirer Staff Writer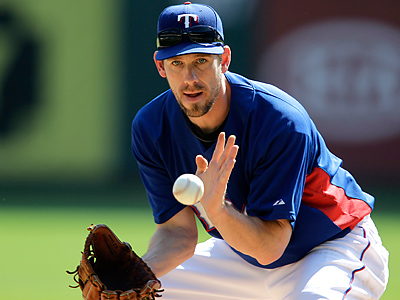 SAN FRANCISCO -- Ah yes, baseball is not over. They will play the World Series without the Phillies for the first time in three years.
That doesn't mean this series between the Texas Rangers and San Francisco Giants fails to offer intrigue for those back in Philadelphia. You know, He-Who-Must-Not-Be-Named is starting Game 1 for the Rangers.
Some Phillies, Jayson Werth included, will be watching Cliff Lee on TV.
Bob Brookover, Inquirer Columnist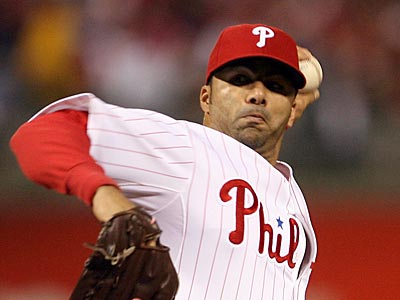 As expected, the Phillies declined reliever J.C. Romero's $4.5 million option for 2011. The left-hander will receive a $250,000 buyout and become a free agent.
It's unlikely the Phillies will bring back Romero, who went 1-0 with three saves and a 3.68 ERA this season. Romero spent part of 2007 and the last three full seasons with the Phillies.
The Phillies undoubtedly will be looking for left-handed relief help in the free-agent market this offseason. Lefthander Antonio Bastardo is also likely to make the team out of spring training next season.
Matt Gelb, Inquirer Staff Writer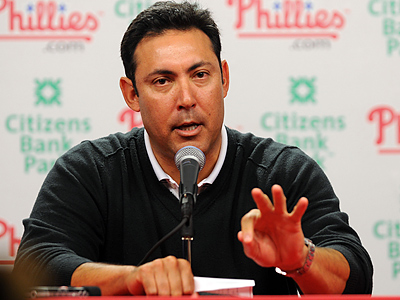 General manager Ruben Amaro Jr. spoke for a half hour Monday at Citizens Bank Park to issue his state of the team address as the Phillies head into the off-season without a pennant for the first time in three years.
He had plenty of interesting things to say.
"I think there are three elements we have to be ready to handle this off-season. One is our six free agents," Amaro said. "We have to deal with those. I think we have to deal with our age because we're starting to move past and into the prime ages of production. And I think we have to address the bullpen because that's something that could have been an Achilles' heel. They ended up performing very well because our starters went deep into games."
The age comments were intriguing because, really, it hasn't been discussed much publicly by the front office.
"Do I think about the age? I do," Amaro said. "Do we have to start thinking about filtering some youth into our club? Yes, I believe that too. But at the same time, we want to be a contender again. So we have to balance those two things."
Obviously, most of the talking points began and ended with Jayson Werth, who is a free agent.
"I haven't had any discussions with Scott [Boras] yet," Amaro said. "I obviously will over the next 48 hours, we will make contact. I guess the following question is, do we have enough money to do it? And would we like to bring him back? I think the answer to both questions is yes. However, that will all kind of depend on what the ask is and ultimately how that will affect us with other possible moves to do it."
Boras said during the season Werth was having a "franchise-type season." Amaro didn't necessarily agree.
"Jayson had a good year," he said. "It wasn't an extraordinary year. He had a tough time with men on in scoring position. It wasn't as productive a year as he's had in the past. But I think if he's not with us, there are players we can either acquire or are in our own organization that can help us."
If the Phillies try to sign Werth, how difficult is it to do other things?
"Well, it becomes difficult if you don't move other pieces. ... We might have to make other adjustments."
That's the only way you could re-sign Werth?
"Not necessarily."
If Werth leaves, Amaro said the job would not be handed to rookie Domonic Brown.
"We have not given the job to Domonic Brown," he said. "He's been told that, flat out. He's going to have to earn a spot on our club next year. He's going to winter ball. A lot of it will depend on what the status is with Jayson."
Other things to note...
-- Amaro said the team will likely not negotiate with Jimmy Rollins this off-season. Rollins is entering the final season of his contract.
"I think we'll probably let things, at this time, play out," Amaro said.
-- Charlie Manuel is also going into a contract year and the GM said that will be taken care of at some time this off-season.
"At some point, we will probably address it with Charlie," Amaro said. "We have not. I've asked all the coaches back."
-- Assistant general manager Chuck LaMar said first base prospect Jonathan Singleton's experiment in the outfield during Fall Instructional League went so well that he will begin next season as the left fielder at single-A Clearwater.
-- And as for the mood around the club, Amaro had this to say:
"I think this one stung pretty good. I think the players really believed they were going to be World Series champions. I think they'll be chomping at the bit come spring."
Read Tuesday's Inquirer for much, much more...
Matt Gelb, Inquirer Staff Writer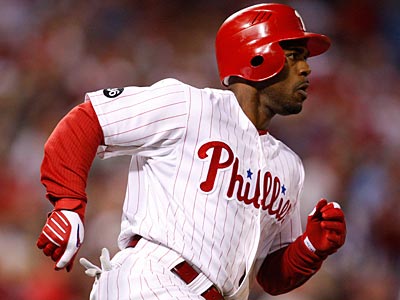 Apparently Jimmy Rollins' two stolen bases in Game 5 were enough proof for Charlie Manuel that his leadoff hitter is healthy enough to bat at the top of the lineup.
Rollins returns to the leadoff spot for the second time this postseason in Game 6. Rollins batted leadoff in five games at the end of the regular season and was 4 for 18.
But against the lefthander Jonathan Sanchez, Rollins will be batting from his stronger side (right) and Manuel must like the matchup.
Matt Gelb, Inquirer Staff Writer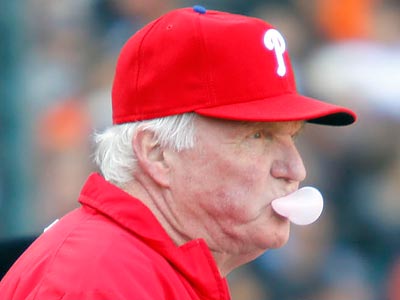 SAN FRANCISCO -- A lot going on out there. Rightfully so. There was so much that happened in Game 4 that it's hard to begin, in no particular order...Jimmy Rollins, Joe Blanton, Sam Perlozzo, Chad Durbin, Roy Oswalt, Brad Lidge, Ben Francisco, Jeremy Affeldt...take your pick. (OK, many have chosen Charlie Manuel.)
Both teams combined to use 11 pitchers and 23 hitters in Game 4, which featured 321 pitches. Some decisions mattered more than others. Some are being second-guessed a day later.
We won't go on the offensive. Instead, here are two situations I perceived to be extremely interesting and weren't talked about at great length about in the mass of postgame opinion and analysis that followed Game 4...
Matt Gelb, Inquirer Staff Writer
SAN FRANCISCO -- The Phillies will play an elimination game with a familiar lineup.
Raul Ibanez is back in the lineup after sitting in Game 4. And Charlie Manuel has moved Placido Polanco back up to the two spot. Chase Utley and Ryan Howard are not split up.
1. Shane Victorino CF
2. Placido Polanco 3B
3. Chase Utley 2B
4. Ryan Howard 1B
5. Jayson Werth RF
6. Jimmy Rollins SS
7. Raul Ibanez LF
8. Carlos Ruiz C
9. Roy Halladay P
Matt Gelb, Inquirer Staff Writer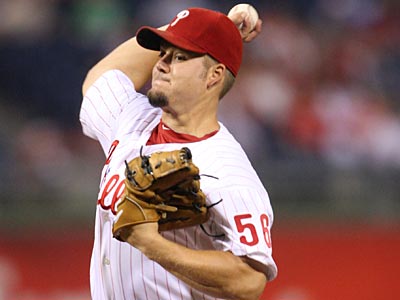 SAN FRANCISCO -- So it's come to this. Joe Blanton, the fourth member of a pitching rotation that features a Big Three, is pitching in the season's most important game.
I'm assuming much of the debate back home today as been about starting Blanton over Roy Halladay. As I wrote for Tuesday's paper, the other scenario was an enticing one. Halladay and Roy Oswalt have had success pitching on short rest. Cole Hamels has never done it, but if there ever was a time to do it, it's now.
Instead, the Phillies chose Blanton.