Archive: January, 2013
Matt Gelb, Inquirer Staff Writer
There are decisions to be made in Florida, probably more than a typical Charlie Manuel spring training, but nothing is more paramount than ascertaining the Phillies' health. Keeping an aging core on the field is proving a tougher task each year. In recent springs, Manuel has lessened the Grapefruit League load on his veterans.
But the 69-year-old manager has no qualms with Jimmy Rollins' selection as shortstop for the United States in the World Baseball Classic.
"Actually, it'll be good for him," Manuel said. "Different scenery helps Jimmy. It matches his personality and how he looks at things. Over the years, I've gotten to know him pretty well. If there is different scenery, he really gets into it."
Matt Gelb, Inquirer Staff Writer
The Phillies signed Yuniesky Betancourt, a light-hitting veteran middle infielder, to a minor-league deal Monday. He is invited to big-league spring training, where a chance at a bench job could await.
More than likely, Betancourt will simply provide depth if he agrees to a triple-A assignment. The 30-year-old has spent parts of eight seasons with Seattle, Kansas City and Milwaukee. He has not played in the minors since 2005, save for rehab assignments.
Of course, if the Phillies must rely on Betancourt for anything more than depth, they could be in deep trouble. Betancourt is an out-making machine who has not posted an OPS above .692 in five seasons.
Bob Brookover, Inquirer Columnist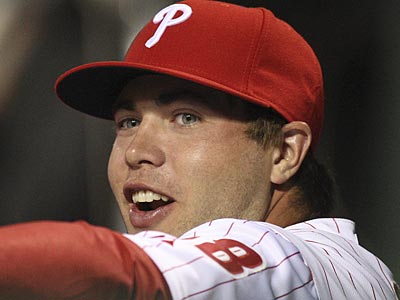 It remains to be seen who will be most impacted by the late offseason addition of right fielder Delmon Young, because that's the sort of thing that gets sorted out in spring training.
Do the Phillies carry 11 pitchers, opening the door for six infielders and six outfielders? Does it cost an outfielder a job? Does it mean Darin Ruf opens the season at triple-A Lehigh Valley, a stop he skipped on the way to the big leagues last September?
These and other answers will be revealed under the swaying palm trees of Florida's Gulf Coast when the Phillies report to Clearwater, Fla. in two weeks.
Bob Brookover, Inquirer Columnist
The Phillies may have finished third in the National League East last season and again this offseason, but that doesn't mean they have to finish anywhere other than first once the season begins.
At a dinner banquet in Allentown Thursday night, general manager Ruben Amaro Jr. explained why this offseason has been different in terms of the team's moves.
Instead of one big splash -- a trade for Roy Halladay, the signing of free agents Cliff Lee and Jonathan Papelbon -- that grabs the attention of the entire baseball world, the Phillies have made a series of smaller moves, dealing for center fielder Ben Revere and third baseman Michael Young while signing setup man Mike Adams, fifth starter John Lannan and right fielder Delmon Young.
Matt Gelb, Inquirer Staff Writer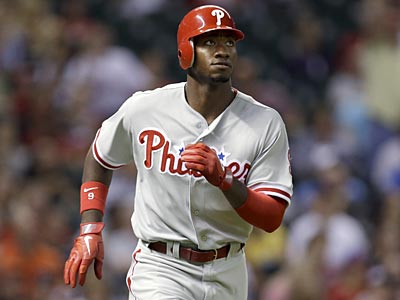 In each of the last two springs, Domonic Brown had a chance to win a starting job. He batted 16 times in 2011 before a freak fracture of a bone in his wrist handed Ben Francisco right field. Last spring, Brown batted all of 20 times while hamstrung by thumb, neck and knee ailments. John Mayberry Jr. started in left on opening day.
This is not revisionist history. Was Brown guaranteed anything by the Phillies? Absolutely not. Did he do enough to secure anything? Definitely not.
So, with a few weeks before camp opens, Brown stares down his third chance. The 25-year-old was anointed the Phillies' best prospect for three straight years by Baseball America. He has batted 492 times in parts of three major-league seasons with inconsistent results, at times displaying the tantalizing talent that seduced scouts. Mostly, he grades as incomplete because the sample size is much too small.
Matt Gelb, Inquirer Staff Writer
Ruben Amaro Jr. used the word "motivated" often Tuesday to describe Delmon Young, who settled for a $6 million paycut to join the Phillies. Young admitted he followed bad habits last season once he knew he was destined for designated hitter duty in Detroit.
"When I knew I wasn't going to see the field," Young said, "you can eat just a little bit extra."
Young said he weighed in at 238 pounds Tuesday during his physical examination. He'll need to lose more weight if he is to make an extra $600,000. How's that for motivation?
Philly.com sports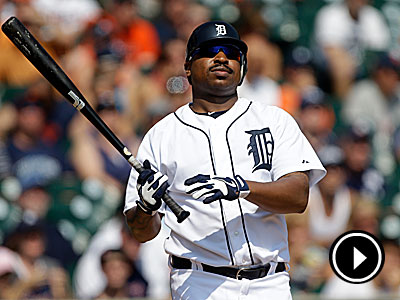 Video: Phillies hope to have found an every day right fielder after signing Delmon Young to a one-year deal Tuesday. The Inquirer's Matt Gelb reports from Citizens Bank Park.
---
Bob Brookover, Inquirer Columnist
Adam Morgan provided another reason why Jesse Biddle's expected climb through the minor leagues to an eventual spot in the Phillies' starting rotation is so intriguing.
The two men were teammates last season at single-A Clearwater and there is a panoramic photograph just outside the clubhouse that captures the players and the crowd celebrating immediately after the Phillies won the 2008 World Series. The same photo hangs just outside the clubhouse at Citizens Bank Park.
"Every time we walked past it, he'd tell me how he is in that picture," Morgan said last week during the Phillies' prospect training seminar. "You can see the back of his head and he's in a Phillies jacket. He would always show us where he was at in the crowd. You can really see him."