Archive: March, 2012
Philly.com Sports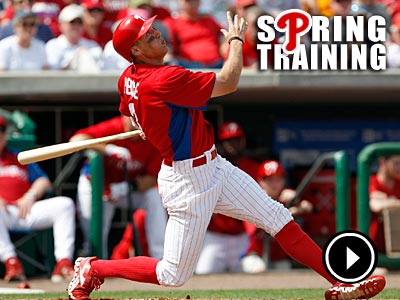 Video: The Phillies fell to the Yankees, 8-5, in their Grapefruit League opener on Saturday. The Inquirer's Matt Gelb reports from Bright House Field.
Matt Gelb, Inquirer Staff Writer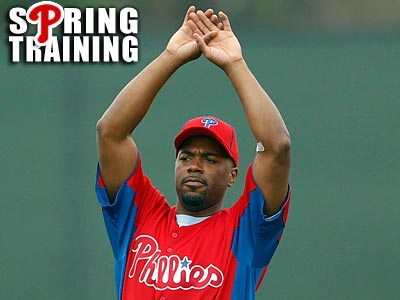 CLEARWATER, Fla. — There is baseball today. Almost real major-league baseball. On television.
So celebrate the opening of the Grapefruit League schedule. The Yankees are in town and will throw Ivan Nova. The game starts at 1:05 and is televised on Comcast SportsNet.
Charlie Manuel's lineup features Jim Thome in the cleanup spot and no Chase Utley, Placido Polanco or Carlos Ruiz.
Matt Gelb, Inquirer Staff Writer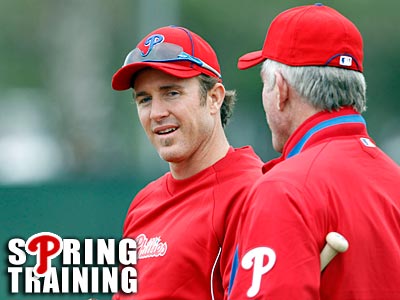 CLEARWATER, Fla. — Chase Utley will not be at second base when the Phillies open their Grapefruit League schedule Saturday against the Yankees. And it's possible Utley does not see game action for some time.
Earlier in the spring, Charlie Manuel said he planned to play Utley less during exhibition games to keep his chronically injured right knee fresher for the season. Of course, Manuel has made such proclamations about rest before, but this could actually be legitimate.
Typically, Manuel likes his regulars to have at least 70 at-bats in the spring. It appears as if he's willing to ease that requirement for Utley.
Matt Gelb, Inquirer Staff Writer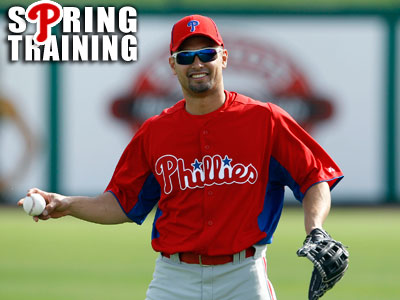 CLEARWATER, Fla. — The way Shane Victorino sees it, why shouldn't he want to shoot for the stars with his next contract?
A day after telling two reporters he was seeking a five-year deal, Victorino wanted to clarify his demands: Most paramount is a desire to remain in Philadelphia.
"I'd like to," the 31-year-old centerfielder said. "I'm not saying this will be my last one. It might be. Who knows? What I'm saying is, why not finish it here? I made it seem like I want a five-year deal, but I'd love to stay."
Matt Gelb, Inquirer Staff Writer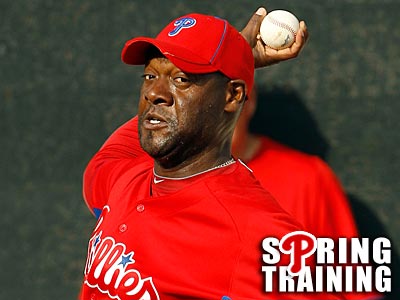 CLEARWATER, Fla. — It's the slowest time in Phillies camp, the day when the workout is shortened so players, coaches and staff can leave early for the annual Bill Giles golf tournament. Grapefruit League games are still two days away, so we are truly in the stagnant stage.
Here are some small tidbits to help pass the time:
>>> Jose Contreras threw to hitters for the first time this spring. He tossed a full live batting practice session and did so without any apparent issues. Contreras (September elbow surgery) is not scheduled to pitch in the first week of games, but he could appear soon after that.
Matt Gelb, Inquirer Staff Writer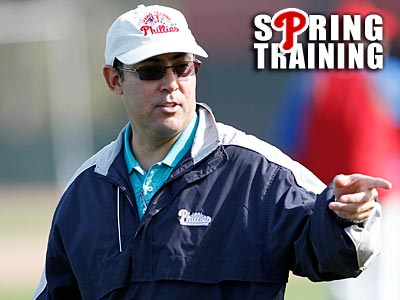 CLEARWATER, Fla. — They will play Grapefruit League baseball this weekend, the latest sign that meaningful Phillies games are closer. If last season's camp was defined by the hype surrounding Four Aces, much of this early spring has been about money.
How much can Cole Hamels make? Will the Phillies pay him? Can the Phillies fit Shane Victorino and Hunter Pence in the future payroll? How much could a new TV contract in 2016 net the franchise? Is the payroll too top-heavy? Will there be funds for a trade deadline move, if necessary?
This winter, the Phillies said many of their decisions are made under the limitations of the competitive balance tax — a.k.a. luxury tax. The Boston Red Sox and New York Yankees, two teams perennially paying luxury tax, spent less this offseason with the goal of someday squeezing under the cap with the rest of baseball.