Archive: April, 2008
Todd Zolecki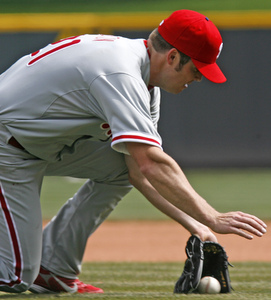 It's one start, so nobody should jump to conclusions.
But Adam Eaton did pitch well yesterday in a 4-3 loss to the Reds at Great American Ball Park. He allowed three runs in 7 2/3 innings. That effort is notable for a couple reasons:
He hadn't had a quality start since July 3 in Houston.

He hadn't pitched more than seven innings since June 11 against the Chicago White Sox.
Eaton pitched poorly last season when he went 10-10 with a 6.29 ERA, but in his first start in 2008 he looked like somebody who actually could give the Phillies' offense a chance to win some games this year. If I'm the Phillies, I'm happy if Eaton keeps his ERA around 4.50 this season. If he does that he could win 12 games or so.
Todd Zolecki
Ryan Howard answered some of your questions in today's Inquirer.
I'd like to have a Q&A with a player, coach, manager or front office official in every Saturday Inquirer this year. That might not always be possible, but I'll try. So keep checking The Phillies Zone every week for that week's participant. So far we've had Chase Utley, Mike Schmidt, Rich Dubee, Chris Coste and Howard. That's a pretty good group. I'd like to keep the Q&A's semi-serious because I like the idea of having fun with these people (we get to bore them with "serious" questions every day), so I'll continue to try to mix baseball questions with off-the-wall questions. Some weeks certainly will be easier than others so try to be creative, even if they're baseball questions. If you've got a good baseball question, I'll try my best to ask it.
*
Todd Zolecki
The Phillies found somebody to take infielder Wes Helms off their hands.
They traded Helms to the Florida Marlins tonight for cash or a player to be named later. It's unclear how much cash would be involved, but the Phillies certainly wanted somebody to pay at least some portion of his $2.9 million salary, which includes a $750,000 buyout for a 2009 club option. The Phillies designated Helms for assignment Wednesday when they signed righthander Rudy Seanez as a free agent.
Todd Zolecki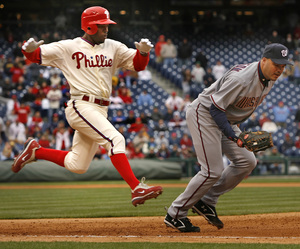 Everybody has seen the highlight of Jimmy Rollins running from first to third on a bunt in the 10th inning in yesterday's 8-7 victory over the Nationals at Citizens Bank Park.
Few players in baseball make that play.
Rollins had to have the speed. He had to have the smarts. He had to have the guts.
Todd Zolecki
Ryan Madson pitched two scoreless innings, Rudy Seanez pitched one and J.C. Romero pitched a scoreless ninth -- Tom Gordon and Chad Durbin weren't available -- as the bullplen pitched well in the 8-4 victory.
*
Kyle Kendrick allowed eight hits, four runs and one walk in five-plus innings. He struck out one. He played with fire much of the night, so I'm sure concerns about him remain.
Todd Zolecki
There's nothing a baseball writer enjoys more than a lengthy rain delay.
It looks like that's what we've got here in Cincinnati.
But we've got an update: First pitch is scheduled for 8:45 p.m.
Todd Zolecki
Jimmy Rollins' hustle to third base on a Shane Victorino sacrifice bunt led to the game-winning run in the 10th.
Phils win, 8-7.
*