Archive: May, 2012
Matt Gelb, Inquirer Staff Writer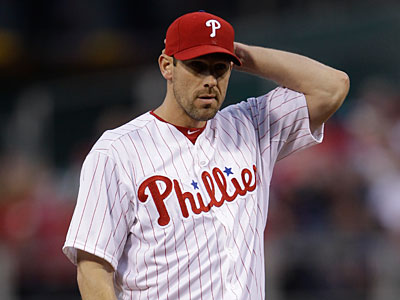 To make room for Cliff Lee's return to the Phillies, the team optioned righthander Michael Schwimer to triple-A Lehigh Valley on Wednesday.
Lee will start against the Mets in the series finale and will be limited to about 80 pitches, pitching coach Rich Dubee said.
Schwimer had an 8.53 ERA in five appearances with the Phillies. He allowed a walk-off single to Washington's Wilson Ramos in the 11th inning Saturday. And New York scored two insurance runs off Schwimer in the ninth inning of Tuesday's loss.
Matt Gelb, Inquirer Staff Writer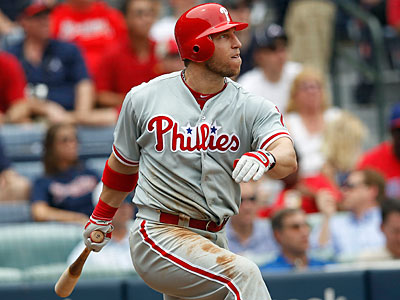 There is too much to discuss in the wake of Wednesday's 10-6 loss to the Mets that dropped the Phillies four games below .500 for the first time in 1,827 days. In the immediate, the Phillies have myriad injury concerns.
Start with Laynce Nix, who appears headed to the disabled list. Nix was limited by a sore left calf for two days. He pinch-hit in the sixth and delivered an RBI single. He could barely make it to first base.
"He said he could hit," Charlie Manuel said, "so I let him hit."
Matt Gelb, Inquirer Staff Writer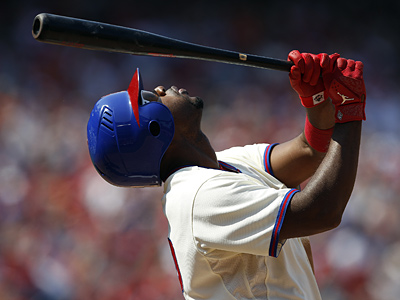 Juan Pierre wore a T-shirt and shorts after the Phillies' latest loss, and his voice was all that could be heard in a silent clubhouse.
He was attempting to find some silver lining to another series loss, clinched by a 7-4 defeat to New York.
"Better than before when we weren't scoring any runs at all," Pierre said. "Pick your poison. Once you score, you want to keep scoring. But we're starting to move the ball better. A couple days got out of hand late and we couldn't bounce back. We're starting to move the ball throughout the lineup. That's a good sign."
Matt Gelb, Inquirer Staff Writer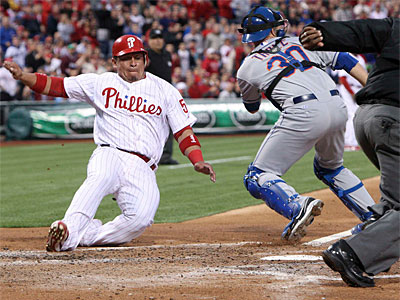 Charlie Manuel's bench could be quite short for Wednesday's series finale against New York. The manager said three players — Carlos Ruiz, Ty Wigginton and Laynce Nix — are plagued by minor injuries. Their availability is in question.
Ruiz "jammed" his hand, Manuel said, but details beyond that were not available. The injury was serious enough to preclude Ruiz from participating in batting practice with his teammates. Brian Schneider started at catcher.
Wigginton had soreness in his side, Manuel said. He too did not take batting practice, although Manuel said Wigginton told him he could hit.
Bob Brookover, Inquirer Columnist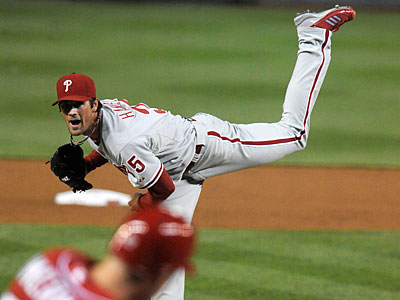 As expected, Cole Hamels' five-game suspension will only push his next scheduled start back one day.
Phillies manager Charlie Manuel confirmed Tuesday that his suspended lefthander will return to the rotation Sunday against the San Diego Padres. He had been scheduled to pitch Saturday, but Roy Halladay will move into that spot and pitch on regular rest.
Hamels had no interest in advancing his Sunday night saga with the Washington Nationals when given a chance to do so Tuesday.
Bob Brookover, Inquirer Columnist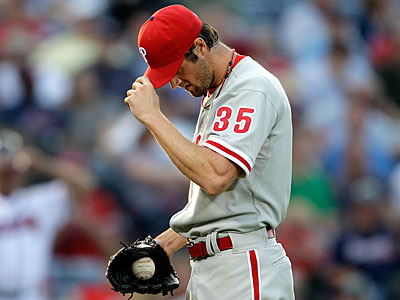 Remember when nothing stirred the emotions of the Phillies and their fans more than the New York Mets coming to town?
Not any more. Now, it is the Washington Nationals who have become the most despised baseball team in Philadelphia.
The Phillies got their first look at the young and talented Nationals over the weekend when the Beltway Boys took two out of three games without really taking back their pedestrian ballpark.
Matt Gelb, Inquirer Staff Writer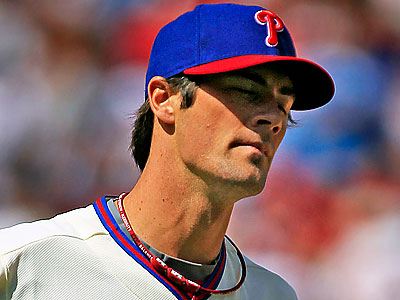 WASHINGTON — The blowback from Cole Hamels drilling Bryce Harper on the back has already begun. Count Nationals general manager Mike Rizzo as one who believes the lefthander should be suspended.
Mike Rizzo called out Hamels in comments to The Washington Post on Monday morning. He held nothing back.
"Cole Hamels says he's old school? He's the polar opposite of old school," Rizzo said. "He's fake tough. He thinks he's going it intimidate us after hitting our 19-year rookie eight games into the big leagues? He doesn't know who he's dealing with."
Matt Gelb, Inquirer Staff Writer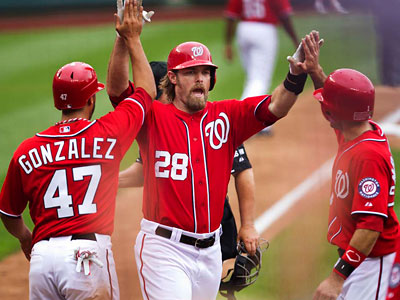 WASHINGTON — The other perspective was this: Cole Hamels wouldn't have plunked a Nationals hitter if the team was irrelevant.
That's what the first-place Nationals took from Sunday's 9-3 Phillies victory that salvaged a weekend series. The Phillies trained home still in last place. Washington awoke in first but with the reality of replacing another injured star, Jayson Werth.
After crushing the Phillies, 7-1, on Saturday, the Nationals spoke with great confidence. "You're already seeing it," reliever Tyler Clippard told reporters Saturday. "Even before we played them, they were chasing us. It's already changed. These first few games have been a good indicator of that."