Archive: May, 2011
Marc Narducci
The Phillies did what they had to against the less challenging part of their schedule. At 21-9 after Thursday's 7-3 win over the Washington Nationals, the Phillies now face one of their more difficult stretches of the season.
Of the first 30 games, only five were against teams that currently have a winning record, three against the Atlanta Braves and two against the Florida Marlins.
Beginning with the weekend series at Citizens Bank Park against the Braves, the Phillies will play 20 straight games against teams currently with winning records.
Matt Gelb, Inquirer Staff Writer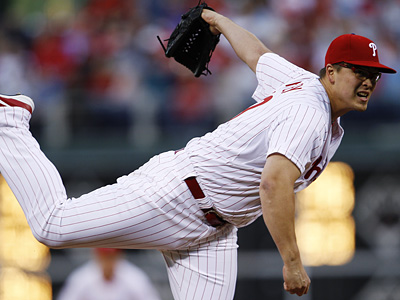 Later today, the Phillies expect to receive encouraging news on two-fifths of their starting rotation.
Roy Oswalt is expected to rejoin the team after spending a week with his family in tornado-ravaged Mississippi. He will throw a bullpen and is slotted as the starter for Saturday's game against Atlanta.
Joe Blanton will pitch off a mound for the first time in 12 days. The impingement in his right elbow that forced a disabled list stint is feeling better -- so much so that the Phillies and Blanton do not anticipate a minor-league rehab assignment.
Matt Gelb, Inquirer Staff Writer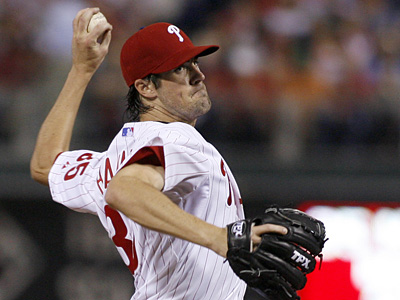 The story in today's Inquirer of Tuesday's 4-1 Phillies win centers around Raul Ibanez ending his hitless streak because, well, how many times will we see something like that again? (I have a feeling I know what the first comment on this entry will be.)
Charlie Manuel made the first drastic changes to his lineup for Game 28. He kept Ibanez in there and the left fielder rewarded him. Jimmy Rollins and Shane Victorino combined for the dynamic duo at the top of the lineup Manuel says his team sorely needs.
Oh, and Cole Hamels pitched a complete game, hit a triple and scored a run.
Matt Gelb, Inquirer Staff Writer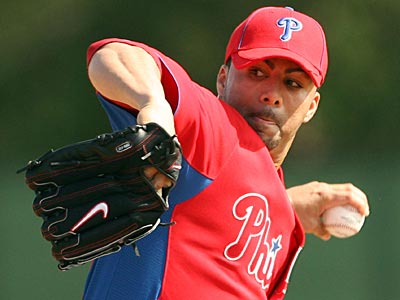 The Phillies have activated J.C. Romero from the 15-day disabled list and optioned righthander David Herndon in the process, clearing a roster spot.
Needing a third catcher for at least the next two days, the Phillies must stick with 11 pitchers for now. Herndon was the odd man out.
That should come as little surprise given Herndon's recent performances. In 11 outings (10 2/3 innings), Herndon has a 9.28 ERA. Throwing strikes was an issue (7 BB to 3 K) and Herndon had lost confidence in his best pitch -- the sinker -- while attempting to throw his secondary pitches more often.
Matt Gelb, Inquirer Staff Writer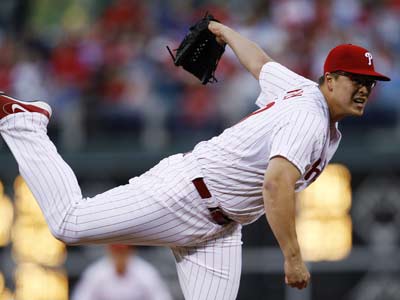 No surprise here: Charlie Manuel will stick with his revamped lineup for a second day in a row against Washington. Yes, the Phillies did score four runs with the new lineup. But they had 12 hits, seven walks and left 12 on base.
"At least we had guys on," Manuel said afterward.
True.
Matt Gelb, Inquirer Staff Writer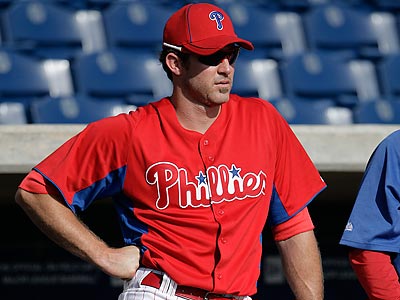 The results of Chase Utley's simulated game Sunday were positive, enough so that Utley took the field early this afternoon for another simulated situation.
Manager Charlie Manuel watched it and decided Utley appears close to expanding his rehab from patellar tendinitis and whatever else ails his right knee.
"It might be time to let him go somewhere, like Clearwater or something," Manuel said. "He's starting to get into a broader, big routine. I think he's doing much better. He's getting there. How he responds after he does that kind of workout the last couple of days, that's what counts."
Matt Gelb, Inquirer Staff Writer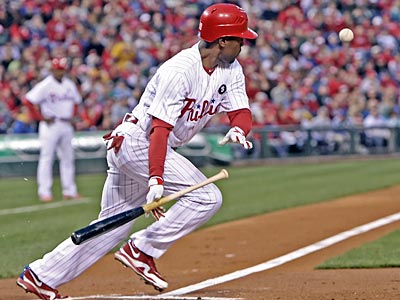 Drastic changes in the Phillies lineup as a three-game series with Washington begins.
Jimmy Rollins is back in his customary leadoff spot for the first time this season. Rollins had batted third in each of the Phillies' first 27 games. It's not that he's done terrible from there -- but a .346 slugging percentage is not optimal for the three hole.
It's not that Placido Polanco will bring much pop to the third spot, but Charlie Manuel apparently felt it was time for a change. Livan Hernandez starts for the Nationals.
Matt Gelb, Inquirer Staff Writer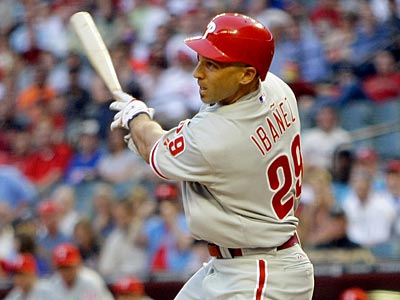 Sunday night ended early for Raul Ibanez, who has now gone 14 days and 34 at-bats without a hit. He was double-switched out of the game in the ninth inning after at-bat No. 34 yielded a weak grounder to second with the bases loaded and two outs in a tie game.
Ibanez is down to .154 for the season and it is beginning to get ugly. Consider this: Ibanez's hitless streak is the sixth-longest for a non-pitcher in modern Phillies history, according to Baseball Reference. Granted, lots of game-by-game and play-by-play data from pre-World War years is unavailable, but this is what we have:
1. Danny Murtaugh -- 36 AB (1942-43)