Archive: April, 2008
Todd Zolecki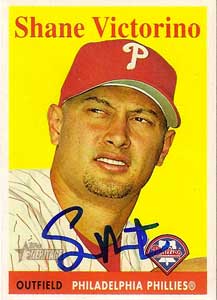 Got a question for Phillies centerfielder Shane Victorino?
If you do, e-mail me here.
Include your first name, initial of your last name and city and state where you're from. Get 'em in soon because I'd like ask Victorino tomorrow. If you've read previous Q&A's with Chase Utley, Mike Schmidt, Rich Dubee, Chris Coste and Ryan Howard you know it's a good mix between legitimate baseball questions and less serious ones.
Todd Zolecki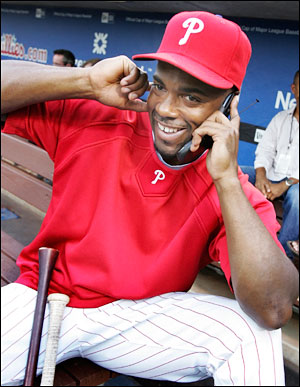 Jimmy Rollins is out.
He has been scratched from tonight's lineup against the New York Mets at Shea Stadium because of a sprained left ankle. Rollins, who had been penciled into the lineup earlier this afternoon, injured the ankle in yesterday's 5-2 victory over the Mets on a pickoff attempt at second base.
"It hasn't changed from yesterday," Rollins said. "It never felt bad. It's never been swollen. My mobility going left to right is pretty sore and that's where my game is, especially defensively. Me at 50 percent and Eric (Bruntlett) at 100 percent, I'll take my chances with him. I don't think (it will linger), and I definitely hope it doesn't. It's just sore. It isn't anything more than that right now."



Todd Zolecki
Bugs and Cranks posts this Chase Utley highlight reel from yesterday.

Todd Zolecki
Phillies win. Mets lose.
What else is new, huh?
*
Todd Zolecki
Jimmy Rollins said he is day to day.
We'll see.
He sprained his left ankle trying to get back to second base on a pickoff attempt in the eighth inning of today's 5-2 victory over the Mets at Shea Stadium. Rollins isn't certain if will be able to play tomorrow night in Game 2 of the three-game series.
Todd Zolecki
New York, Jimmy Rollins.
Jimmy Rollins, New York.
Oh, you've met? That's right. Forgot about that whole "team to beat" thing last year. The Phillies open a three-game series tomorrow afternoon against the Mets at Shea Stadium, and it should be fun. And when I say fun, I mean lots of over-the-top insults directed at the players and fights in the stands between Phillies and Mets fans.
Todd Zolecki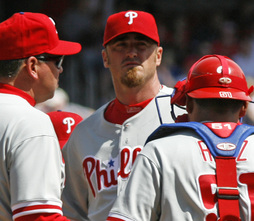 The Good News: Cole Hamels loves pitching at Great American Ball Park. He made his big-league debut here in 2006, when he threw a one-hitter in five innings. He struck out 15 in a memorable complete game in 2007, which turned around the team's 4-11 start on its way to the National League East title.
The Bad News: He needs to pitch well today (and the offense needs to hit and the defense needs to play smart), or the Phillies drop three of four to the Reds to fall to 2-5 before they open a three-game series tomorrow afternoon against the Mets at Shea Stadium.
Hey, times could be worse.
Todd Zolecki
Phillies lose, 8-2.
*
Brad Lidge made his Phillies debut in the eighth inning and retired the side in order. He hit 94 mph on the radar gun with his fastball. He got Ken Griffey Jr. to strike out swinging at an 84 mph breaking ball.