Archive: April, 2008
Todd Zolecki
There's nothing a baseball writer enjoys more than a lengthy rain delay.
It looks like that's what we've got here in Cincinnati.
But we've got an update: First pitch is scheduled for 8:45 p.m.
Todd Zolecki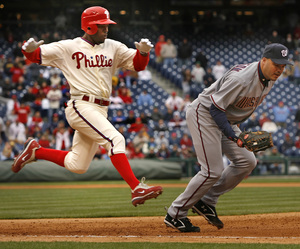 Everybody has seen the highlight of Jimmy Rollins running from first to third on a bunt in the 10th inning in yesterday's 8-7 victory over the Nationals at Citizens Bank Park.
Few players in baseball make that play.
Rollins had to have the speed. He had to have the smarts. He had to have the guts.
Todd Zolecki
Jimmy Rollins' hustle to third base on a Shane Victorino sacrifice bunt led to the game-winning run in the 10th.
Phils win, 8-7.
*
Todd Zolecki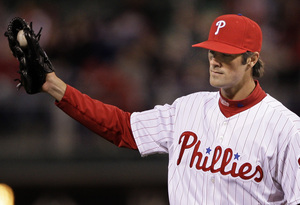 Such a waste.
That's the thing that irritated the Phillies the most last night. They wasted Cole Hamels' night. He pitched like the Cy Young winner he wants to be, but took the L in a 1-0 loss to the Nationals at Citizens Bank Park. On a team that figures to scratch and claw for quality starts this season, the normally high-powered offense failed when they only needed a few hits to win.
Instead, they got just one.
Todd Zolecki
The Phillies had one last chance in the bottom of the ninth:
Jimmy Rollins grounded out to first, Shane Victorino flied out to left and Chase Utley grounded out to short. Phillies lose, 1-0, and fall to 0-2.
*
Todd Zolecki
Here's tonight's lineup:
1. Jimmy Rollins, SS
2. Shane Victorino, CF
3. Chase Utley, 2B
4. Ryan Howard, 1B
5. Pat Burrell, LF
6. Geoff Jenkins, RF
7. Pedro Feliz, 3B
8. Carlos Ruiz, C
9. Cole Hamels, P
Todd Zolecki
The Phillies today announced they had signed righthander Rudy Seanez to a one-year contract, and designated infielder Wes Helms for assignment.
The move is hardly a surprise. Helms found himself in a numbers crunch when the Phillies signed third baseman Pedro Feliz in January. He knew he had to go.
The Phillies have 10 days to rid themselves of Helms' contract, which is $2.15 million, plus a $750,000 buyout for a 2009 club option. The Phillies are responsible for that salary, even if Helms clears waivers and signs with another team, except the $390,000 major-league minimum. In other words, if Helms signs with the Giants, the Giants would pay the minimum and the Phillies would pay the rest.
Todd Zolecki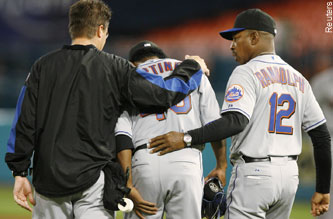 Sitting in his office late this spring in Clearwater, Pat Gillick tried to compare the Phillies to the rest of the National League East. He said he couldn't, but said he considered the East to be a three-horse race, and the winner could be the team that stayed the healthiest.
"Health is a big factor," he said.
So the fact that Mets righthander Pedro Martinez felt a pop in his hamstring after throwing his 57th pitch last night against the Florida Marlins at Dolphin Stadium is more than a little newsworthy.