Archive: July, 2011
Matt Gelb, Inquirer Staff Writer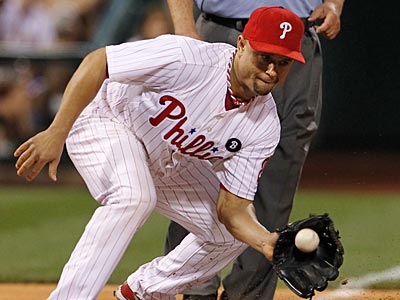 CHICAGO -- The frustration is evident in the way Placido Polanco speaks. His sentences are short; his voice is dulled. Four times last season, he was injected cortisone with a large needle and after the fourth shot at the beginning of the postseason, he vowed to never do it again.
"I don't want to have to rely on that after baseball," Polanco said recently.
But the pain in the 35-year-old third baseman's back is too great -- so great that he actually went to the Phillies' training staff and told them he wants another injection to aid the bulging disk. It could happen as soon as Thursday when the team returns home.
Bob Brookover, Inquirer Columnist
It appears as if the Phillies will add a right-handed bat this week that will be ready to play whenever an opposing team starts a left-handed pitcher or brings in a left-handed reliever.
Barring a setback Sunday in his rehab assignment with double-A Reading, Shane Victorino is expected to come off the disabled Tuesday and play against the Chicago Cubs at Wrigley Field.
Victorino, out since July 4 with a sprained thumb ligament, went 3-for-5 as a designated hitter for Reading Friday night at Trenton.
Bob Brookover, Inquirer Columnist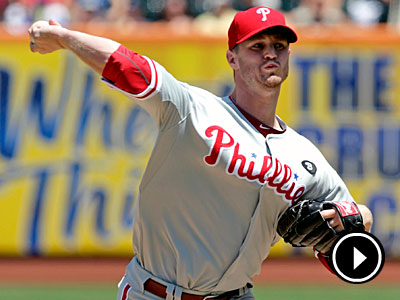 The Philadelphia Inquirer's Bob Brookover takes a look at the Phillies' 8-5 victory over the Mets with Mark Hale of the New York Post.
---
Download our NEW iPhone/Android app for easy access to all of our Phillies coverage, plus app-exclusive videos and analysis. Get it here.
Staff report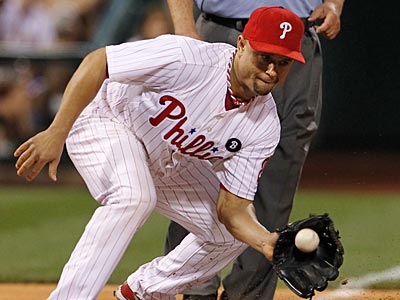 Third baseman Placido Polanco has been placed on the 15-day disabled list with lower back inflammation, retroactive to July 5, Assistant General Manager Scott Proefrock announced today. To fill his spot on the 25-man roster, the club activated right-hander Ryan Madson from the disabled list.
Polanco, 35, is hitting .274 with four home runs and 39 RBI in 83 games this season. He was voted in by the fans as the starting third baseman for the National League All-Star team, but did not play due to his injury.
Madson has not appeared in a major league game since June 18 due to a right hand contusion. He was officially placed on the disabled list on June 28. The 30-year-old made one rehab appearance with single-A Clearwater this past Wednesday and pitched 1.0 scoreless inning with one strikeout. For the season, Madson is 3-1 with 15 saves and a 2.03 ERA in 31 appearances for the Phillies.
---
Poll: Which hitter should the Phillies pursue?

(1271 votes)
Bob Brookover, Inquirer Columnist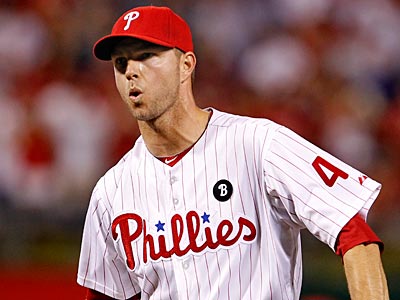 Ryan Madson is back from the disabled list, but not back as the closer.
Placido Polanco is on the disabled list, but if he has his way it will not be for long.
And if pitching coach Rich Dubee and manager Charlie Manuel are upset about Roy Halladay and Cliff Lee being overworked at the All-Star Game, they are not going to say so publicly.
Marc Narducci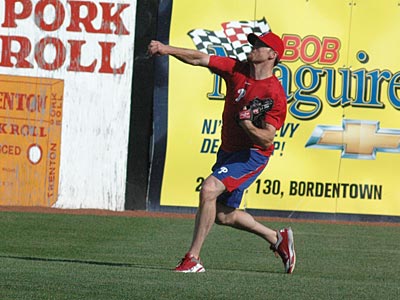 TRENTON -- Brad Lidge says he has his health. He insists that his fastball is getting more and more MPH. So Lidge says he wasn't going to allow one poor outing get him down, because he sees too many positives in his comeback from a shoulder injury that has sidelined him all season.
Lidge feels he will be back with the Phillies by July 22 against San Diego. That is his target date. Yet one would like to see him show more than he did while pitching for Reading in Thursday's 9-5 loss the host Trenton Thunder at Waterfront Park.
In just 2/3 of an inning Lidge allowed two runs, both earned, on one hit and one walk. He also hit two batters and threw three wild pitches.
Matt Gelb, Inquirer Staff Writer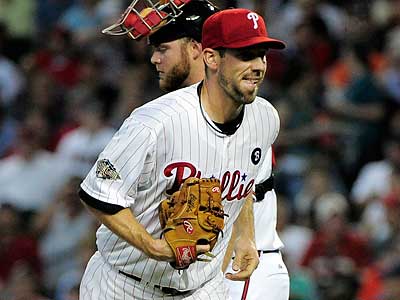 PHOENIX -- Cliff Lee smiled in a hallway underneath Chase Field. He was asked what his pitching coach, Rich Dubee, might have thought when his TV in Sarasota, Fla., showed his second ace beginning a second inning of work in Tuesday's All-Star Game.
No worries.
"I feel fine," Lee said. "Physically I'm good. I don't know if he's happy about it, or what, but it's not an issue at all. I was willing to do it, and I would have gone out there for a third inning if they had wanted me to. It's an important game and a big game, and I was willing to do anything to help this team win."
Poll: What is the Phillies' biggest need?

(1160 votes)
Matt Gelb, Inquirer Staff Writer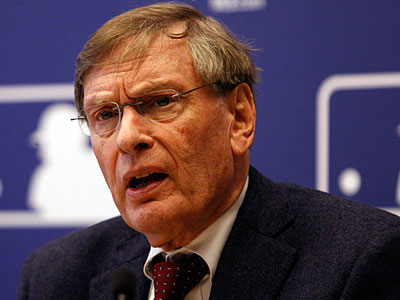 PHOENIX -- For the first time in three years, Charlie Manuel does not have to worry about managing an All-Star Game tonight. But you can bet he is watching from Winter Haven, Fla.
The Phillies have a vested interest in this exhibition. They have 57 wins. A return trip to the World Series is the goal. And if they want four potential home games in the Fall Classic instead of three, the National League must win tonight.
It's a ridiculous notion that a crucial advantage in the sport's championship is determined by an exhibition, but that's what Major League Baseball -- and namely, Fox -- want. And it likely won't be changing when the new collective bargaining agreement is signed this winter.