Archive: April, 2011
Matt Gelb, Inquirer Staff Writer
The story in today's Inquirer of the Phillies' 10-7 win over the Mets last night focuses on the work of the two lefthanders, Antonio Bastardo and J.C. Romero. They combined for eight outs in the middle of the game, where the Phillies had few options, and held a New York offense that had gained all sort of momentum at bay.
As I noted in the game story, Bastardo and Romero are at such opposite points in their careers. Bastardo is the young talent with the stuff looking for a shot in big situations. Romero took a paycut to return to Philadelphia and questions about his ability linger after two shaky seasons.*
For one night, at least, both were very good. Bastardo allowed a run but stranded the bases loaded. Then he mowed through the middle of the Mets lineup in the sixth.
Matt Gelb, Inquirer Staff Writer
The lineup on the day after the first Phillies loss of the season looks a bit different. But it was by design a few days ago, Charlie Manuel said.
So Pete Orr slides in at second base for his first start and will bat second. Backup catcher Brian Schneider -- the last player on the roster to see the field -- will catch Joe Blanton tonight and bat eighth.
Orr, 31, did not play at all in the majors in 2010 and said he had his doubts while at triple-A Syracuse.
Matt Gelb, Inquirer Staff Writer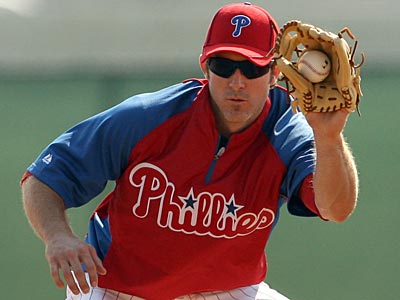 It's chilly but the tarp is off the field for the Phillies' series opener against the Mets. Cole Hamels makes his debut in Game 4 against Chris Young, the lanky flyball pitcher who has given the Phillies fits before. But this isn't exactly the greatest ballpark for his Mets debut.
News is slow. General manager Ruben Amaro Jr. contradicted a Foxsports.com report claiming Chase Utley could start jogging "in the next couple of days" on his chronically pained right knee. Of course, those words are said to have come from Amaro's mouth, but the GM said at the ballpark that there is no timetable for jogging to happen.
"He's made some progress, but it's slow," Amaro said. "And it will continue to be slow. Even if he gets to the point where he starts to be able to run or jog or whatever, that doesn't mean he's going to jump forward all of a sudden and be in a rehab [game]. That may take some time, too. There's a difference between jogging around and running 100 percent. It's all kind of a progression."
Matt Gelb, Inquirer Staff Writer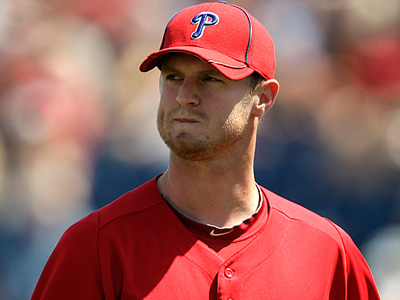 Burglars broke into Kyle Kendrick's Washington home last week and stole the Phillies pitcher's 2008 World Series ring, according to a report in The Seattle Times.
Kendrick was in Florida for spring training when his Mount Vernon, Wash., home was burglarized. The Times report says the thieves broke into a locked safe in his house and stole numerous items of memorabilia.
From the story:
Philly.com Sports
Video: The Inquirer's Matt Gelb checks in from Citizens Bank Park with a pregame look as Roy Oswalt and the Phillies go for the sweep of the Houston Astros.
---
Have a question? Send it to Matt Gelb's Mailbag.
Download our NEW iPhone/Android app for easy access to all of our Phillies coverage, plus app-exclusive videos and analysis. Get it here.
Matt Gelb, Inquirer Staff Writer
Video: Matt Gelb checks in from Citizens Bank Park with updates on tonight's lineup and more.
Editor's note: Of course, J.A. Happ was scratched from his scheduled Sunday start minutes after this video was filmed because of an oblique injury.
---
Have a question? Send it to Matt Gelb's Mailbag.
Matt Gelb, Inquirer Staff Writer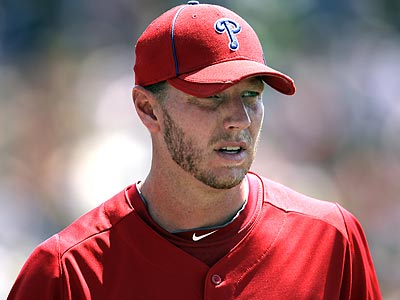 Welcome to Citizens Bank Park, where the good news is it has stopped snowing. Yes, snowing. The tarp is on the field as of 9:30 a.m. but the expectation is this game will be played without a hitch. OK, it may not exactly be baseball weather.
As expected, Charlie Manuel will field the same starting eight in the exact order he did in Wednesday's exhbition finale.
1. Shane Victorino 8
2. Placido Polanco 5
3. Jimmy Rollins 6
4. Ryan Howard 3
5. Raul Ibanez 7
6. Ben Francisco 9
7. Carlos Ruiz 2
8. Wilson Valdez 4
9. Roy Halladay 1