Archive: September, 2008
Todd Zolecki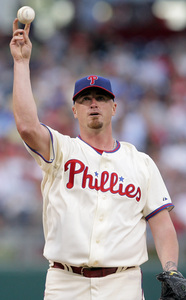 The Phillies are 3 1/2 games behind the New York Mets in the National League East and four games behind the Milwaukee Brewers in the NL wild-card race with just 16 games to play.
They've been in this spot before.
I mean, they were 6 1/2 games behind the Mets with 16 to play last year and won, right?
Todd Zolecki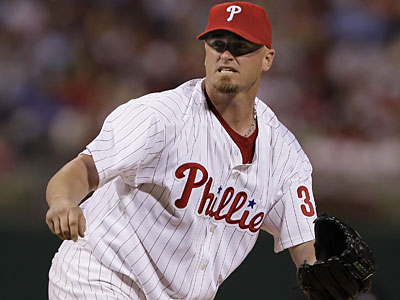 Things suddenly look very unsettled in the Phillies rotation.
The Phillies need a starter for tomorrow night's series opener against the Milwaukee Brewers. They might need another starter Sunday, too.
Kyle Kendrick got rocked last night in a 10-8 loss to the Florida Marlins. He allowed seven runs in 1 1/3 innings, which made last night the worst start of his career. His previous worst start happened Aug. 11 against the Los Angeles Dodgers at Dodger Stadium, where he allowed seven runs in 3 1/3 innings. Kendrick is 1-4 with an 11.35 ERA (29 earned runs in 23 innings) in his last six starts, beginning with that start in Los Angeles.
Todd Zolecki
From the Phillies:
In preparation for potential postseason games at Citizens Bank Park, including the National League division series, National League championship series and World Series, registration is taking place online at phillies.com. Fans who register now through Sept. 17 at 12:00 p.m. will be eligible to win a purchase opportunity for all three rounds of the postseason. (Registration will continue after September 17 for the League Championship and World Series.)
"In an effort to make postseason tickets available to as many fans as possible, we believe the ticket opportunity is the fairest method to accomplish this goal. All 2008 season ticket holders received their postseason options in late August. With the overwhelming response from season ticket holders taking their options, we have a limited number of seats available for the postseason," explained John Weber, Phillies Vice President, Sales and Ticketing Operations.
Todd Zolecki
Charlie Manuel said Jamie Moyer will pitch on short rest tomorrow night to face the Milwaukee Brewers at Citizens Bank Park.
Moyer has made 17 career starts on short rest. The lefthander is 5-3 with a 4.12 ERA in 14 starts on three days' rest. He is 1-2 with a 4.41 ERA in three starts on two days' rest.
He made 10 of those starts after he made relief appearances or after starts in which he pitched just two innings. In the seven starts he made on three days' rest after legitimate starts, Moyer is 3-0 with a 2.83 ERA (13 earned runs in 411/3 innings).
Todd Zolecki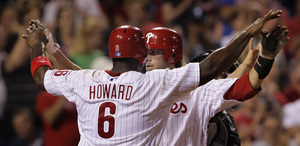 We've been saying this since June, but if the Phillies offense can be a little more consistent they have an excellent shot to win the National League East.
They hit last night in an 8-6 victory over the Marlins.
Jimmy Rollins went 3 for 5. Ryan Howard had two hits. Jayson Werth hit a three-run home run. They made up for another poor showing from Joe Blanton, who is 1-0 with a 5.58 ERA in his last six starts. Blanton, who joined the team during the all-star break as an innings eater, has pitched six innings just once in those six starts. They will need better from him down the stretch. But when you have an offense that lives up to its billing, they can work around nights like last night on occassion.
Todd Zolecki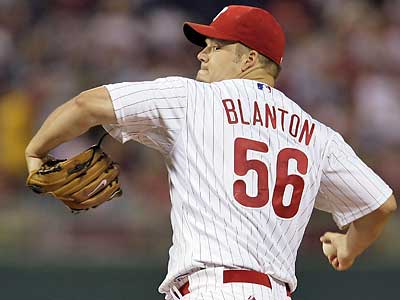 The Phillies last night at Shea Stadium had an excellent opportunity to crawl inside the minds of the Mets and mess with them the rest of the season.
But the Mets' mental health today is pretty good.
The Mets won Game 2 of yesterday's doubleheader, 6-3, to avoid a sweep and take a two-game lead in the National League East with 19 games to play. Baseball Prospectus reports that the Mets have a 77.3 percent chance to win the East, a 2.9 percent chance to win the wild card and an 80.2 percent chance to make the postseason overall. The Phillies meanwhile have a 22.5 percent chance to win the East, a 5.3 percent chance to win the wild card and a 27.8 percent chance to make the playoffs overall.
Jonathan Tannenwald
Hey folks,

Todd just emailed me with news that he won't be able to post any updates from this afternoon's Phillies-Mets doubleheader in Queens because of computer problems.

But if it's any consolation, you can join me for a live chat during tonight's second game. Click here to join the party.
Todd Zolecki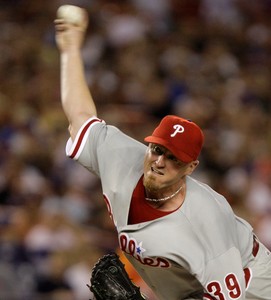 First things first: this afternoon's game between the Phillies and Mets has been postponed because of Tropical Storm Hanna.

There will be a doubleheader tomorrow at Shea Stadium. Game 1 will be 2:15 p.m. Game 2 will be at 8:05 p.m. I have been told the Mets rotation will remain the same with Pedro Martinez (5-3, 5.07 ERA) pitching Game 1 and Johan Santana (12-7, 2.71 ERA) pitching Game 2. Charlie Manuel said yeseterday he also would keep his rotation the same, which means Jamie Moyer (12-7, 3.80 ERA) is pitching Game 1 and Cole Hamels (12-8, 3.01 ERA) is pitching Game 2.

*