Archive: August, 2012
Matt Gelb, Inquirer Staff Writer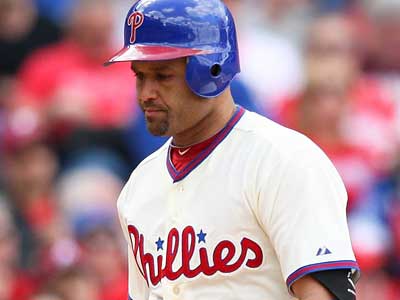 MIAMI — Placido Polanco will begin an official rehab assignment Wednesday with single-A Clearwater. The Phillies expect to activate him Monday, if all goes well in the minor-league games.
Polanco, disabled since July 23 with back inflammation, is scheduled to play five or six innings at third base Wednesday. He will serve as designated hitter Friday and play close to a full game at third Saturday.
"When he joins us," Manuel said, "we're going to see if we can activate him."
Matt Gelb, Inquirer Staff Writer
MIAMI — That Nate Schierholtz suffered a broken toe Sunday does not have any immediate bearing on the fourth-place Phillies. They will have to shuffle an already-thin infield for the season's remaining six weeks. It just means playing time for others.
However, it certainly hurts Schierholtz's chance for an everyday job in 2013.
Chances are the Phillies did not see anything in his 37 plate appearances that guaranteed him a spot or precluded him from one. They were eager for a two-month look at Schierholtz, who wanted an escape from San Francisco, where he believed he was cast forever as a part-time player.
Matt Gelb, Inquirer Staff Writer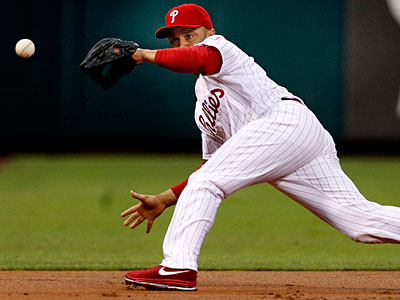 MIAMI — Later this week, Placido Polanco will travel across the state of Florida to resume playing baseball with the single-A Clearwater Threshers. He plans to rejoin the Phillies on Saturday in Milwaukee after missing nearly a month of action with back inflammation.
He will not be the everyday third baseman upon his return.
"No," Charlie Manuel said. "I probably won't be able to throw him out there every day. We definitely need him back because he is a good defensive player."
Philly.com Staff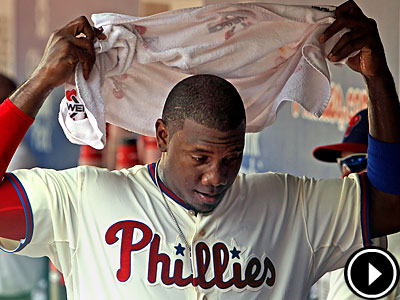 Juan Pierre drove in the game-winning run as the Phillies topped the St. Louis Cardinals, 8-7 in 11 innings, on Sunday at Citizens Bank Park. The Inquirer's Bob Brookover breaks down the action.
Marc Narducci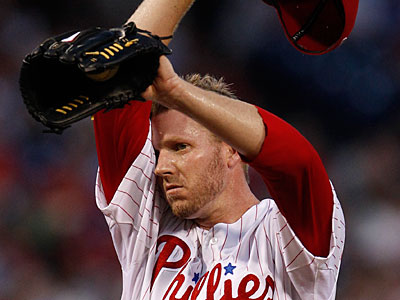 One could see that it is really killing Roy Halladay to exude patience. If it were up to him, he would have finished Friday's 3-1 win over the St. Louis Cardinals instead of pitching eight innings.
Yet Halladay understands that after missing 42 games with his shoulder injury that his bulldog mentality has to be lightened up a little bit, whether he likes it or not.
So pitching coach Rich Dubee has a plan and isn't about to deviate despite Halladay's admitted protests.
Marc Narducci
The Phillies open a weekend series against the St. Louis Cardinals, showing a new outfield look. Nate Schierholtz, a right fielder since being acquired by the San Francisco Giants, is starting in center field. Dominic Brown, normally in left field, is in right, with Juan Pierre earning a start in left.
Roy Halladay, coming off seven shutout innings in his last outing against the Arizona Diamondbacks, takes the mound for the Phillies.
Here is the lineup:
Matt Gelb, Inquirer Staff Writer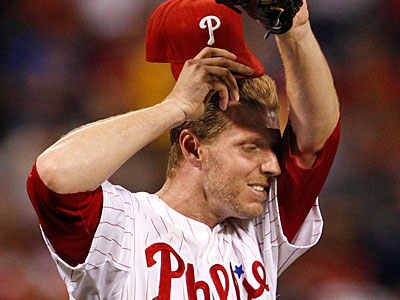 Some pregame tidbits before Game 109:
NO REST FOR HALLADAY. Charlie Manuel had floated the idea of shutting down Roy Halladay almost two weeks ago. Halladay bristled at the notion after seven shutout innings Saturday.
The manager delievered an unequivocal statement Monday in support of Halladay.
Marc Narducci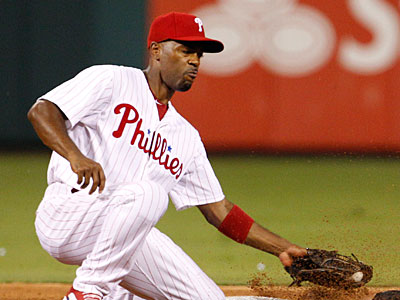 Jimmy Rollins was written in the original lineup for the Phillies in today's series finale with the Arizona Diamondbacks, but now Michael Martinez is playing shortstop.
Nate Schierholtz moves into Rollins accustomed leadoff spot.
Rollins said he was simply getting the day off.