Archive: August, 2008
Todd Zolecki
Phillies assistant general manager Ruben Amaro Jr. met with reporters after today's 3-0 loss to the Florida Marlins to talk about Scott Eyre, Tom Gordon and Pedro Feliz.
On Scott Eyre, who the team acquired today from the Chicago Cubs: "We did check on his health. Earlier in the year he had a bone spur and some inflammation in his left elbow that was resolved. He came out and pitched quite well for a while, then he hurt his groin and was not being used a lot. Then it came back again, and I guess his last two or three outings he hadn't pitched as well as he did previously. Hence, the higher ERA. But he's a guy with a lot of experience. We feel he's healthy. And the fact that he's got experience and has had success in the past we felt it was important ... we were looking for a lefthander for a long time and we think that this lefthander can help us.
"Again, this is a veteran guy. He's had success in the playoffs. He'll rise to the challenge. He's been through it. Having those kind of experienced guys is helpful.
Todd Zolecki
We just caught wind that the Phillies have acquired lefthander Scott Eyre from the Chicago Cubs.
It appears single-A Clearwater pitcher Brian Schlitter was part of the trade.
Details to come.
Todd Zolecki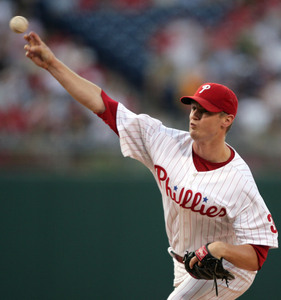 Let's get the cliche out of the way: today is a big game for the Phillies.
The Phillies are 4-9 against the Mets this season, and 5-6 against the Marlins. That's no way to win the National League East. The Phillies have lost a combined four consecutive series against the Mets and Marlins. In fact, they haven't won a series against either team since they took 2 of 3 from the Marlins in a series May 30-June 1 at Citizens Bank Park. But the Phillies can win their first series against a legit NL East rival (sorry, but the Braves and Nationals are out of the picture) in more than two months with a victory this afternoon. That's because they played nearly flawlessly in last night's 5-0 victory over the Fish.
The lineup produced from top to bottom last night. They played solid defense. They manufactured runs.
Todd Zolecki
Righthander Tom Gordon, who has been on the 15-day DL since July 6 because of inflammation in his right elbow, left tonight's rehab assignment for single-A Clearwater because of discomfort in the same elbow. Gordon will fly to Philadelphia tomorrow to be examined by team doctor Michael Ciccotti.
Obviously, that isn't a good sign. It's been exactly a month since Gordon went on the DL and this certainly seems to set him back further.
Todd Zolecki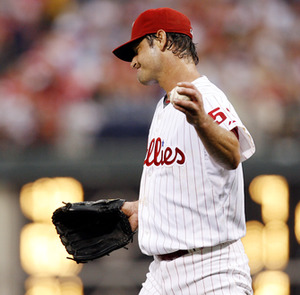 You knew it couldn't last.
Jamie Moyer was 10-0 with a 3.03 ERA in 10 career starts against the Marlins. He baffled them almost every time he pitched. But the longer the streak, the greater the likelihood it's about to end. Because nobody wins forever, just like nobody hits forever. In five innings, Moyer allowed six hits, two runs, three walks and two hit batters. He struck out four.
"It's bound to happen sooner or later," he said.
Todd Zolecki
The Phillies came up empty before Thursday's non-waiver trade deadline, but they continue to look for help.
Here are two intriguing names:
Lefthander Scott Eyre and righthander Freddy Garcia.
Todd Zolecki
I was just about to publish today's post when -- poof! -- it vanished.
Gone.
I'm not happy about that.
Todd Zolecki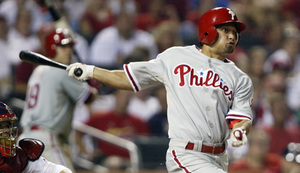 Life looked pretty grim for the Phillies on July 25.
Charlie Manuel had benched Jimmy Rollins a day earlier at Shea Stadium, the same day the Phillies fell out of first place in the National League East -- the first time they hadn't been in first since May 31. Manuel called a team meeting on the 25th at Citizens Bank Park to clear the air, but the Phillies lost that night to the Braves to fall two games behind the Mets in the standings. The Phillies were 13-21 in their previous 34 games, hitting just 3.91 runs per game with a 4.42 ERA.
But the Phillies are 7-1 in their eight games since, including last night's 5-4 victory over the Cardinals at Busch Stadium, to make them the hottest team in baseball. They're back in first place and have a 2 1/2 game lead over the Marlins and a three-game lead over the Mets. They're averaging 6.25 runs per game with a 3.68 ERA in that stretch.
Todd Zolecki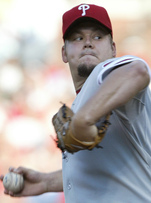 Today is a big day for the Phillies.
First, they can win their third consecutive series with a victory tonight over the Cardinals at Busch Stadium. Second, Brett Myers can show everybody that last week's performance against the Nationals wasn't a fluke.
Last night's 2-1 victory put them in this position, and that shouldn't be lost. Joe Blanton finally pitched like the guy the Phillies hoped he would be when they traded for him July 17. He allowed just four hits and one run in seven innings to pick up the win.
Todd Zolecki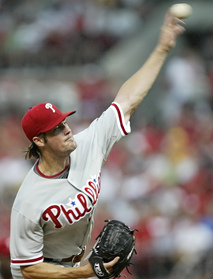 Cole Hamels said he is healthy. He just isn't pitching well.
He struggled in last night's 6-3 loss to the Cardinals at Busch Stadium. Hamels hasn't won since July 3. In his last five starts, three of them Phillies' losses, he has given up eight home runs, including two last night. Opponents have scored 14 runs on Hamels, though six have been unearned, in his last two starts.
"I'm not hurt," he said. "I'm perfectly fine. This is the year I'm not going on the disabled list.