Archive: July, 2008
Todd Zolecki
The Chicago Cubs just landed Rich Harden in a trade with the Oakland A's.
So in the last two days, the Brewers have announced CC Sabathia and the Cubs have announced Harden. That leaves the Phillies with one fewer pitcher to acquire.
Erik Bedard anybody?
Todd Zolecki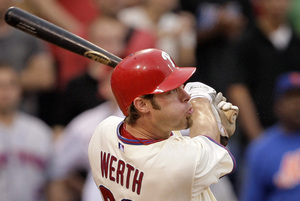 The Phillies spent 7 1/2 hours at the ballpark yesterday only to lose in 12 innings to the Mets, 4-2.
Yeah, that pretty much sucks.
"It was a long day and it didn't end well," manager Charlie Manuel said.
Todd Zolecki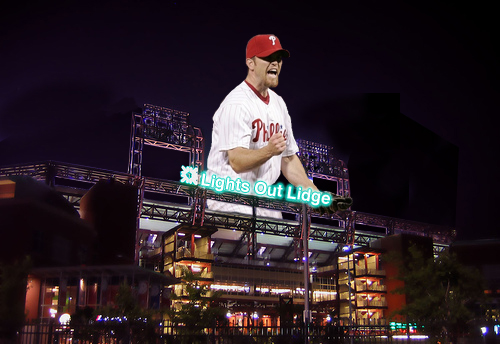 Guess that Brad Lidge trade worked out pretty well.
The Phillies announced this morning they have signed Lidge to a three-year, $37.5 million contract extension that keeps him in red pinstripes through 2011. It also includes a signing bonus, awards package, escalators and a club option and buyout for 2012. Lidge, 31, is 2-0 with 19 saves and a 0.77 ERA in 35 appearances for the Phillies this season. He has 47 strikeouts in 35 innings (12.44 strikeouts/9.0 innings pitched) and has set a franchise record by converting his first 19 save opportunities of the season.
Todd Zolecki
Chase Utley and Brad Lidge made the National League all-star team.
No surprise there.
Cole Hamels and Pat Burrell did not, although Burrell still can make the team if he wins an online vote at mlb.com. Phillies fans might recall that's how Bobby Abreu made his first all-star team in 2004. So if you're a Phillies fan and you want Burrell to make his first all-star team, it's ballot stuffing time. Burrell's competition is Brewers outfielder Corey Hart, Astros outfielder Carlos Lee, Giants outfielder Aaron Rowand and Mets third baseman David Wright.
Todd Zolecki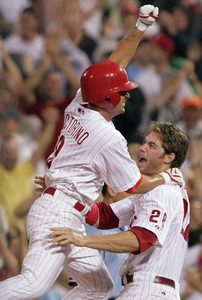 The Phillies got contributions everywhere last night at Citizens Bank Park:
J.A. Happ kept the Phillies in the game in just the second start of his career.

Chad Durbin struck out six of the seven batters he faced.

Ryan Madson and Brad Lidge threw the ball well.

Pedro Feliz hit a two-out double in the ninth.

Shane Victorino knocked Feliz home with a game-winning single.
It culminated in a 3-2 victory over the New York Mets.
If the Phillies can just play the National League East the rest of the season they might never lose again.
Todd Zolecki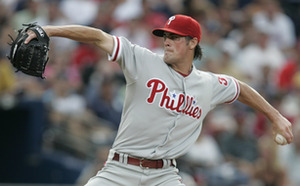 It looks like the Braves are this year's Mets.
Of course, the Phillies hope the Mets can be this year's Mets, too.
The Phillies beat the Braves last night at Turner Field, 4-1. The victory completed a series sweep, which is the first series the Phillies have won since they swept the Braves at Turner Field on June 6-8. It's also their seventh consecutive victory over the Braves. It's their longest winning streak against the Braves since they won eight consecutive games against them in 1977. The Phillies also return home from their nine-game, 10-day, three-time zone road trip through Oakland, Texas and Atlanta at 5-4.
Todd Zolecki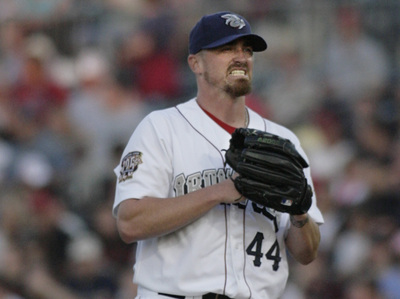 Pat Burrell said in spring training that he would love to make his first All-Star Game this year.
He just might.
He entered last night's 7-4 victory over the Braves at Turner Field ranked first amongst National League outfielders in home runs (20), on-base-plus-slugging percentage (.998) and slugging percentage (.584); second in on-base percentage (.414); seventh in RBIs (51); and 11th in runs (45). Compared to every player in the National League, he ranked fourth in OPS, fifth in OBP and sixth in SLG.
Todd Zolecki
The Phillies have a starter for tomorrow night's series opener against the New York Mets at Citizens Bank Park.
Lefthander J.A. Happ.
Happ is 5-6 with a 3.54 ERA in 17 starts for triple-A Lehigh Valley. In 101 2/3 innings, he has allowed 91 hits and 38 walks. He has struck out 104, which leads the International League.