Archive: April, 2009
Inquirer Online Desk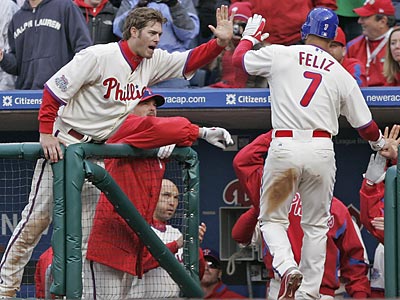 ESPN's Jayson Stark has a new book, "Worth the Wait: Tales of the 2008 Phillies." It's full of behind-the-scenes stories, pictures and trivia lists titled "Useless Information." Stark, a lifelong Philadelphian, worked at the Inquirer for 21 years, including as national baseball writer, before becoming a senior writer for ESPN.
This page has more about the book, including signings in the Philadelphia area this month and next.
Andy Martino
Phillies PR confirms that the team will visit President Obama at the White House next Tuesday, where they will receive the stirring message, "Yes we can hit with runners on base!"
Andy Martino
Concrete predictions are foolish. And the Phillies will win today. Okay, I don't know that the Phillies will win today. Maybe the ring ceremony will distract them as Sunday's flag-raising extravaganza seemed to. Maybe the hitters, seeing a slump coming, will press.
But to my new-to-the-beat eyes, they look ready to take a game. The theme last night from Charlie Manuel and Jamie Moyer was we're almost there (if you're reading this in the morning, check out my game story, which explores this subject). In my short time asking him questions every day, I've come to trust that if Manuel is unhappy with his hitters, he'll say so. And after tonight's game, he pointed to hard-hit balls and increased baserunners, and said that the Phillies were close. "If we stay with it, we'll be okay," he said.
Also, I've always had mixed feelings about how to view the left-on-base statistic. Sure, you want to knock the guys in, but does the lack of a two-out hit negate achievements of the other baserunners? After a four-hit performance Sunday, the Phillies stranded 11 runners last night. But the runners were there in the first place, which is better than meekly going 1-2-3 in nearly every inning. When a team starts piling up the LOB numbers, they're sometimes getting ready to break out.
Moyer, like Brett Myers before him, was somewhat better than his line. He allowed two home runs, but also surrendered several hits on seeing-eye grounders. It wasn't like his final Grapefruit League start, when he kindly threw batting practice to the mighty Nationals. Father Time allowed four runs in five innings, throwing 78 pitches. If Manuel hadn't pinch hit for him, and he'd gone six or seven, we'd be complimenting him for hanging in there. Of course, we can't assume that he would have pitched effectively had he continued—but the point is, he executed last night more than he didn't.
I think the issues are still there—too many lefties on the dance floor (Flight of the Conchords, anyone?), questions at the top of the rotation. But I also think that last night's game, though outwardly similar to Sunday's, contained hints of progress buried under that dull exterior.
Andy Martino
Here's the lineup. Note that, despite Charlie Manuel's "It's one game, man" protestation Sunday night, he decided to break up the lefties against Atlanta (and their lefty closer, Mike Gonzalez. Jayson Werth, who batted second Sunday, bats fifth, providing a righty presence between Howard and Ibanez (Vicotorino hit sixth on Sunday).
Jimmy Rollins SS
Shane Victorino CF
Chase Utley 2B
Ryan Howard 1B
Jayson Werth RF
Raul Ibanez LF
Pedro Feliz 3B
Carlos Ruiz C
Jamie Moyer LHP
Andy Martino
Bottom line from the opening stinker, which the Phillies lost 4-1 : I wouldn't worry about Brett Myers; I'd wait to get worried about the offense's sluggishness, and I would be a little worried about they lefty factor in the lineup.
First, Charlie Manuel admitted that the pregame pomp may have distracted the team. It was such a novel experience to march onto the field on a red runner, watch your manager raise a World Series flag, run from the dugout to visceral cheers, and then play a ballgame, that the team may have been affected early.
Everything about the pregame scene was an adjustment from the casual, sparsely- populated spring training routine. Instead of chatting with teammates and a few writers at eight in the morning, the players were swarmed by television, print and radio reporters. Jack Taschner, the new guy, watched the scene with wide eyes. "For the first time in my life, I don't care what my role is!" he told me, speaking rapidly and loudly. In other words, energy of the day was abnormally high.
Andy Martino
Happy opening night. It will be nice to see more competitive tension in the games, though spring training, with its races for roster spots and the fifth spot in the starting rotation, did not lack intensity. When people say that the games will finally start to matter tonight, I think: haven't they mattered to Chan Ho Park, J.A. Happ, Miguel Cairo, Marcus Giles and many others already? Now, though, they will matter in the standings.
Which leads to Baseball Prospectus's PECOTA projections, which have the Phillies
narrowly missing the playoffs.
For those unfamiliar with the system, see
this profile
I wrote about its mathmaster Nate Silver last year (you may remember him for projecting Obama's win over McCain with frightening precision).
***
Also, we begin the season-long competition for best blog response of the week. As Inquirer readers know, I'll be running one piece of intelligent analysis with my Sunday Phillies column each week. So get yourselves in regular-season shape. Commentors who sign their first and last names to opinions will be given preference, but the system is not absolute. If FOOFOOFAAFAA87 offers something brilliant, well, he/she may find their comment in the paper. But wouldn't you rather see your name in print?
Andy Martino
Here is the opening night lineup against Derek Lowe and the Atlanta Braves. Note that Shane Victorino is batting sixth, the result of limited at-bats during spring training and Charlie Manuel's feeling the the centerfielder isn't swinging well.
Rollins SS

Werth RF
Andy Martino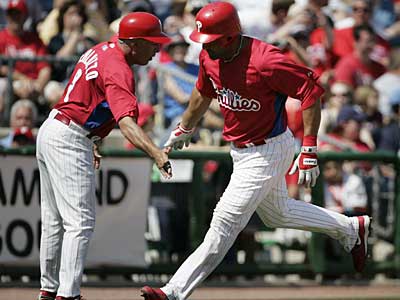 This is anticlimactic after a final week of spring training loaded with decisions and human drama, but here is the Phillies' 25-man roster to begin the season. It includes 12 pitchers, two catchers, seven infielders and four outfielders. Miguel Cairo is in, for now.

Pitchers: Right-handers Joe Blanton, Clay Condrey, Chad Durbin, Brad Lidge, Ryan Madson, Brett Myers and Chan Ho Park and left-handers Scott Eyre, Cole Hamels, J.A. Happ, Jamie Moyer and Jack Taschner.

Catchers: Chris Coste and Carlos Ruiz.

Infielders: Eric Bruntlett, Cairo, Greg Dobbs, Pedro Feliz, Ryan Howard, Jimmy Rollins and Chase Utley.

Outfielders: Raul Ibanez, Matt Stairs, Shane Victorino and Jayson Werth.