Archive: March, 2010
Matt Gelb, Inquirer Staff Writer
CLEARWATER, Fla. -- It's a semi double dip here this morning. At 10 a.m., the Phillies will play a B game against the Blue Jays at Bright House Field. Jamie Moyer will make his spring debut in that contest. Greg Dobbs is the only semi-regular position player playing in the B game.
Then, the majority of the Phillies' regulars will take a short bus trip over to Dunedin for a 1 p.m. game against Toronto. Cole Hamels will start that game. Here's the lineup for that game:
1. Jimmy Rollins 6
2. Placido Polanco 5
3. Chase Utley 4
4. Ryan Howard 3
5. Jayson Werth 8
6. Raul Ibanez 7
7. Domonic Brown 9
8. Ross Gload DH
9. Brian Schneider 2
Matt Gelb, Inquirer Staff Writer
Editor's note: We will attempt to post a recap of every Grapefruit League game with some quick hits and tidbits for those of you who didn't follow (and actually did work during the day).
CLEARWATER, Fla. -- Yes, all eyes were on Roy Halladay in his Phillies debut. He certainly didn't disappoint in the Phillies' 3-2 victory over New York. His complete line
2 IP, 0 H, 0 R, 0 BB, 3 K (24 pitches, 21 strikes)
Matt Gelb, Inquirer Staff Writer
CLEARWATER, Fla. -- As far as debuts go, this one was fairly anticlimatic, just the way Roy Halladay probably prefers.

Halladay faced seven batters in two innings. The only one to reach base was courtesy of an error.

Halladay threw just 24 pitches (21 strikes) over the two innings with three strikeouts. He was supposed to pitch between 40 and 45 pitches, but apparently Charlie Manuel and Rich Dubee saw enough.

In the first inning, Halladay faced four batters and needed 15 pitches (12 strikes). The only runner to reach base was Jamie Hoffmann on an error by third baseman Placido Polanco. Halladay struck out Jorge Posada and retired Robinson Cano on a hard liner to right field.

Halladay struck out Nick Swisher and Randy Winn looking to begin the second inning. Juan Miranda put the only ball in play, a weak grounder to second base.
He never reached a two-ball count to any hitter.

After he departed for Kyle Kendrick, Halladay walked out to the Phillies' bullpen in left field and reached his quota of pitches in the bullpen.

We'll have more in a little after Halladay talks in the clubhouse.
Matt Gelb, Inquirer Staff Writer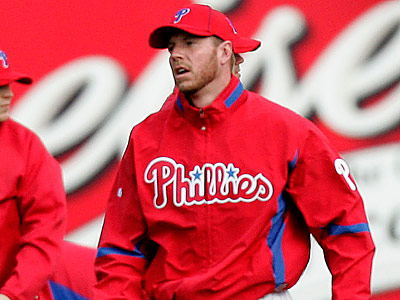 CLEARWATER, Fla. -- It's a brisk morning but the beginning of Grapefruit League play is upon us. And you can expect a large crowd at Bright House Field.
Already this morning, there is a long line outside the box office for best dips at the berm seating. We will have a sellout here for the 1:05 p.m. start -- Phillies vs. Yankees, Halladay vs. Sabathia.
But if you were expecting star power in both the lineups, well, it's not all there. Here are the lineups:
Matt Gelb, Inquirer Staff Writer
Live from the clubhouse here is today's lineup...
1 Jimmy Rollins 6
2 Placido Polanco 5
3 Chase Utley 4
4 Ryan Howard 3
5 Jayson Werth 9
6 Raul Ibanez 7
7 Greg Dobbs DH
8 John Mayberry Jr 8
9 Carlos Ruiz 2

JA Happ will start. Following him is Phillippe Aumont, Yohan Flande, Drew Naylor, Joe Savery, Jesus Sanchez and David Herndon.
A few other notes from the clubhouse:
Andy Martino
CLEARWATER, Fla.--The Phillies knocked off early to play golf today, and will reassemble tomorrow afternoon for the first game action of 2010, when they play Florida State University at 7pm at Bright House Field.
Points of interest for the exhibition include J.A. Happ's new two-seam fastball. The lefty is playing with the sinker to augment his four-seam fastball, cutter, change-up and curveball. As with all spring training pitch additions, he will work it in for a while before deciding whether to take it north. So that's something to watch.
--Phillippe Aumont, the centerpiece of the trade that sent Cliff Lee to Seattle last winter, is also among the scheduled pitchers. The 21-year-old righthander said that he would focus on honing his mechanics and pitches. Aumont is known for a power sinker; he also throws a four-seam fastball, curveball and change-up. He considers the curveball a strength and the change-up a work-in-progress.
"The change-up is a feel pitch," he said. "Either you get it or you don't, and if you don't it will take you a while. It seems like lefties get it right away, and it's a little harder for righties."
Aumont also said that he would try to develop those pitches without feeling pressure to succeed immediately, despite his importance to the organization and role in the controversial Lee trade. "The know what I am capable of," he said. "They know what I need to work on. Obviously, though, you could have fans or other players saying, 'oh, look at this guy. This guy got traded for Cliff Lee, he's not worth it.' Whatever. There are others who are going to understand that I'm still pretty young and trying to learn."
--Charlie Manuel said that center fielder Shane Victorino would not play tomorrow. Victorino has mild soreness in his shoulder. He played long-toss at 120 feet this morning and worked in the batting cage. Manuel said that he considered using Victorino as the designated hitter, but decided to grant a full day's rest instead.
***
Also checked in with Ruben Amaro Jr. today, to make sure he was still content with his roster as is. Last March, Amaro was busy tinkering. He pursued veterans Nomar Garciaparra and Gary Sheffield to augment the team's bench, traded for lefthanded reliever Jack Taschner, and added rotation depth by signing Rodrigo Lopez to a minor league deal.
This spring, the GM is focused on players in his own camp.
"Not right now," Amaro said when asked if he was actively pursuing any minor trades or signings. "At a certain point, you have to just see what you have."
Jamie Moyer and Kyle Kendrick are competing for the fifth spot in the starting rotation. If both were to fail, Amaro said, he is content to have Ryan Vogelsong, Andrew Carpenter, Joe Savery and Jose Contreras behind them.
Amaro also remains optimistic that the group of young lefthanded relievers including Antonio Bastardo, Sergio Escalona and Mike Zagurski will provide enough bullpen depth to make a trade or signing unnecessary.