Archive: July, 2011
Tim Rohan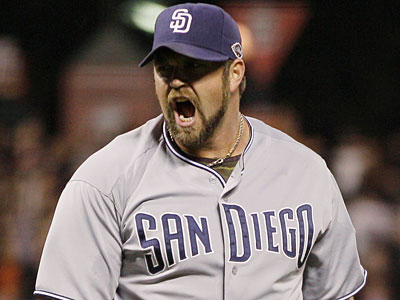 Padres closer Heath Bell may be the hottest name on the trade market right now: he's a proven commodity at closer who sports a 2.45 ERA and 28 saves on the season entering Friday night's game against the Phillies.
With the trade deadline about a week away, Bell didn't shy away from answering questions about his future, or his stunt at the 2011 All-Star game.
Question: Your running sprint, then slide at the All-Star game, was that planned?
Inquirer staff
Right-hander Brad Lidge was activated from the disabled list Friday. To make room for him on the 25-man roster, right-hander Danys Baez was designated for assignment.
Lidge, 34, has missed the entire season due to a right posterior rotator cuff strain suffered in spring training. He was originally placed on the disabled list on March 25. Over an eight-game rehabilitation stint between single-A Lakewood and double-A Reading, Lidge went 0-0 with a 3.52 ERA, two walks and 10 strikeouts in 7.2 innings. For his career with the Phillies (2008-10), Lidge has gone 3-9 with 99 saves and a 3.99 ERA in 189 games.
Matt Gelb, Inquirer Staff Writer
The Phillies have acquired a former Met, but it's not Carlos Beltran.
Righthander Aaron Heilman signed a minor-league deal with the Phillies and will report in the coming days to triple-A Lehigh Valley. Heilman was recently released by the Arizona Diamondbacks after posting a 6.88 ERA in 32 games. The 32-year-old reliever did strike out 33 in 35 1/3 innings but allowed 48 hits.
Phillies fans will remember him for his putrid performances against them while with New York. In his career, Heilman has a 6.61 ERA in 40 appearances vs. the Phillies.
Matt Gelb, Inquirer Staff Writer
CHICAGO -- So it's hot. Really hot. On my walk to the L, a bank sign read 95 degrees. And it was 10:24 a.m. The heat index is supposed to feel somewhere around 115 degrees during the height of the afternoon, and it just so happens Vance Worley will be on the mound then.
Worley deals in self-deprecating humor and I joked with him Tuesday that he'd at least be able to lose a few pounds during his outing. "But I'll just put it all back on," he said. "Bad genes."
Then he laughed. But hydrating is no laughing matter, of course, especially after what happened with Roy Halladay on Monday. Worley sweats a lot when he pitches. He said he began hydrating Monday and the athletic training staff has kept tabs on his fluid levels ever since.
Matt Gelb, Inquirer Staff Writer
Join The Inquirer's Matt Gelb for a live chat about all the latest Phillies news at 1 p.m. on Wednesday.
If you're on a mobile device, click here to follow along and send in questions.
---
Have a question? Send it to Matt Gelb's Mailbag.
Download our NEW iPhone/Android app for easy access to all of our Phillies coverage, plus app-exclusive videos and analysis. Get it here.
Matt Gelb, Inquirer Staff Writer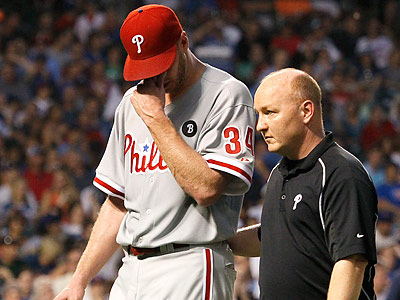 CHICAGO -- Somewhere in the bowels of Wrigley Field, Roy Halladay's wife Brandy stood with the couple's two sons, waiting to hear something long after the Phillies lost, 6-1, to the Cubs.
"I was in the training room until well after the game," Halladay said Tuesday, "so they were upset I didn't get back to them."
Eventually, the husband, father and baseball's best pitcher emerged from the visitors clubhouse with confidence his heat exhaustion would not beget a larger issue.
Matt Gelb, Inquirer Staff Writer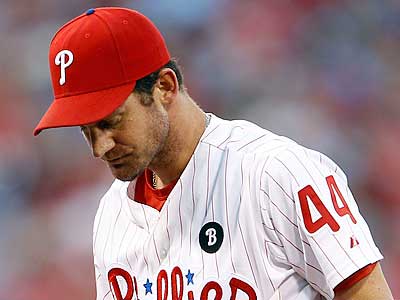 CHICAGO -- There is a fourth ace and he has remained dormant until Tuesday when some four hours before the Phillies played the Cubs, Roy Oswalt picked up a baseball and stepped on a mound for the first time in 26 days.
Trade deadline? Forget about that. The most important player the Phillies could "acquire" is Oswalt.
And after throwing about 50 pitches at Wrigley Field, Oswalt was as optimistic as he's been throughout this whole ordeal.
Matt Gelb, Inquirer Staff Writer
CHICAGO -- Charlie Manuel spoke in hyperbole at first, saying he had seen baseball played in 125- or 130-degree weather. Then he noted a game earlier this season.
"We played in Washington earlier this year, and he pitched, and it was maybe hotter there," Manuel said. "The humidity might have been a little worse today, but it was 103 there."
Actually, it was 92 degrees at first pitch May 30, the day Roy Halladay grinded seven innings against the Nationals in stifling D.C. heat. That game was played during the day and it was especially hot. During the game, Halladay ran back to the Phillies clubhouse to completely change his uniform because it was so drenched in sweat.
Matt Gelb, Inquirer Staff Writer
CHICAGO -- Surely, it is a sight that until Monday was contained solely in the nightmares of Phillies fans: Roy Halladay being escorted off the mound with a team trainer.
With a 1-1 count to Aramis Ramirez in the fifth inning, Halladay stepped off and Carlos Ruiz sensed something was wrong. So, too, did Rich Dubee, who emerged from the dugout. Before the pitching coach arrived, Halladay already had his hands on his knees.
He looked absolutely exhausted after pitching four innings. The team only offered this update: Halladay left the game due to the heat. (No word if he'll be joining LeBron in Miami.)
Matt Gelb, Inquirer Staff Writer
CHICAGO -- It's a Halladay Day and the Phillies have won the last 10 times their ace has taken the mound. That bodes well against a hapless Cubs team.
Another positive sign for the Phillies: Shane Victorino has rejoined the club.
Victorino will be activated Tuesday from the disabled list and the team's best offensive player in 2011 will enter a lineup that averaged 6.22 runs in nine games without Victorino.