Archive: July, 2009
Andy Martino
In the airport bound for St. Louis, and wanted to give you a few things to chew on for your Sunday night/Monday morning slacking pleasure. A new poll says that 56 percent of fans don't like Bud's home-field advantage idea. This concept is extremely unpopular among players and managers; they don't like that an exhibition game determines something more important. I'd bet that an anonymous survey of clubhouses would yield something like a 99.9 percent disapproval rating. What do you think?
Also, there was an interesting piece in the New York Times comparing umpires to judges, on the eve of the Sotomayor hearings. I don't agree with all points, but the author gives you something to think about.
Inquirer Online Desk
The Phillies just posted this to Twitter:
"OF Jayson Werth named to NL All-Star roster to replace Mets OF Carlos Beltran who is on the DL."
More information coming...
Andy Martino
You know what's way more important than the silly marketing campaign to elect All-Stars, or trade rumors? Performance-enhancing drugs, both as an issue of public health and competitive integrity.
If the Manny Ramirez circus has proven anything this season, it is that penalties for steroid use are not nearly severe enough. The guy cheats his way to a big contract, then is cheered in every rehab start and upon his return to the Dodgers. Fox showed a troubling lack of judgement by treating his at-bats Saturday as news events, showing him on a split screen. You know what I'm thinking if I'm Manny? That was worth it.
Yet, the AP reports that MLB
chafed at legitimate criticism of its program
. I thought I'd pass this story along, for those who might be looking for a brief change of pace from the topics du jour, and something else to think about.
Of course, the Roy Halladay drama is also quite intruiging and real, so
click here
for the post on Blue Jays GM J.P. Ricciardi. And take a nap until 4pm, when this whole ad campaign will be over and, thank goodness, we will never have to hear the phrase "Bran Torino" again.
Andy Martino
Question. Would you make the following trade if you were Ruben Amaro Jr.? Cole Hamels, Chase Utley, Ryan Howard, Paul Hagen, Jim Salisbury, Pete Mackanin, J.A. Happ, the Phanatic, your dog and Paul Bako for Roy Halladay?
Rumor talk gets a little hysterical, but we did learn some actual things today. The big question for the Phillies seems to be, would you trade Kyle Drabek? Charlie Manuel said he'd be reluctant to do that, and Amaro said there were some untouchables in the system. But the concept of untouchable is slippery. What if Blue Jays GM J.P. Ricciardi said, "Hey Rube, Drabek for Doc straight up?" Who'd be untouchable then?
The big question for Ricciardi, the question that ultimately matters a whole lot, is what are you looking for? Here's what he told the Inquirer today: he is seeking the type of talent "that makes you sit up and take notice. The clubs that have contacted us understand that."
Ricciardi then declined to name the teams with whom he has spoken about Halladay, but he made it clear that he is looking for young, inexpensive, premium talent.
Baseball sources said the Phillies have been in regular contact with Toronto about Halladay and are serious players in the sweepstakes to land him. Sources said that the two teams spoke Monday night, before Ricciardi publicly declared that he would listen to offers for the pitcher.
Ricciardi made it clear that he feels no urgency to deal his ace, and will only do so if he receives an offer that overwhelms him. More on this in the morning paper.
Did you see that the Jays released B.J. Ryan today? Call me crazy, but what if the Phillies signed Ryan and flipped him to Toronto for….Roy Halladay?
.
Andy Martino
Join Andy Martino for a live chat Wednesday at 11:30 a.m. He'll take your questions on Roy Halladay, Pedro Martinez, and the series against the Reds.
Andy Martino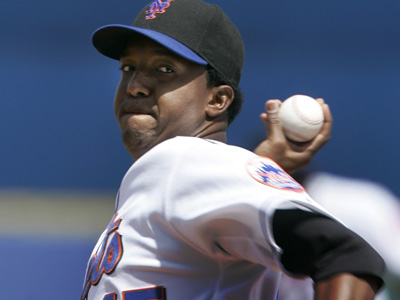 The Phillies have decided to scout free agent pitcher Pedro Martinez, according to a source with direct knowledge of the situation. It is not clear exactly where or when they will take a look at Martinez, but indications are it could be in the Dominican Republic today, with other teams also watching. The pitching-starved Phils, who were not previously interested in the veteran, have changed their mind and decided to consider him, though that does not mean they will ultimately sign him.
Martinez, 37, is 214-99 with a 2.91 earned run average in 17 seasons, and last pitched for the Mets. Last year, he was 5-6 with a 5.61 ERA for New York.
While past his prime, Martinez is, of course, one of the top pitchers of his era. The Phillies have explored trades for starting pitchers for most of the season and intensified their efforts after Brett Myers was likely lost for the season with a hip injury. General manager Ruben Amaro Jr. has not yet found a trade partner, and will now consider Martinez.
Poll: Should the Phillies sign Pedro Martinez?

(3454 votes)
Andy Martino
Tuesday, the Phillies were hopeful that Raul Ibanez would play in a rehab game yesterday. He did not, though he and the front office said they were just being careful. Yesterday, they were optimistic he would play today. He won't. Today, they say they are hopeful he will play tomorrow. Ibanez will work out with the Reading Phillies today.
I'm not saying he's experiencing setbacks, and he says he isn't. But it is safe to say this isn't the best-case scenario.
Also, Brett Myers had a follow-up exam with Dr. Bryan Kelly yesterday, the doc who performed his hip surgery. Myers was cleared to begin a throwing program in two weeks.
Andy Martino
Jimmy Rollins spoke tonight about his four-game layoff and persistent slump. Asked if the break was counterproductive, he said he didn't think so, but that he is still trying to find whatever it is he has lost:
"I don't feel worse, so that's a good thing…For a few days, I could go to that hotel and not worry about baseball. I was on vacation. I was on vacation in the clubhouse.
"But that's what (Manuel) wanted me to do. He didn't want me to worry about the results or anything, but that's not natural. But the point was just to do whatever, and don't worry about the team's performance. In a sense, be greedy. Take care of yourself and don't worry about anybody else. But that's just not me. I hear what he's saying, but it's kind of hard for me to be like that."
More on Rollins in the game story, and more on Hamels, who swears he's healthy, though his velocity did seem down after the third inning. He said he was struggling to locate and execute his pitches, and would consult video of previous seasons and consult with Jamie Moyer.
The thing with Hamels and Rollins and the entire team is that everyone is in head-scratching mode. And the Marlins are knockin', just half a game out of first.
Remember, there is a lot of season left, and the league mostly stinks. With this terrible stretch of baseball, the Phils might have crossed some kind of line that a championship team shouldn't cross, but they didn't cross the ultimate line.