Archive: June, 2012
Matt Gelb, Inquirer Staff Writer
TORONTO — Chase Utley (knees) played five innings at second base in a minor-league intrasquad game Saturday and went 2 for 3 with a walk. Utley made his first appearance in the field Friday with four innings of work.
Ryan Howard (Achilles) played in the same game and went 2 for 4 with a home run but did not run the bases. Afterward, he took grounders at first and did some light base running activity.
In addition, Laynce Nix (calf) went 2 for 5 and played three innings at first base. He ran the bases after the game.
Matt Gelb, Inquirer Staff Writer
TORONTO — The left side of Antonio Bastardo's face looks as if he entered a boxing ring, but he merely stepped foot in the weight room Wednesday. It was after he allowed a run to Minnesota and he was not pleased with his effort.
He took his anger out on a squat machine, which returned the favor. He required stitches to close a large cut above his left eye, which was nearly swollen shut after Friday's game.
Bastardo insisted he could see out of the eye, and demonstrated by covering his right one and pretending to punch a reporter in the face. But he was not available to pitch Friday barring an emergency situation and could need a few more days to recover.
Matt Gelb, Inquirer Staff Writer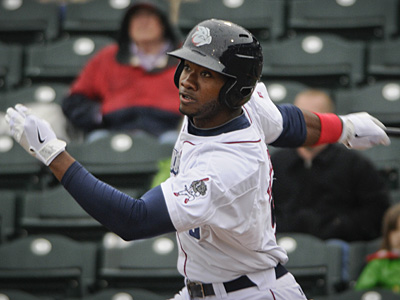 TORONTO — Just when Domonic Brown was reentering the collective consciousness of Philadelphia, the erstwhile top prospect suffered another knee injury Thursday.
The Phillies have diagnosed Brown with right knee inflammation but that was before he underwent an MRI on Friday afternoon, assistant general manager Scott Proefrock said. The results were not immediately available.
It comes at an inopportune time for Brown, who was finally finding his stroke at triple-A Lehigh Valley while playing regularly. Brown was hitting .300 in 11 June games with three home runs and a .939 OPS.
Matt Gelb, Inquirer Staff Writer
TORONTO — The Phillies arrived north of the border early Friday morning and will play two games in less than 24 hours against the Blue Jays. But they landed with good vibes after two wins in Minnesota and some positives to build upon.
What will help is having Vance Worley no longer on a pitch restriction. He only threw 80 and 93 pitches in his first two starts back from the disabled list. This time, he should be able to go deeper.
He'll also hope for some better defense behind him. In his last start, Worley was charged with three runs, all unearned. Charlie Manuel's lineup looks a little different in that Placido Polanco is sitting after two days of activity.
Matt Gelb, Inquirer Staff Writer
TORONTO — After an exhaustive search, Jim Thome's 607th home run ball was found.
Thome's three-run homer Thursday landed in a flower bed in front of the right-field stands at Target Field and was feared lost. For a few innings, fans dug for the ball but could not find it.
A postgame search party of eight Twins employees failed to locate the ball, according to the Star Tribune. They removed the flowers and even strapped a harness to one worker, but the ball was nowhere to be seen.
Matt Gelb, Inquirer Staff Writer
MINNEAPOLIS — The forecast for baseball is not promising, especially when "large hail" and "funnel-like storms" are predicted. But the Phillies do not return here for the rest of the season, so it could be a long, wet night.
Whatever the case, Jim Thome is positioned in his cleanup spot again, where he has found great success. On Wednesday, Thome became the oldest Phillies player to ever have a four-RBI game at 41 years, 291 days old. (The previous holder was Matt Stairs, who did it at 41 years, 195 days in 2009.)
He's been a revelation in five games, but that likely doesn't change anything once play in American League ballparks ends Sunday. Thome's back will prevent him from starting again because he cannot play the field.
Matt Gelb, Inquirer Staff Writer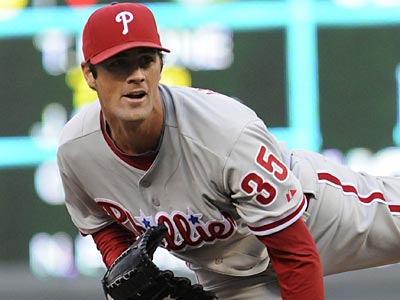 MINNEAPOLIS — The Phillies could celebrate victory Wednesday, that is, all of the Phillies except Cole Hamels.
"I definitely won't enjoy the moment," Hamels said. "Maybe that's being selfish, but it's hard to when you're still in last place and you don't put good starts together. That's quite a few in a row. They're not good moments."
Hamels has a 6.08 ERA in his last four starts and he has failed to complete seven innings in each of his last three outings. He pitched to three batters in the seventh of Wednesday's 9-8 win over Minnesota before Charlie Manuel came with the hook.
Matt Gelb, Inquirer Staff Writer
MINNEAPOLIS — A season ago, the Phillies were 30-47 when they scored three or fewer runs. That means they won 39 percent of the time when the offense was anemic. Only five teams in the last 30 years had a better winning percentage and it was a large reason why the Phillies won a franchise-record 102 games in 2011.
Those Phillies had a 3.02 ERA, the lowest for any team since the 1989 Dodgers, who had a 2.95 mark. They allowed 3.27 runs per game in 2011, the franchise's lowest clip since 1917.
They are allowing 4.33 runs per game in 2012 and have a team ERA of 4.00. Both figures are worse than the league average. And when scoring three runs or fewer, the Phillies are 4-23 (.148), a far cry from the clip established a season ago.
Bob Brookover, Inquirer Baseball Columnist
UPDATE FIVE
CLEARWATER, Fla. -- The crowd is thinning here at Bright House Field as the game heads to extra innings, but a few of the fans that remained booed Chase Utley after Tampa Yankees lefty Rigaberto Arrebato struck him out to end the bottom of the ninth inning.
Arrebato got Utley to swing through an offspeed pitch and the boos followed.
Matt Gelb, Inquirer Staff Writer
MINNEAPOLIS — The Phillies are 8.5 games out of first place, the furthest they've been since June 2, 2007. Following a day off, nearly the entire group of position players took to Target Field for early batting practice Tuesday. Perhaps a visit here is the cure for their recent malaise.
To start, they will face righthander Nick Blackburn, whose 7.75 ERA is the highest for any pitcher in baseball with at least eight starts. The Twins are in last place with a minus-67 run differential. That is worst in the American League.
If there was a time to start making hay, this series is a prime opportunity.