Archive: June, 2009
Andy Martino
Here's a game story with quotes; the game ended too late to get this final version into the paper.
By Robyn Norwood
LOS ANGELES— Cole Hamels started the last game the Phillies played at Dodger Stadium.
They left Chavez Ravine that October night headed for the World Series after clinching the National League Championship Series.
This time, Hamels got to finish the game on the mound, too.
The celebration was more muted after the Phillies' 3-0 victory Thursday, their seventh win in a row. But it was a sparkling performance by Hamels, whose five-hitter was the fifth complete game and third shutout of his career.
After faltering in his previous start, Hamels (4-2) could hardly have been sharper, striking out five as he thwarted the Dodgers by retiring 18 of the last 20 batters he faced. He needed only 97 pitches to complete a nine-inning shutout.
Hamels kind of likes this place, actually.
"I do," he said with a little smile. "It's a good mound, actually. The ballpark is nice and big, and the weather is always cool."
Manager Charlie Manuel and pitching coach Rich Dubee talked about how Hamels was able to keep the ball down, and because the Dodgers put the ball in play instead of fouling off a lot of pitches, his pitch count stayed low. And on a cool Los Angeles evening, Hamels didn't tire.
"Complete games nowadays are a big deal, especially when you shut somebody out," Manuel said.
After last season, Hamels probably didn't expect to fight some of the battles he has this season. But he had pitched well recently until his unsettling most recent start, an eight-hit, six-run outing against Washington on Saturday in a game the Phillies won nonetheless.
He was back on his game Thursday.
"This is the best he's pitched this year," Manuel said. "This was a good game for him, the way the season has been, a big game for him."
The question was how long the Phillies would have to wait to get on the scoreboard themselves.
The Phillies didn't get a hit off Dodger starter Clayton Kershaw (3-4) until the fourth inning, when Chase Utley led off with a double. He gave the Phillies a 1-0 lead after he moved to third on a groundout and scored on a sacrifice fly by Ryan Howard.
The Phillies tried to add to their slender lead in the fifth, but Kershaw got Jimmy Rollins to fly out to right with two outs and runners on second and third to end the inning.
Kershaw was fading, though, and the Phillies chased him the next inning after Jayson Werth singled with one out, moved to second on a walk to Ryan Howard and scored on a double to the left-center field gap by Raul Ibanez for a 2-0 lead.
Some apparent base-running confusion led to Howard being tagged out between third and home squandering a chance to score.
But the Phillies added another run in the seventh when Werth's single up the middle drove in Carlos Ruiz, who singled and managed to steal second.
There is some good karma here for the Phillies. Some of the players gave a nod to it Thursday, and others packed it away like old news clippings.
"No question, when you get back here, you remember what happened last year, having a nice celebration afterward," said closer Brad Lidge, who was on the mound for the final out in October.
"There's a little bit of that when you get here. You kind of think about what we did," Lidge said before the game.
"Then you realize, hey, it's a new season. This season's got new battles to fight."
Andy Martino
Hey, remember the '90s? When cardigan sweaters were cool for guys, Sean Combs called himself "Puff Daddy" and the Braves were serious? Well, it looks like they're serious again about their chances this season. The other NL East rival has been active lately, trading for outfielder Nate McLouth, cutting ties with Tom Glavine and now, apparently, checking in on Brad Penny, as ESPN's Buster Olney reported today. Olney also reported recently that the Phils had checked in with Boston about Penny, and were told the asking price was Jason Donald.
Would you Phils fans make that deal? Would Penny to the Braves bother you?
Andy Martino
A couple of things for your consideration after the Phils swept San Diego and won their sixth straight:
--J.A. Happ was excellent, pitching aggressively, mixing in more breaking balls than he had in the past, and lasting deep into the game. This guy does not have the nastiest raw stuff you ever saw, but he certainly makes the most of what he does have. "Our starting pitching is getting more consistent," said Charlie Manuel. "Happ tonight, when he can give you what he did, that's very good. I'm very happy with him." The Phillies received excellent outings from Joe Blanton, Antonio Bastardo and Happ during this series.
--Greg Dobbs' second inning catch with the bases loaded was a true turning point, and Happ knew it. After Dobbs snagged Chris Young's shot to right field, the pitcher waited in front of the dugout to thank Dobbs, who was making his first outfield start of the year.
After the game, Happ hugged Dobbs, smiled broadly and said , "Great catch." It was just about the most excited I've ever seen J.A. Happ.
"Dobber really turned the game around there," he said. "Gave me some confidence and made me focus in a little more."
--You may be seeing more of ol' Dobber in right field in the near future. Shane Victorino left in the sixth with a left hip strain. The team said he would be re-evaluated tomorrow (Thursday). Manuel said that Victorino's back had been bothering him, but he hadn't heard about the hip until tonight. The man himself was in no mood to provide answers, grumbling "I'm fine" as he breezed past me and that other guy who covers the team. If Victorino misses any time, Werth will play center with Dobbs and Matt Stairs in right (though not at the same time).
--J.C. Romero pitched 1 1/3 innings and allowed two hits and one unearned run in his 2009 debut.
Andy Martino
A couple of quick hits about the game, which the Phils won 10-5. The only blemish was Chan Ho Park's four-run seventh. For a full game story, check the website.
--The Phillies optioned Sergio Escalona to triple-A, making room for J.C. Romero. This came after Manuel said pre-game that he expected to keep 13 pitchers for a while. Jack Taschner, you're still a big leaguer.
--In case you fell asleep, Antonio Bastardo was very good. Everyone thought his fastball was low-nineties, including Manuel. But he came out throwing gas, getting it up to 95 in the first inning.
--Fun fact: Raul Ibanez hit his 200th home run on his 37th birthday. The pitcher who allowed the shot, Josh Geer, also was celebrating a birthday, at least until he faced Ibanez. It was Geer's 26th.
--Two fun quotes. From a grinning Manuel on Bastardo: "(Bastardo's) adrenaline was going. He was on a rush and you couldn't have slowed him down if you had to. But he did one thing real good: He was aggressive and he wasn't afraid to throw the ball."
--Ibanez on his big day: "When you hit 37, they all tend to feel the same," Ibanez said, adding that he did not remember if he had homered before on a birthday. "I don't know," he said, shaking his head. "So many games."
Andy Martino
If my clock only says 11:00, why am I so tired?
A little roster moveage from the Phils: John Mayberry Jr. was optioned back to Triple-A Lehigh Valley, to make room for tonight's starter Antonio Bastardo. Expect another move soon, as the team will have to make room for J.C. Romero.
Also, reliever Mike Koplove's contract stipulated that he could request his release June 1, and he did. Too bad for the Philly native, who found himself buried in Triple-A. It was his lifelong dream to play for the Phils, which is why he signed here. But this game is nothing if not full of disappointments.
Here's the full game story, with quotes. It ended too late for the presses.
By Andy Martino
INQUIRER STAFF WRITER
SAN DIEGO—Joe Blanton's resurgence could not have come at a better time for the Phillies. With Brett Myers likely gone for the season, leaving rookies and questions in the rotation behind ace Cole Hamels, the team needed stability from Blanton more than ever before.
Last night, the 28-year-old righthander contributed his second consecutive strong start. He allowing three runs—though two were home runs—in seven innings as the Phillies defeated San Diego 5-3 at Petco Park on the strength of back-to-back fifth inning solo homers by Ryan Howard and Chase Utley.
"Brett went down, and when one person goes down you kind of pick it up a step," Blanton said.
Ugly innings have marred many of Blanton's starts this season and inflated his earned run average. The second inning last night threatened to follow that pattern, but sterling infield defense intervened.
Scott Hairston and Brian Giles began the inning with singles, and Kevin Kouzmanoff hit a grounder to the right of shortstop Jimmy Rollins. The ball appeared headed into left field, but Rollins snagged it on the edge of the outfield grass. He fired to Utley, who made a quick turn and threw to first. Blanton then struck out Nick Hundley.
"At the start of the season, he had some innings where he had a hard time getting out of, and he gave up some runs," said manager Charlie Manuel. "His last three outings, I've seen his command has really gotten much better."
San Diego did not score again until the sixth, when Adrian Gonzalez hit his major-league league leading 21st home run to left field; it was Gonzalez's 12th opposite field homer this year. Hairston followed with another homer, the 12th Blanton has allowed this season, and the Phils major-league leading 77th.
Blanton attributed the two homers to an aggressive approach; leading by three runs, he preferred pitching to contact than risking a walk. "(Allowing a homer in that situation) is better than walking a guy," he said. "I feel like walks, especially with two outs, they kind of get rallies going."
The two runs tightened a game that should not have been close. The Phils offense squandered several scoring opportunities and left 11 runners on base. Rollins and Raul Ibanez off of the first and second innings with doubles, but the team went 0 for 6 with a runner in scoring position in those innings.
They broke through somewhat in the third, but failed to take full advantage of Padres starter Kevin Correia's wildness and left the bases loaded. The inning began when Correia committed two egregious baseball sins: He walked the leadoff man, who also happened to be the pitcher.
Blanton moved to second on a Rollins single, and the Phils again had a runner on second with none out. This time, Victorino and Utley hit consecutive run-scoring singles after Correia, struggling to locate his fastball, left a pair of them over the plate. But Ryan Howard struck out waving at a wild slider, and Ibanez was late on two-strike fastball, bringing Jayson Werth up with two on and two out.
Correia's pitches continued to elude his catcher's targets, and Werth walked, but Pedro Feliz followed with another swinging strikeout. After three innings, the Phils were 2 for 11 with runners in scoring position, and they stranded another in fourth, when a groundout and flyout left Carlos Ruiz at second.
"When we hit doubles to lead off innings and we don't move the runners, our guys, you can go ask them, they know that's not good baseball," Manuel said. "But's it better to leave them out there than to not have them out there."
But the manager, while somewhat disappointed in his offense, had only praise for Blanton. "He can move his fastball around and around, in and out, up and down," the manager said. "When he gets his slider and his curveball over…when he can locate those balls he can be a pretty consistent pitcher. The call him an innings-eater, but that doesn't impress me. I like to call him a winning pitcher."
Jim Salisbury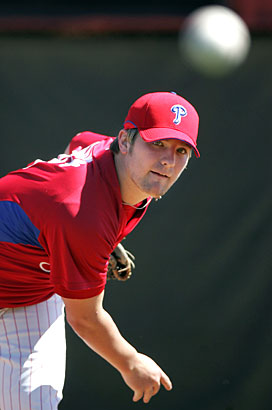 This blog post has been updated.
The Phillies' most exciting pitching prospect since Cole Hamels is on his way to eastern Pennsylvania.

Kyle Drabek, the team's top draft pick in 2006, has been promoted to Double-A Reading. He will pitch for the Reading Phillies Thursday night, when the club hosts Akron at 7:05.

Drabek, a 21-year-old righthander with power stuff, was 4-1 with a 2.48 ERA in 10 games, nine starts, at single A Clearwater. In 61 2/3 innings, he allowed 49 hits and struck out 74.

Drabek is the son of former major league pitcher Doug Drabek, the National League Cy Young Award winner in 1990.
Andy Martino
Philadelphia, the nation has heard your passionate howls of "Raooooooooooool" echoing through the night. This just came in from MLB:

The Milwaukee Brewers' Ryan Braun leads the balloting for National League outfielders with 908,745 votes, while the Philadelphia Phillies' Raul Ibanez climbed to second from sixth with 817,849. The Chicago Cubs' Alfonso Soriano is third (775,319), the New York Mets' Carlos Beltran is fourth (741,875), and Manny Ramirez is fifth (635,530). The top three vote-getters will start the game. Starters and reserves for the 80th All-Star Game on July 14 in St. Louis will be announced July 5.