Archive: February, 2012
Matt Gelb, Inquirer Staff Writer
CLEARWATER, Fla. — The Phillies promoted Marti Wolever to assistant general manager for amateur scouting Wednesday. Wolever had served as director of scouting for the previous decade and oversees the Phillies' draft.
Of the drafts run by Wolever, the Phillies have procured players like Ryan Howard, Cole Hamels and Kyle Kendrick. More importantly, Wolever's drafts have supplied the minor-league talent used to acquire Roy Halladay, Cliff Lee and Hunter Pence among many others.
"We are pleased to recognize his numerous contributions with this promotion," general manager Ruben Amaro Jr. said in a statement.
Matt Gelb, Inquirer Staff Writer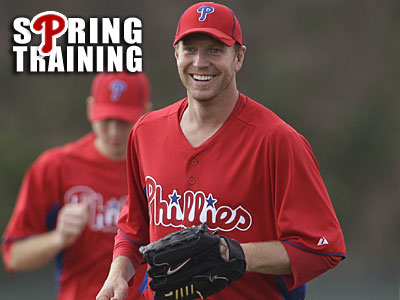 CLEARWATER, Fla. — Somehow, a story this winter about Roy Halladay helping tow a naked man's boat during a fishing excursion in the Amazon became the plot to the next Indiana Jones movie.
"I was not wrestling snakes," Halladay said. "I was nowhere near snakes."
So there. Halladay did not leap into the water with a knife and murder an anaconda.
Philly.com Sports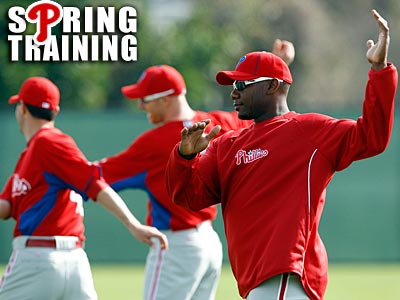 Join the Inquirer's Matt Gelb for a live chat from Phillies spring training in Clearwater, starting Wednesday at 3 p.m.
If you're on a mobile device, click here to follow along and post questions
---
Have a question? Send it to Matt Gelb's Mailbag.
Matt Gelb, Inquirer Staff Writer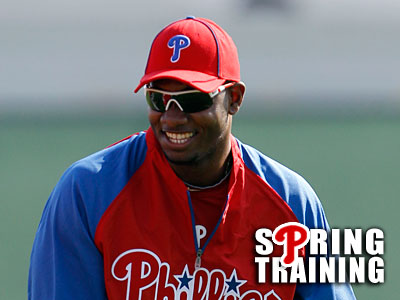 CLEARWATER, Fla. — Domonic Brown lives here now. He wanted a winter away from baseball to regain his confidence, but Brown still found himself at the Phillies' complex often.
He worked with Steve Henderson, the Phillies' minor-league outfield instructor. He struck a relationship with Gary Sheffield, who played 22 seasons and hit 509 home runs. He shaved most of his head and now proudly sports a faux-hawk.
Brown is 24. He was untouchable in trades for Cliff Lee and Roy Halladay. His path to the majors as the franchise's top prospect was not as planned.
Matt Gelb, Inquirer Staff Writer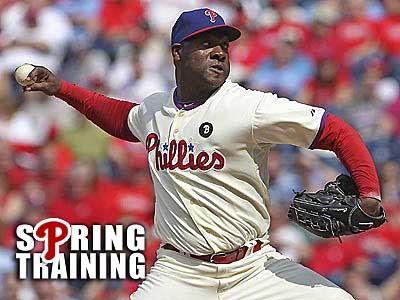 CLEARWATER, Fla. — For the first time since September elbow surgery, Jose Contreras threw off a mound Tuesday. A large Phillies front office contingent watched the session. When Contreras finished throwing, Antonio Bastardo clapped.
"He threw very, very well," Dubee said.
That leaves the 40-year-old Contreras not far behind the rest of the pitchers in camp. But Dubee cautioned the team will be conservative with Contreras this spring to keep him fresh for the season.
Matt Gelb, Inquirer Staff Writer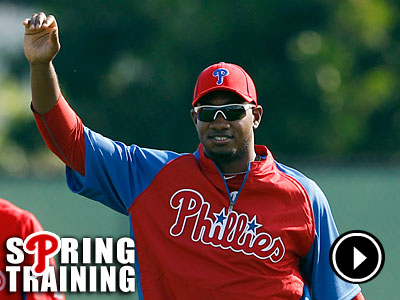 Video: Phillies top minor league prospect Domonic Brown was in camp Monday shagging fly balls and taking swings in the cage. The Inquirer's Matt Gelb reports from Clearwater, Fla.
---
Have a question? Send it to Matt Gelb's Mailbag.
Matt Gelb, Inquirer Staff Writer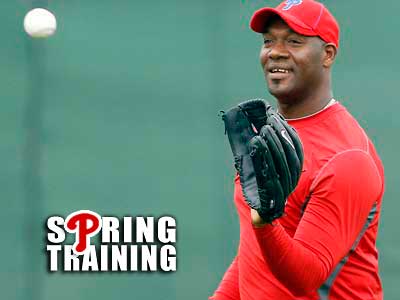 CLEARWATER, Fla. — Jose Contreras plopped into his chair and lifted both of his arms in the air. His right arm was wrapped heavily in ice, but the 40-year-old Cuban was proud to announce another step in his recovery from elbow surgery.
Contreras said he will throw off a mound Tuesday. He threw in front of the mound Monday without any problems, so he'll proceed to the next step.
The Phillies have no idea what to expect from Contreras, but they are paying him $2.5 million in 2012 with the hopes of using him in the eighth inning. There is cautious optimism that Contreras can be ready by opening day and the fact that he'll go off a mound this early appears to reinforce that faith.
Matt Gelb, Inquirer Staff Writer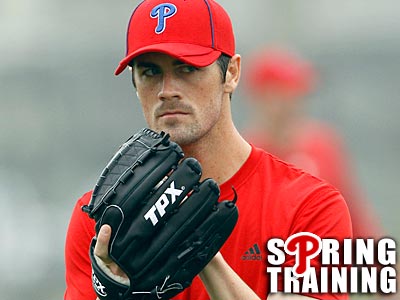 CLEARWATER, Fla. — This afternoon, Cole Hamels will discuss his impending free agency for the first (and likely last) time this spring. It's an issue that will hover over this franchise until a resolution is reached — whether it be this spring or not until November. Hamels could set the public tone for negotiations, which are expected to continue through the spring, during his press conference.
Here are the most pressing factors you need to know.
1. Cole Hamels is 28. OK, you probably already knew that. But that number is the most important of them all. Hamels is one of the only core players on this team on that side of 30. The sticking point in contract negotiations with the Phillies figures to be length, as team president David Montgomery intimated in an interview two weeks ago. All John Boggs, Hamels' agent, must do is point to the five-year, $120 million deal Cliff Lee signed. Lee was 32 when he agreed to the deal. So Boggs will likely argue Hamels is at least worth five guaranteed years and maybe more.