Archive: September, 2012
Bob Brookover, Inquirer Baseball Columnist
Kevin Frandsen's season is not over, but general manager Ruben Amaro Jr. indicated Tuesday that the stress fracture that has kept the third baseman out of the starting lineup for seven straight games is severe enough that he will not be able to return as a regular in the lineup for the remainder of the season.
"Frandsen's situation is he has a stress fracture in his (left) ankle, so he has to play to tolerance," Amaro said. "So he might play one day, then get another day off. He might come in for an emergency situation or he may come in to pinch-hit. It depends on how he feels.
"He's not going to be our regular third baseman. I don't think he can do it physically. I don't want to have a guy playing on a broken ankle. Even though it is just a stress fracture, we're not going to put him out there and have him try to do something he can't do."
Matt Gelb, Inquirer Staff Writer
The most ballyhooed 26-year-old double-A first baseman in Phillies history is not in Charlie Manuel's lineup Monday.
Darin Ruf was added to the roster following Sunday's doubleheader. Manuel said Ruf could start Monday against Marlins lefty Wade LeBlanc. Instead, Ty Wigginton is manning left field.
Ruf played only 29 games in left this season, his first career action there. He mashed 38 home runs for double-A Reading.
Matt Gelb, Inquirer Staff Writer
The Phillies won two games Sunday and slipped closer to elimination.
Yes, it's true. While most of what you heard was overwhelming positivity about a potential miracle run at the second wild card berth, the Phillies' tragic number dipped to 17. Any combination of 17 St. Louis wins and Philadelphia losses eliminates the Phillies. The Cardinals won Sunday.
Once "7 back with 17 to go" entered the lexicon of a city, the wildest of dreams are harbored. The Phillies trail St. Louis by six games with 22 to play. This is cake, right?
Philly.com Sports
Video: The Phillies swept the Colorado Rockies in a doubleheader on Sunday, winning the first game 3-2 and the second, 7-4. The Inquirer's Bob Brookover reports from Philadelphia.
---
Have a question? Send it to Matt Gelb's Mailbag.
Philly.com Sports
Join the Inquirer's Bob Brookover as he takes your Phillies questions in a live chat, beginning Monday at 2 p.m.
On a mobile phone? Click HERE to join the chat!
Bob Brookover, Inquirer Baseball Columnist
The most successful big-league stint of Kevin Frandsen's career has hit a snag.
Frandsen, hitting .336 in 34 games since joining the Phillies in late July, did not start for the third straight game Saturday night and the Phillies said an MRI examination revealed that the third baseman has a stress fracture in his left fibula.
"He's had three days off and we'll probably give him the rest of this series off unless we need him," assistant general manager Scott Proefrock said before the Phillies game against the Colorado Rockies. "It's about his tolerance right now."
Marc Narducci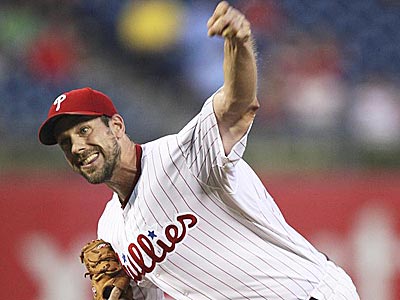 While it hasn't been the season he had envisioned, Phillies lefthander Cliff Lee been pitching some of his best baseball of late.
Lee didn't earn the decision in Friday's 3-2 win over the Colorado Rockies, but that is nothing new.
It was his 14th no-decision of the year.
Marc Narducci
The Phillies activated catcher Carlos Ruiz from the disabled list and placed third baseman Placido Polanco on the 15-day disabled list with lower back inflammation.
Ruiz had plantar fasciitis in his left foot. He last played Aug. 2.
This season he is batting .335 with 14 home runs and 58 RBIs.
Matt Gelb, Inquirer Staff Writer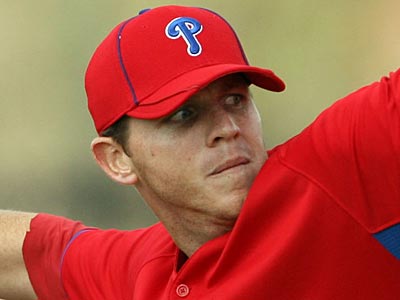 ATLANTA — In keeping with the promise of bullpen tryouts, the Phillies will add two more unproven arms from the minors for September looks.
Lefthander Jake Diekman and righthander Justin De Fratus were both recalled from triple-A Lehigh Valley and will be available Sunday. That puts the Phillies' active roster at 28.
The IronPigs were eliminated from postseason contention Saturday, thus the Phillies started digging into their team.
Matt Gelb, Inquirer Staff Writer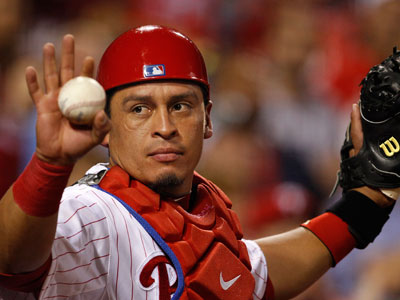 ATLANTA — Every other day, Carlos Ruiz tests the partially torn muscle in his right foot by running. "Nice and easy," Ruiz said Saturday after catching a Kyle Kendrick bullpen session. There is but one month to play in a lost season and Ruiz remains steadfast in his goal of returning.
Phillies general manager Ruben Amaro Jr. is not so convinced it's the best idea.
"I hope we can activate him," Amaro said. "Really, it depends on what the risk is."