Archive: September, 2011
Matt Gelb, Inquirer Staff Writer
It's raining in South Philadelphia and the tarp is on the field at Citizens Bank Park. Let's play two meaningless baseball games!
And the lineup Charlie Manuel has drawn up for Game 1 is one that wouldn't even pass for a Grapefruit League road squad. Take a gander:
1. Shane Victorino 8
2. Wilson Valdez 6
3. John Mayberry Jr. 3
4. Hunter Pence 9
5. Ben Francisco 7
6. Erik Kratz 2
7. Pete Orr 4
8. Michael Martinez 5
9. Kyle Kendrick 1
Matt Gelb, Inquirer Staff Writer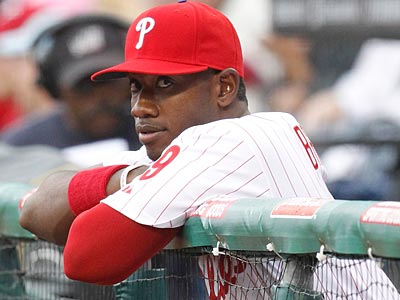 The Phillies intend to send Domonic Brown to instructional league upon the conclusion of the regular season, a team source said Monday.
Brown was recalled Friday from triple-A Lehigh Valley, and could still qualify for the Phillies' postseason roster. But the team is more concerned with Brown learning left field and beginning 2012 with a clean slate. That will be his focus for two weeks at instructional league in Clearwater, Fla.
When that ends Oct. 15, Brown's season will be over. He will not play winter ball.
Poll: NL Cy Young

(3113 votes)
Matt Gelb, Inquirer Staff Writer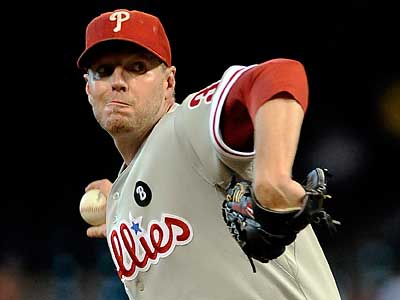 There is little meaningful baseball left until Oct. 1, and Monday could be one of those final moments. The Phillies can clinch the best record in the National League with a victory or a Milwaukee defeat. The magic number is one.
To do so, Charlie Manuel will field his (almost) regular lineup again.
1. Jimmy Rollins 6
2. Shane Victorino 8
3. Chase Utley 4
4. Hunter Pence 9
5. Raul Ibanez 7
6. Placido Polanco 5
7. Ross Gload 3
8. Carlos Ruiz 2
9. Roy Halladay 1
Poll: NL Cy Young

(3113 votes)
Ray Parrillo
Ryan Howard will get a cortisone injection shot in his ailing left foot/ankle Monday, which will probably keep the Phillies top run producer out of the lineup until at least Thursday.
"That's the plan," Howard said. "I think I'll probably be back by Thursday. That's realistic. They just want to give [the injection] time to settle in, see how it takes or whatnot."
Howard has bursitis in his ankle, which he injured late last season against Washington, although it's not clear whether the injury resulted in bursitis. Howard limped noticeably as he ran out a double Friday night.
Poll: NL Cy Young

(3113 votes)
Bob Brookover, Inquirer Baseball Columnist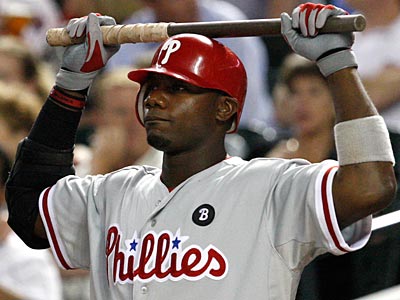 Ryan Howard was not in the lineup for the fourth time in 10 games Friday night because of bursitis in his left heel and ankle. He calls it a "hankle" injury.
"It's sore," Howard said before the Phillies took on the St. Louis Cardinals at Citizens Bank Park. "There are days when it is looser than others and days when it is stiff. I think the one constant has been the soreness that has just been there."
Howard said if the Phillies did not have such a comfortable lead in the National League East that he would probably be playing on a daily basis, but that does not change the fact that he is in extreme discomfort.
Ray Parrillo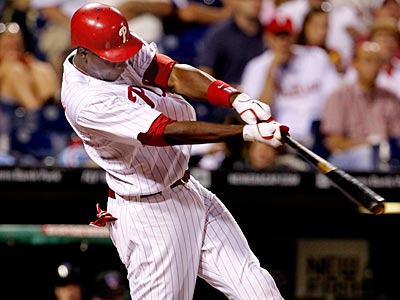 Here's the Phillies lineup for Friday's opener to a weekend series against St. Louis:
1. Jimmy Rollins
Bob Brookover, Inquirer Baseball Columnist
Those holding tickets to Game 2 of the Phillies' makeup doubleheader with the Florida Marlins Thursday appear to have the better end of the deal.
The Game 1 fans at Citizens Bank Park will get to see Kyle Kendrick make his first start and appearance since an Aug. 24 outing against the New York Mets. There's no telling how Kendrick will pitch on 21 days' rest. The Game 1 crowd will also get to see the double-play combination of Pete Orr at second base and Michael Martinez at shortstop with Brian Schneider behind home plate.
By contrast, the Game 2 crowd will not only get to see the white-hot Cliff Lee starting for the Phillies, they will also get to see the return of second baseman Chase Utley to the lineup. Utley has not played since Sept. 7 because of a concussion he suffered after being hit in the helmet by Atlanta reliever Eric O'Flaherty.
Matt Gelb, Inquirer Staff Writer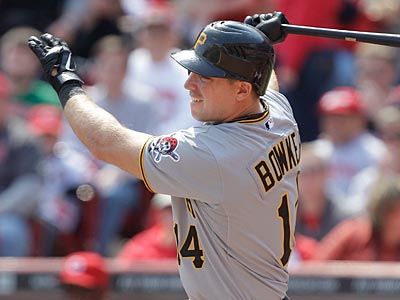 Sixteen games remain in this season and besides breaking just about every team record for excellence in the Live Ball Era, little drama lingers for these Phillies. That includes the composition of the postseason roster, which should be devoid of any surprises.
Yes, it's that time of the year again. Our second annual Predict the Playoff Roster post is here. Last season, we guessed 24 of 25 correctly. The only miss was including Danys Baez over Domonic Brown.
Here are some issues and questions for the 2011 roster. (And these apply only for the first round, a five-game series.
Matt Gelb, Inquirer Staff Writer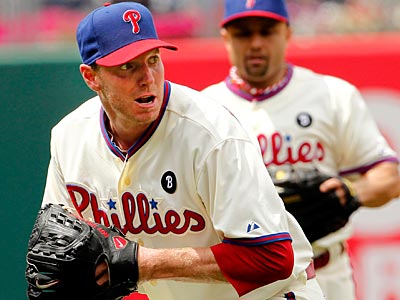 HOUSTON -- The world will end in 2012, so you might as well savor the final baseball season. Or maybe the Mayan calendar will prevail. You just never know with these things.
In the meantime, here are 10 facts about the newly released 2012 Phillies schedule:
1. The Phillies will play a majority of American League East teams in Interleague play. There's no rhyme or reason to the scheduling anymore, and that has created a faction greatly in favor of balanced scheduling.
Matt Gelb, Inquirer Staff Writer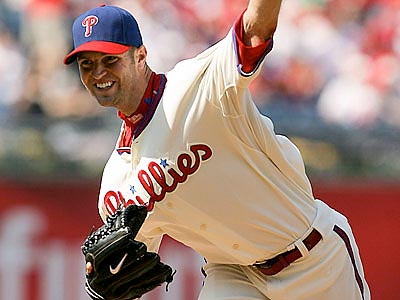 HOUSTON -- J.A. Happ has endured a miserable season. He's fallen a long way since 2009, when he burst onto the scene as a rookie in the Phillies' rotation. (Sound familiar?)
We wrote briefly about Happ for Tuesday's Inquirer. He wants to forget about this season, and he sees Wednesday as an opportunity to feel good about at least one night. Brett Myers called his Monday victory of the Phillies "his playoffs" and Happ likely has a similar view.
He'll face a Phillies lineup without Shane Victorino, who is in the midst of his worst slump this season. Victorino is 10 for his last 53 (.189) since Sept. 1. He was 0 for 4 against Myers on Monday.
Poll: Phillies Game 7 starter

(3035 votes)