Archive: August, 2011
Bob Brookover, Inquirer Columnist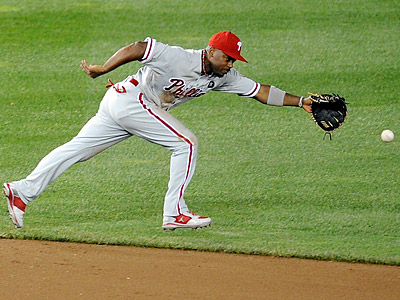 Here in the 21st century, the players tweet first and talk later.
And, so, after announcing via Twitter that he was headed for the 15-day disabled list with a Grade 2 groin strain, Phillies shortstop offered more than 140 characters about his injury before the Phillies opened a three-game series against the New York Mets Monday night at Citizens Bank Park.
Rollins said he suffered the injury to his right groin coming out of the batter's box during his first at-bat of the game Sunday against Washington at Nationals Park.
Matt Gelb, Inquirer Staff Writer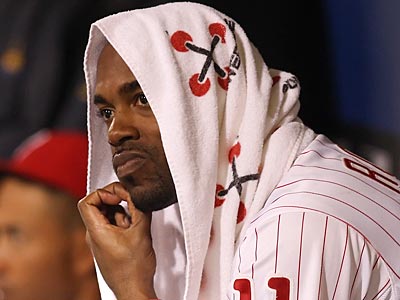 WASHINGTON — Jimmy Rollins left Sunday's game against the Nationals in the third inning due to a right groin strain, according to the team.
Rollins had left the ballpark by the time game ended and was not available for comment. But Charlie Manuel said Rollins is scheduled for an MRI Monday morning in Philadelphia.
Rollins hobbled around after making a fine play up the middle on a Jesus Flores ground ball in the second inning. The manager said he did not know how or when Rollins injured himself.
Matt Gelb, Inquirer Staff Writer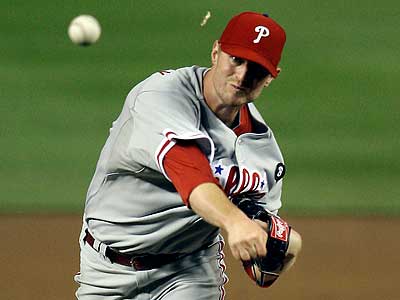 WASHINGTON — Two weeks ago, when Kyle Kendrick finished a bullpen session in San Francisco, Mick Billmeyer stopped the pitcher he had just caught. The bullpen coach had something to say.
"Some guys are just late bloomers," Billmeyer told Kendrick.
Kendrick wants to start. He's 26 and has 95 career major-league starts to his name. For now, he is a swing man — and a valuable one at that — bouncing from the bullpen to rotation when needed.
Bob Brookover, Inquirer Columnist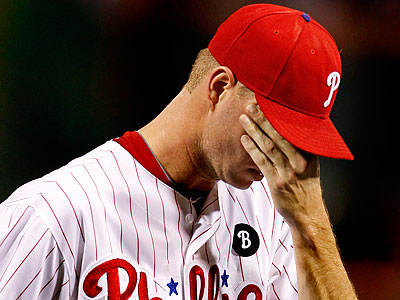 Think we can all agree that was not Ryan Madson's finest moment early Saturday morning down at Nationals Park.
He threw 14 more pitches and allowed twice as many runs in two-thirds of an inning than he had in any other appearance this season. The six runs allowed matched a career high for a Madson relief outing and marked only the second time in his career that he allowed more than three runs as a reliever.
What is open for debate is whether the closer issue should now become a cause for concern.
Matt Gelb, Inquirer Staff Writer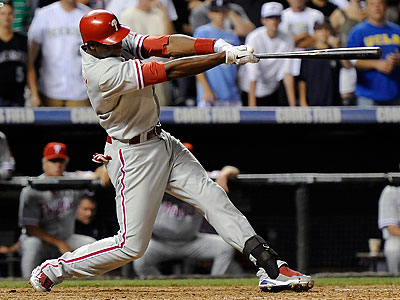 WASHINGTON — No, it's not a platoon, says Charlie Manuel. But evidence suggests otherwise.
Yet again, John Mayberry Jr. starts with a lefthander on the mound. This instance is particularly interesting because of the pitcher. Raul Ibanez has fantastic career numbers (12 for 25 with five extra-base hits) against John Lannan.
But it's Mayberry in left field and not Ibanez.
Matt Gelb, Inquirer Staff Writer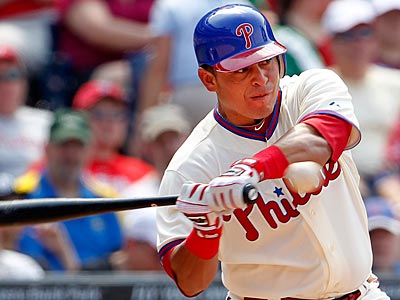 WASHINGTON — Both Ryan Howard and Carlos Ruiz are back in Charlie Manuel's lineup after each missed a brief time with minor injuries.
Howard sat Thursday with what was described as a sore right hand suffered during Wednesday's game. He was examined by a doctor Thursday and both team and player did not believe the injury to be serious.
Ruiz missed the last two games with a bruised left testicle and it was probably as painful as it sounds. Roy Halladay likely owes Ruiz a new watch or Cy Young trophy replica for throwing a curveball so nasty that Miguel Montero only caught a piece of it, launching the ball into Ruiz's groin.
Matt Gelb, Inquirer Staff Writer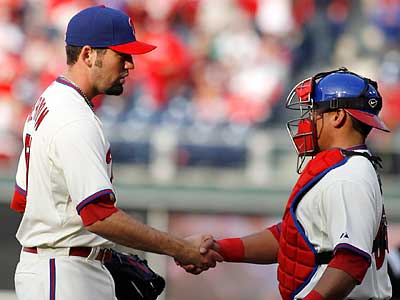 Among the bags waiting to be loaded on the train carrying the Phillies to Washington early Friday morning was David Herndon's guitar.
"Gotta have something to do on the train," Herndon said.
The 90-minute train ride would be a happy one for the 25-year-old righthander. He is one of the few anonymous players on this 80-42 Phillies squad and rarely will a game hinge on any of his actions.
Matt Gelb, Inquirer Staff Writer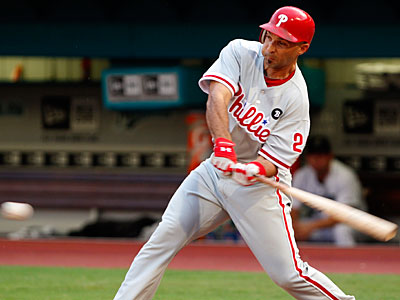 As far as problems go, this should be considered a victory in that a lefthanded bench bat is the last missing piece for these Phillies. They hold an 8.5-game lead with 41 to play. Their current roster is certainly good enough on paper to win the World Series. Now we're just being nit picky.
But as colleague Bob Brookover deftly surmised in Thursday's Inquirer, the Phillies have a hole on the bench that could hurt come October.
Ross Gload was a valuable player in 2010 for the Phillies. A muscle tear in his right hip has rendered him almost useless in 2011. He is 3 for his last 25 and has an extra-base hit in only 5.3 of his at-bats. Last season, that figure was double, at 10.9 percent. He has yet to hit a home run this season.