Archive: August, 2008
Todd Zolecki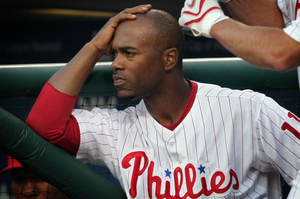 Should be an interesting night tonight at Citizens Bank Park.
Jimmy Rollins meets Phillies fans for the first time since his comments last week on Best Damn Sports Show Period.
Will they boo? Will they cheer?
Todd Zolecki
Good morning.
Today's post is going to be short because, well, my flight from San Diego to Philadelphia leaves in less than 30 minutes and I don't have much time. But I wanted to pass this along. It's from We Should Be GMs: Campaign Cheer. They're asking fans tomorrow night at Citizens Bank Park – in light of Jimmy Rollins' comments last week – to cheer uncontrollably for the Phillies … no matter what.
Todd Zolecki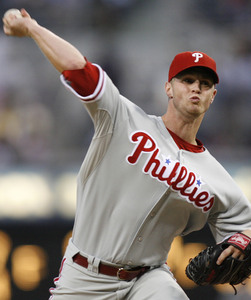 In his office inside the visitor's clubhouse at Petco Park, Charlie Manuel talked about a Phillies offense that had just six hits last night in an 8-3 loss to the Padres -- and just one hit after Jayson Werth's leadoff single in the fifth inning.
"We went how long without a hit?" Manuel said. "We struck out 13 times. We were taking fastballs and they were throwing us a lot of fastballs. If we're not a fastball hitting team, well …"
Well?
Todd Zolecki
The Phillies have activated righthander Rudy Seanez from the 15-day disabled list before tonight's game against the Padres at Petco Park.
They optioned infielder Mike Cervenak to make room for him on the roster.
Todd Zolecki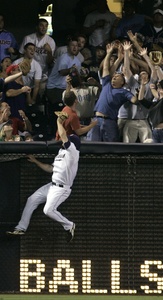 The Chicago Cubs drafted Greg Maddux in the second round in the 1984 June amateur draft. They drafted Jamie Moyer in the sixth round.
They faced each other last night as the Phillies beat the Padres at Petco Park, 1-0.
But could they face each other again next year?
Todd Zolecki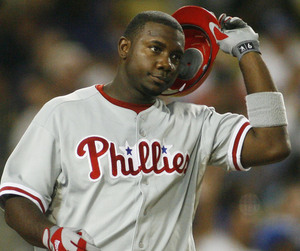 The Phillies have fallen out of first place in the National League East with 41 games to play in the 2008 season.
Fortunately, just four of those remaining 41 games are against the Dodgers.
But the Phillies also have six more games against the Marlins, five more games against the Mets, four more games against the Cubs and four more games against the Brewers. That's 23 games against teams with legitimate postseason aspirations. That leaves 18 games against the Nationals (nine games), Braves (six games) and Padres (three games).
Todd Zolecki
Jimmy Rollins made a return appearance tonight on Best Damn Sports Show Period to clarify his remarks that Phillies fans are frontrunners. Phillies beat writers grabbed Rollins in the visitor's clubhouse at Dodger Stadium a short time later. Here's what he said:
Q: You said you mean "frontrunners" differently than how Phillies fans mean it. Explain.
A: Do they come to the games? That wasn't the aspect I was talking about. They always say they're passionate to a fault. That's not the aspect I was talking about. When we're on the field ... for example, I went down. (Eric) Bruntlett came in and played. He got booed his first time out there because he made an error in New York. And then they're on his side after he comes through and gets some big hits. You should be there from day one because he's going to need your energy the same way when I'm out there I need it to keep going. There are some days you really sit back and, 'Boy, these fans are really behind us,' and you can feel it. It can get you going. Or, 'Man, dang, they just booed him and I'm coming up next. I guess I better get a hit.' It just kind of bounces down through the team, person to person to person. Like I used (Carlos) Ruiz, for example. You're booing him because you want (Chris) Coste to play. This man has a job to do. He might go out there and do well because you're giving him good energy. But batting eighth, he's coming in the third inning and you hear, 'Carlos ...' and they're booing before he gets to the plate. That's tough to go up there. One, it's already hard enough to hit and play ball. Then you're like, man, these people don't even want me out there. That's the aspect I was talking about.
Q: Do you think sometimes fans forget that you're human?
A: Yeah, they do a lot. I don't know if they forget, but a lot of times fans worldwide -- this is in general -- they say, you're making all this money you're supposed to (take it). I paid to come to the game so I can let you know anything and say anything I want to. I don't but, I've got kids. I've got a wife, I've got a mom and dad. Before I was a ballplayer, I was a person and still am a person. The same way you are. So if you say something as a person, forget the uniform, as a person I can say something back. But because of the uniform it's like I can say anything I want to you and that's your armor, that's your shield. It's just not true. Not at all.
Todd Zolecki
And here's what Rollins had to say on Thursday night's Best Damn Sports Show Period.
When asked by hosts Chris Rose and John Salley if he was surprised about the fans' reaction, he said:
"Actually, very surprised. People take things and use them in whichever way they use, but yeah, I'm definitely surprised. I don't know who called in and who did what. It's just one of those things. The way, I guess, what front runner means and the way I think about it is completely different from, yes, than what they're using it… Like I said, they're on your side – they're demanding fans, everybody knows that. When you're doing good, they're on your side. When you're not doing good, they're going to let you know – 'We expect better. We want better. And we want it now.' And I think they feel that by doing that, they can influence the way you play. But when you're giving off that negative energy, it really doesn't.
"And I think that maybe they're like, 'We don't show up,' which is what I guess front runner means – they're only on your side when you're winning. No, we get 45,000 fans every night. They scream, they cheer and they want a winner. There's no doubt about that. But, as passionate as they are about us going out there and winning and playing well, that's the same passion I feel about them giving us support. Don't get on us when we're down this time of the year, come out and support us.
Todd Zolecki
Just got this e-mail from Best Damn Sports Show Period:
LOS ANGELES -- After making comments yesterday on Fox Sports Net's Best Damn Sports Show Period about Philadelphia fans being frontrunners that left the phone lines buzzing and filled the blogs up with hundreds of comments, Philadelphia SS Jimmy Rollins is coming back on the show today to discuss the reaction to his interview.
On Wednesday, Rollins had this to say about Philly fans to BDSSP hosts Chris Rose and John Salley: