Archive: June, 2012
Matt Gelb, Inquirer Staff Writer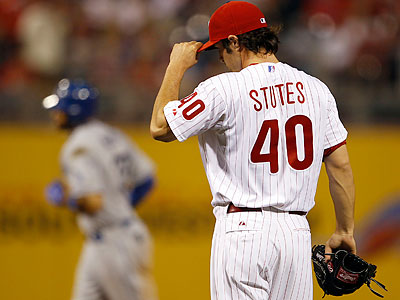 Righthander Mike Stutes will have arthroscopic shoulder surgery Tuesday, a source said. Stutes, on the disabled list since late April, could miss the rest of the season.
The surgery will clean out fraying from Stutes' shoulder. There is believed to be no serious damage to his rotator cuff, which would portend a lengthier absence.
Stutes, 25, complained of shoulder pain late in spring training but started the season on the active roster. He appeared in six games and posted a 6.35 ERA before being placed on the disabled list April 22.
Matt Gelb, Inquirer Staff Writer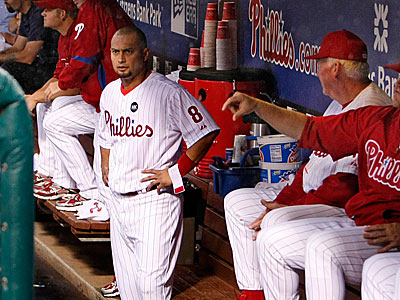 There was a meeting before Charlie Manuel benched Shane Victorino. It happened Thursday night after a Phillies loss. Victorino had started 70 of the team's first 71 games and in his last one, he popped out in the eighth to strand the potential tying run on second base.
He was booed as an ordinary season slogged to another day — until Manuel told him he would not be a part of Friday's action.
"There was no apparent reason," Victorino said.
Matt Gelb, Inquirer Staff Writer
For only the second time in 2012, Shane Victorino does not appear in Charlie Manuel's lineup.
It's not that Victorino has been especially bad of late; he's hit .257 with a .696 OPS in June. But those numbers mirror a season that has been a veritable slog for the free-agent-to-be. If the season ended today, Victorino would post career lows in rate stats like batting average, on-base percentage and slugging percentage.
Victorino was among league leaders last season when 10.2 percent of his hits went for extra bases. That rate has dropped to 7.4 percent in 2012, which would be his lowest since 2006.
Bob Brookover, Inquirer Baseball Columnist
Charlie Manuel is in love and the object of his affection is an opposing player.
For the second time in as many days Thursday, the Phillies manager answered a question by using Washington Nationals rookie Bryce Harper as a positive example.
The topic of discussion Wednesday was why the Nationals have been able to overcome significant injuries better than the Phillies so far this season.
Matt Gelb, Inquirer Staff Writer
When Dexter Fowler bounced one through the right side, Jonathan Papelbon could only look skyward. He had allowed another run in a non-save situation and probably a few watching in the Delaware Valley groaned, "See?"
Papelbon's usage is a topic that has incited debate, but the richest reliever in baseball history was pitching Wednesday in a tie game at home and that was expected.
He has allowed seven runs in 10 1/3 innings when pitching in non-save situations. He has yet to allow a run in the 17 1/3 innings he's pitched with a save on the line.
Matt Gelb, Inquirer Staff Writer
There is a righthanded pitcher opposing the Phillies on Wednesday, and usually that means Ty Wigginton is in the lineup. But John Mayberry Jr. will start at first base instead, as he's hit home runs in three straight games.
Mayberry's quest for relevancy has not exactly gone as planned. He's hitting .241 with a paltry .274 on-base percentage. (Raul Ibanez, for the record, is only 20 points better at .294.)
But even as Mayberry has heated up, his season splits tell the story of his career.
Matt Gelb, Inquirer Staff Writer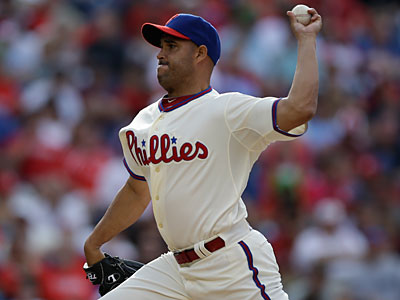 The Phillies added a 12th pitcher to their roster Wednesday by recalling lefthander Raul Valdes from triple-A Lehigh Valley. The 34-year-old replaced catcher Erik Kratz on the 25-man roster.
Valdes, 34, spent nearly a month with the Phillies before his demotion and pitched in 11 games. He allowed only three earned runs in 12 2/3 innings and struck out 13 against one walk.
He was demoted almost two weeks ago because the Phillies wanted to add a righty to their bullpen. But adding Valdes makes for four lefties in the group again.
Philly.com Sports
Video: The Phillies introduced righthanded pitcher and first-round draft pick Shane Watson at Citizens Bank Park. Watson will head to the Gulf Coast League along with fellow draft picks Mitch Gueller and Andrew Pullen.
Matt Gelb, Inquirer Staff Writer
Join The Inquirer's Matt Gelb for a live chat about all things Phillies starting at noon Monday.
If you're on a mobile device, click here to follow along and post questions.