Archive: June, 2011
Bob Brookover, Inquirer Columnist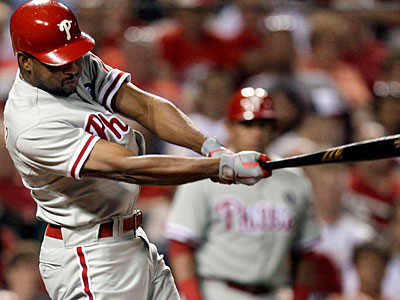 Charlie Manuel verbally posted a help wanted sign Wednesday afternoon.
The Phillies manager made it clear that he believes his team needs a right-handed bat to improve the lineup.
"We could use a hitter in our lineup -- at least one," Manuel said. "We could definitely use a solid right-handed hitter."
Matt Gelb, Inquirer Staff Writer
The off day story in Tuesday's Inquirer centers around the development of two young arms -- Antonio Bastardo and Mike Stutes -- but attempts to categorize it in a larger context. The Phillies will need to spend money this winter, whether it's on a new left fielder, a contract extension for Cole Hamels, a new deal for Jimmy Rollins (or another shortstop?) and maybe (unlikely) picking up Roy Oswalt's option.
They already have $107 million guaranteed to nine players for 2012. That's a lot. There will need to be areas of frugality. The bullpen sticks out as an obvious one.
Bastardo and Stutes will undoubtedly be major pieces, barring injury. So too could David Herndon, who has come on strong since his recall. Jose Contreras is the only reliever guaranteed money in 2012, a mere $2.5 million. Brad Lidge has an option that will be declined, Ryan Madson could earn top dollar on the market, Danys Baez is a free agent and J.C. Romero is already gone.
Bob Brookover, Inquirer Columnist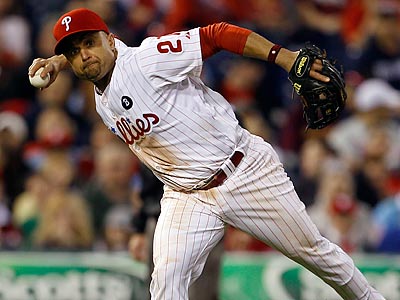 Placido Polanco is paying attention to the All-Star voting because he wants to be the guy starting at third base when the National League takes on the American League July 12 in Phoenix.
"Of course," he said before Tuesday night's game at Busch Stadium. "It would be special because it's the fans voting for you and it means they appreciate what you do. No fans, no game, so it's special."
Polanco is the only Phillies player leading at his position and he has been since the voting started. He currently is more than a million votes ahead of Atlanta's Chipper Jones. Polanco ranks second among all National League second baseman with a .295 average and is also second with 38 RBIs.
Matt Gelb, Inquirer Staff Writer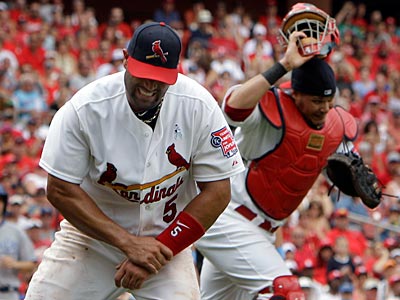 Life without Albert Pujols begins Tuesday for the St. Louis Cardinals, and it just so happens they face the Phillies for three games.
The superstar Pujols will miss four to six weeks with a broken bone in his forearm, according to the team. It's yet another crushing blow to St. Louis, which has withstood its share of injuries to star players to still post a 40-33 record, tied for first in the National League Central.
Pujols was injured Sunday in a collision at first base. He reached for a throw, and Kansas City's Wilson Betemit crashed into the slugger's wrist. Pujols has been on the disabled list only twice before.
Matt Gelb, Inquirer Staff Writer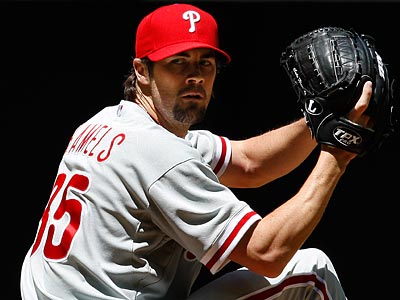 SEATTLE -- Cole Hamels can become the majors' leader in wins with 10 if he beats the Mariners Sunday. If the Phillies are to win, it will be using an unconventional lineup.
Charlie Manuel will rest Placido Polanco and Domonic Brown against lefthander Jason Vargas. So Wilson Valdez and Michael Martinez both find themselves in the lineup. (Polanco is 2 for his last 20, and Brown 5 for his last 41.)
Martinez is playing in left field, where he has played for only five professional games -- all five coming in double A and triple A last season. Valdez slides in at third base.
Matt Gelb, Inquirer Staff Writer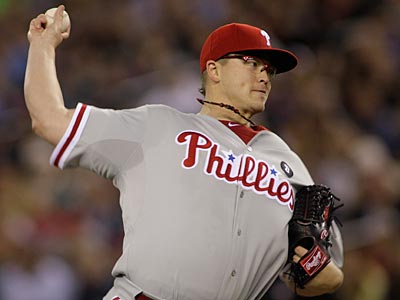 SEATTLE -- When the Phillies infielders, head athletic trainer Scott Sheridan and pitching coach Rich Dubee all converged on Vance Worley after he was struck by an Ichiro line drive in the fifth inning, the conversation soon turned to laughter.
After the Phillies' 5-1 win over the Mariners, Worley was still smiling about it.
"Do you wanna see it?" he said. "It looks good. It feels good too."
Matt Gelb, Inquirer Staff Writer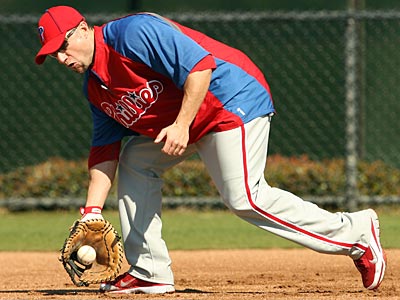 SEATTLE -- Ross Gload and his fraying hip live.
Gload will start a game for the first time in 30 days. He's Charlie Manuel's designated hitter against reigning American League Cy Young winner Felix Hernandez.
The 35-year-old pinch-hitter has been limited by a torn muscle in his hip. He is hitting .286 and leads the majors with nine pinch-hits. But he has yet to have a hit for extra bases.
Matt Gelb, Inquirer Staff Writer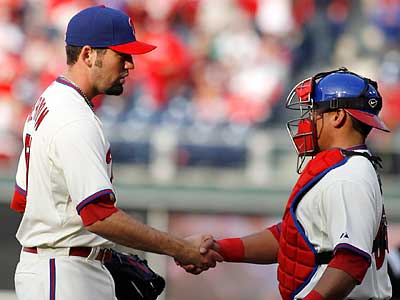 SEATTLE -- Just about everyone around the Phillies knew a decision on J.C. Romero would be forced sometime this season. Charlie Manuel had long lost faith in a pitcher who won two games in the 2008 World Series, and whether you think he was misused or not, the fact remains he was not effective.
The walks will be remembered as Romero's downfall -- and they came against both lefties and righties. Since 2008, Romero has walked 54 batters and struck out 50. Those are cringe-worthy numbers for a reliever. The 35-year-old lefthander was as quirky as they come, and there were plenty of reasons given for the lack of control.
So now he's gone, and probably for good. The Phillies have 10 days to do something with his $1.35 million contract, which has approximately $800,000 remaining this season. The Phillies will be saddled with those payments so long as another team does not claim him off waivers, which seems unlikely. They could be off the hook for the prorated league minimum if another team signs him upon his outright release.