Archive: June, 2011
Matt Gelb, Inquirer Staff Writer
SEATTLE -- Cole Hamels can become the majors' leader in wins with 10 if he beats the Mariners Sunday. If the Phillies are to win, it will be using an unconventional lineup.
Charlie Manuel will rest Placido Polanco and Domonic Brown against lefthander Jason Vargas. So Wilson Valdez and Michael Martinez both find themselves in the lineup. (Polanco is 2 for his last 20, and Brown 5 for his last 41.)
Martinez is playing in left field, where he has played for only five professional games -- all five coming in double A and triple A last season. Valdez slides in at third base.
Matt Gelb, Inquirer Staff Writer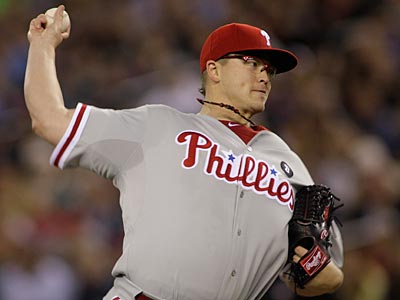 SEATTLE -- When the Phillies infielders, head athletic trainer Scott Sheridan and pitching coach Rich Dubee all converged on Vance Worley after he was struck by an Ichiro line drive in the fifth inning, the conversation soon turned to laughter.
After the Phillies' 5-1 win over the Mariners, Worley was still smiling about it.
"Do you wanna see it?" he said. "It looks good. It feels good too."
Matt Gelb, Inquirer Staff Writer
SEATTLE -- Ross Gload and his fraying hip live.
Gload will start a game for the first time in 30 days. He's Charlie Manuel's designated hitter against reigning American League Cy Young winner Felix Hernandez.
The 35-year-old pinch-hitter has been limited by a torn muscle in his hip. He is hitting .286 and leads the majors with nine pinch-hits. But he has yet to have a hit for extra bases.
Matt Gelb, Inquirer Staff Writer
SEATTLE -- Charlie Manuel's first designated hitter of the season is Ben Francisco against the righty rookie Michael Pineda.
Instead of using Raul Ibanez, who is rated the worst defensive outfielder in baseball by numerous metrics, or lefty Ross Gload, Manuel will turn to Francisco.
The full Phillies lineup:
Matt Gelb, Inquirer Staff Writer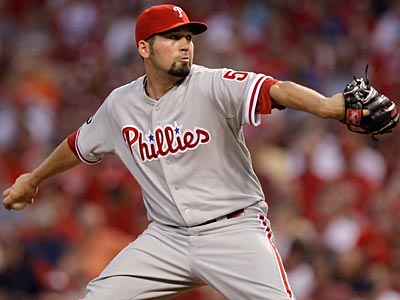 SEATTLE -- Just about everyone around the Phillies knew a decision on J.C. Romero would be forced sometime this season. Charlie Manuel had long lost faith in a pitcher who won two games in the 2008 World Series, and whether you think he was misused or not, the fact remains he was not effective.
The walks will be remembered as Romero's downfall -- and they came against both lefties and righties. Since 2008, Romero has walked 54 batters and struck out 50. Those are cringe-worthy numbers for a reliever. The 35-year-old lefthander was as quirky as they come, and there were plenty of reasons given for the lack of control.
So now he's gone, and probably for good. The Phillies have 10 days to do something with his $1.35 million contract, which has approximately $800,000 remaining this season. The Phillies will be saddled with those payments so long as another team does not claim him off waivers, which seems unlikely. They could be off the hook for the prorated league minimum if another team signs him upon his outright release.
Matt Gelb, Inquirer Staff Writer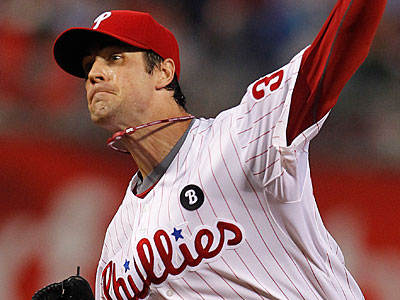 Cole Hamels was not exactly happy to see a reporter in the Phillies clubhouse this morning. The question, of course, was about his back stiffness that forced him from Tuesday's game in the eighth inning. Sometimes back injuries will worsen after a night of sleep.
Hamels scoffed and brushed off the idea.
"Come on guys, it's only been 12 hours," Hamels said. "I'm not injured. I'll talk to you guys in five days."
Matt Gelb, Inquirer Staff Writer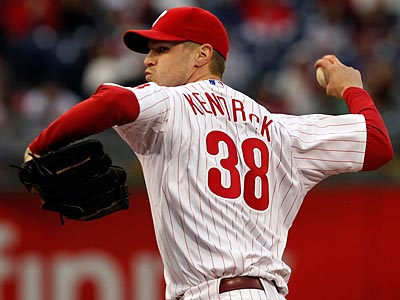 Good morning from Citizens Bank Park, where it promises to be a long day of baseball. But the weather is gorgeous and there should be no threat of rain like Tuesday night's opener.
The Phillies are hoping Kyle Kendrick can give them some innings in Game 1. Obviously, the bullpen may not be needed a whole lot for Game 2 with Roy Halladay on the mound, but if Kendrick is roughed up early, it could really complicate things.
Rich Dubee expects Kendrick to be able to go around 90 pitches. He is going on an extra day after throwing just 44 pitches in a rain-shortened start last week.
Matt Gelb, Inquirer Staff Writer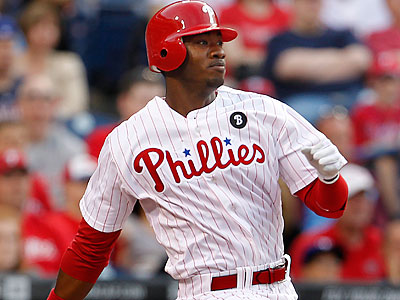 After a day off (which was mostly spent raising money for ALS), the Phillies embark on a busy stretch, one of the quirks a 162-game schedule can create. They will play four games in 48 hours against Florida, beginning tonight, then hop on a charter plane for their longest flight of the season to Seattle, where three more games await.
A few pregame notes:
The Marlins just finished an 11-game homestand in which they lost 10 games. Their hitting coach was fired and their 23-year-old outfielder publicly bashed the owner. Full freefall mode has commenced, but Florida hopes the return of shortstop Hanley Ramirez from the disabled list tonight will turn the tide.
Bob Brookover, Inquirer Baseball Columnist
The Phillies have signed 13 of their first-year player draft picks, including third baseman Harold Martinez, a third baseman from the University of Miami, and 29th-rounder Paul Cusick, a righthanded pitcher from the University of Pennyslvania and Salesianum High School in Wilmington.
Martinez was a second-round selection and the Phillies' third overall pick and will likely start his professional career in single-A Williamsport later this month. Cusick was a 29th-round selection.
The other draft selections who have signed: ninth-rounder Logan Moore, a catcher from Northeastern Junior College; 12th-rounder Yacksel Rios, a righthanded pitcher from Dra Conchita Cuevas High School in Puerto Rico; 14th-rounder Trey Ford, a third baseman from South Mountain Community College in Phoenix; 19th-rounder John Hill, a catcher from Concordia Univeristy in Irvine, Calif.; 20th-rounder Peter Lavin, an outfielder from the University of San Francisco; 22nd-rounder Matthew Holland, an outfielder from Texas A&M Corpus Christi; 23rd-rounder Cody Fick, a right-handed pitcher from the University of Evansville; 25thr-rounder Ryan Duke, a righthanded pitcher from the University of Oklahoma; 28th-rounder Ian Durham, a righthanded pitcher from California Lutheran University; 32nd-rounder Greg Herbst, a righthanded pitcher from St. Mary's University in San Antonio; and 33rd-rounder Brock Stassi, an outfielder from the University of Nevada.
Matt Gelb, Inquirer Staff Writer
With the third-place Florida Marlins coming to town for a three-day, four-game series, the Phillies will not alter their rotation. An off day on Monday allows them to do that.
So Cole Hamels will pitch Tuesday with Kyle Kendrick and Roy Halladay pitching in the doubleheader. Halladay will pitch on regular rest; Kendrick has an extra day of rest after only throwing 44 pitches in his last outing. That leaves Cliff Lee on regular rest for Thursday in the series finale.
Roy Oswalt would start the first Interleague game in Seattle on Friday and then the Phillies would have to either pitch Hamels on short rest or use a spot starter. Pitching coach Rich Dubee would not say what his plans are, but it's hard to believe they would throw Hamels on short rest in the middle of June. Vance Worley has pitched well at triple A and this could be the best time for him to return; by then he will have accumulated three starts for the IronPigs.