Archive: April, 2012
Matt Gelb, Inquirer Staff Writer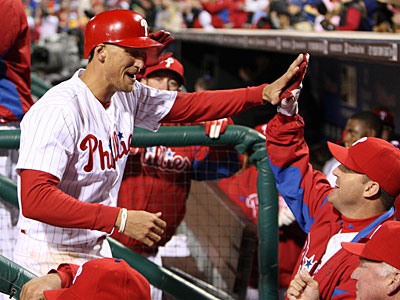 PHOENIX — Earlier Tuesday, the Phillies released an ominous statement from general manager Ruben Amaro Jr. that Hunter Pence would undergo a "precautionary" MRI on his injured left shoulder.
Well, Pence is slotted fourth in Charlie Manuel's lineup and playing right field.
So much for that.
Matt Gelb, Inquirer Staff Writer
PHOENIX —
UPDATE (7:50 p.m.): Hunter Pence is sidelined by a left shoulder injury.
EARLIER: Charlie Manuel did not specifically name Hunter Pence during his postgame lecture Sunday about his players pressing. But Pence is the best example. He made five outs with four swings Sunday and cost the Phillies three runs with his defense.
Matt Gelb, Inquirer Staff Writer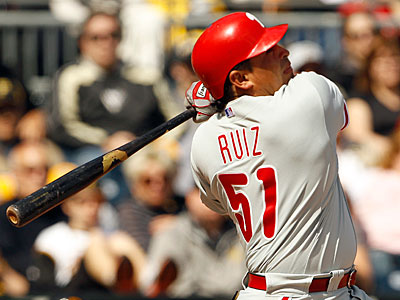 SAN DIEGO — Carlos Ruiz is back in the lineup after a two-day absence because of a left wrist injury. Joining him in Charlie Manuel's Sunday lineup is Jim Thome, who is making his first start in nine days.
Manuel is looking for something to spark this offense, which has scored 14 runs in six games during this West Coast trip. He'll start Juan Pierre for the fifth straight game and seventh time in the last eight.
1. Juan Pierre 7
2. Shane Victorino 8
3. Jimmy Rollins 6
4. Hunter Pence 9
5. Jim Thome 3
6. Ty Wigginton 5
7. Carlos Ruiz 2
8. Freddy Galvis 4
9. Joe Blanton 1
Matt Gelb, Inquirer Staff Writer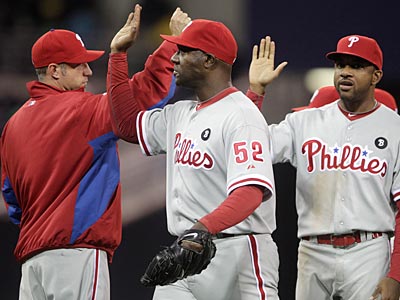 SAN DIEGO — For four days, Jose Contreras waited. It had been since last June when the 40-year-old Cuban last pitched in a major-league game. He rejoined the Phillies on this road trip but work is difficult to come by.
So he'd trot to the bullpen with Antonio Bastardo hours before games and throw with a towel. This was to improve his mechanics with a lack of action.
And finally, when he was called upon in the seventh inning Friday, he began his 10th season with four balls.
Matt Gelb, Inquirer Staff Writer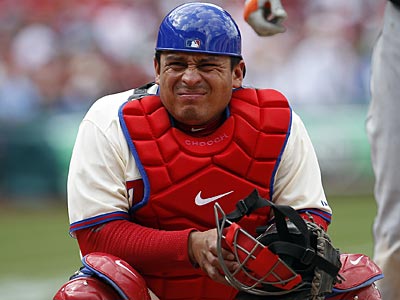 SAN DIEGO — Carlos Ruiz is out of the Phillies lineup for the second straight night because of a sore wrist. And after a four-run outburst Friday, Charlie Manuel will stick with the same lineup even with a lefty, Cory Luebke, on the mound.
1. Juan Pierre 7
2. Placido Polanco 5
3. Jimmy Rollins 6
4. Hunter Pence 9
5. Shane Victorino 8
6. Ty Wigginton 3
7. Freddy Galvis 4
8. Brian Schneider 2
9. Roy Halladay 1
Pierre is in the lineup for the fourth straight game and six of the last seven. It's the first time the opposition has started a lefty and John Mayberry Jr. has not played.
Philly.com Sports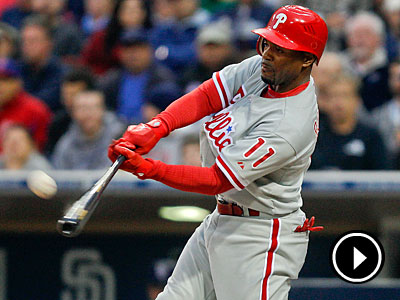 Video: Should Jimmy Rollins be leading off for the Phillies? Can they get by with Placido Polanco at third base? The Inquirer's Marc Narducci discusses.
Matt Gelb, Inquirer Staff Writer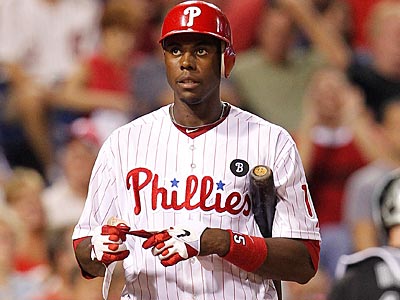 SAN DIEGO — Another day of failure complete, John Mayberry Jr. plopped down at a laptop and began scrolling through the footage.
He saw the 87 m.p.h. fastball he popped to second base with the bases loaded in the first inning. Then there was another fastball he skied to right to begin the fourth. He swung and missed at a curveball and fastball in the sixth and then took a 93 m.p.h. fastball for strike three. And to top it off, he swung through another fastball in the ninth.
But he at least took one pitch in that at-bat, a fastball that skipped past the catcher and allowed the Phillies to score an insurance run in Thursday's 2-0 victory.
Matt Gelb, Inquirer Staff Writer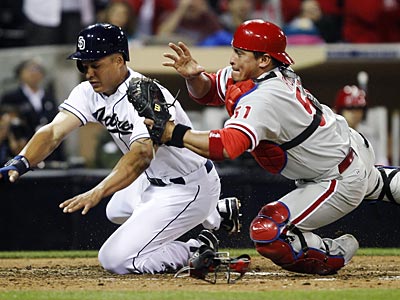 SAN DIEGO — His left wrist hurt immediately when Carlos Ruiz withstood Will Venable crashing into him in the sixth inning Thursday. The Phillies catcher batted two more times and struck out in both chances.
It was hard to grip a bat.
"That's true, but I don't make excuses," Ruiz said. "But it was definitely sore, and it was more sore this morning when I woke up."