Archive: April, 2010
Matt Gelb, Inquirer Staff Writer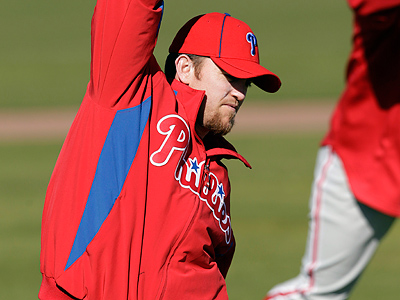 It's Ring Day at Citizens Bank Park, which means Phillies' rehabbing relievers Brad Lidge and J.C. Romero are in town to collect their bling. It's also a chance for the two to catch up with team doctor Michael Ciccotti and the rest of the Phillies brass.
And both are considerably optimistic about an imminent return.
Lidge pronounced himself 100 percent healthy following the cortisone shot in his right elbow and said he still has a little ways to go until he is 100 percent ready as a pitcher. The Phillies closer who is recovering from off-season elbow and knee surgeries said he is targeting the homestand that begins April 30 as a return date.
Matt Gelb, Inquirer Staff Writer
Join Matt Gelb for a live Phillies chat Thursday at 2 p.m. before the Phillies take on the Nationals from Citizens Bank Park.
Bob Brookover, Inquirer Baseball Columnist
Shortstop Jimmy Rollins said he learned a lesson from the first serious injury he suffered early in 2008, so he wasn't going to make the same mistake again with the strained right calf he suffered before Monday's season opener.
"I went through it a couple of years ago, going back and forth, not letting my ankle heal properly beginning," Rollins said Wednesday in reference to a sprained left ankle injury that he initially hoped he could play through. "When I did it this time, the D.L. wasn't the first thought. I thought maybe it's something that will feel much better tomorrow, but when they did the MRI and told me it was a 1 or 2 grade sprain, and that they usually heal pretty well, why take the chance if you have a full, able-bodied person who can go out there everyday and contribute where I couldn't."
Bob Brookover, Inquirer Baseball Columnist
Jimmy Rollins, as expected, was placed on the 15-day disabled list by the Phillies Wednesday because of the strained right calf he suffered running wind sprints before Monday's home opener.
The Phillies have replaced Rollins on the roster by purchasing the contract of infielder Wilson Valdez from triple-A Lehigh Valley.
The MRI of Rollins' calf Tuesday revealed the shortstop has a strain between a Grade 1 and Grade 2. Rollins is walking around in a protective boot on his left foot. His stint on the D.L. is retroactive to Tuesday, which means he'll be eligible to return April 28 when the team is playing in San Francisco.
Bob Brookover, Inquirer Baseball Columnist
Jimmy Rollins has a strained right calf that has required him to be placed in a protective boot, but Phillies general manager Ruben Amaro said the team will not make a decision on the shortstop's status until Wednesday. Rollins suffered the injury during warmups before Monday's home opener against the Washington Nationals. The severity of the injury was confirmed by an MRI examination Tuesday at Jefferson's Rothman Institute.
"Jimmy had an MRI at 2 p.m. this afternoon," Amaro said. "We are reviewing the results of the MRI and will decide on Jimmy's status sometime (Wednesday) when we have the opportunity to meet as a group."
It still seems likely that the Phillies will place Rollins on the disabled list and probably place him on the roster by promoting infielder Wilson Valdez from triple-A Lehigh Valley. Valdez was off to a hot start with the Iron Pigs, batting .474 (9 for 19) through Monday. Valdez also had a solid spring training, batting .313 (10 for 32) with three doubles, a home run and six RBIs. The 31-year-old native of the Dominican Republican Republic is a 13-year professional who has had major-league stints with five different teams. In 152 career games, he has batted .222 with one home run and 27 RBIs.
Matt Gelb, Inquirer Staff Writer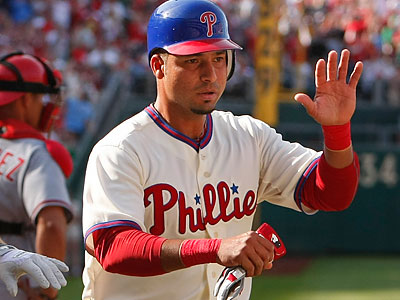 When Greg Dobbs went into the Phillies clubhouse during Monday's game to prepare for a possible pinch hitting appearance in the later innings, he saw shortstop Jimmy Rollins at his locker, a few stalls down.
Dobbs, who went through a painful and costly calf injury of his own for the entire 2009 season, could sense Rollins' disappointment.
"He was like, 'I can't believe this is going on,' " Dobbs said. "I felt for him. He was extremely frustrated."
Matt Gelb, Inquirer Staff Writer
Jimmy Rollins was introduced as the leadoff hitter and starting shortstop in pregame ceremonies but did not take the field with the rest of the team when the game against the Washington Nationals began.
Phillies officials say Rollins strained his right calf during pregame warmups.
Juan Castro started at short, making his first appearance in the 2010 season. He grounded out to third in the first inning as the leadoff batter.
Bob Brookover, Inquirer Baseball Columnist
For 22 seasons, Barry Bonds tortured the Phillies, hitting .313 with 64 home runs and 155 RBIs in a combined 230 games with Pittsbugh and San Francisco
Now, the controversial slugger might be finally helping the Phillies, thanks to the hitting instructions he gave to Ryan Howard over the winter. During a visit to AT&T Park Sunday, Bonds revealed his work with Howard and the Phillies' first baseman confirmed them before Monday's home opener at Citizens Bank Park.
"Basically for me, it was about trying to learn what it is that he's done over his career -- just sit back and listen," Howard said.
Matt Gelb, Inquirer Staff Writer
HOUSTON -- Lots of questions from readers about Brad Lidge this morning. He was shelled in a rehab outing at Clearwater on Saturday when he couldn't finish an inning before allowing four runs. It was his first appearance in a game situation since receiving a cortisone shot March 30.
Today, Phillies general manager Ruben Amaro Jr. would only issue a statement through a team PR official regarding Lidge.
"He's progressing with his arm strength," Amaro said in the statement. "He has no reported pain in his elbow."
Matt Gelb, Inquirer Staff Writer
HOUSTON -- Good morning from Minute Maid Park, where a pair of aces named Roy will square off this afternoon for what is the first real good pitching matchup of this Phillies season.
Meant to post this earlier in the week, but here is the schedule of events as provided by the Phillies for Monday's home opener at Citizens Bank Park...
10:00 a.m. Majestic Clubhouse Store opens.