Archive: April, 2010
Matt Gelb, Inquirer Staff Writer
J.A. Happ will not make his next start as scheduled after an MRI revealed a mild flexor pronator muscle strain in his left arm, the Phillies announced Monday. But he has not been placed on the disabled list as of yet.
The following is a statement from general manager Ruben Amaro Jr.:
"J.A. Happ experienced soreness in his left elbow after his last start. He was seen by Dr. Michael Ciccotti and had an MRI. The MRI revealed a very mild flexor pronator muscle strain. J.A. has been progressing and improving since then, but we will take a conservative approach and skip his next start. He is scheduled for a bullpen session on Thursday."
Matt Gelb, Inquirer Staff Writer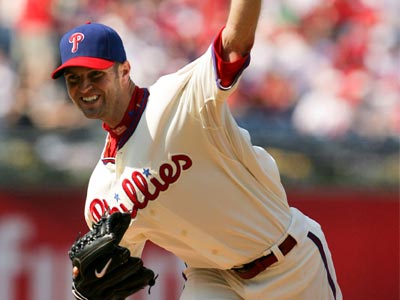 Lefthander J.A. Happ could miss his next start with left forearm soreness, Phillies pitching coach Rich Dubee said Sunday morning.
Happ lightly tossed for about 10 minutes in short right field before Sunday's game with Dubee intently watching. Happ stopped throwing and chatted with Dubee for about two minutes before heading inside. Dubee said Happ did not experience any soreness during the light toss on flat ground.
Happ has not being doing his regular side work, Dubee said. That leaves Wednesday's scheduled start against Atlanta up in the air.
Matt Gelb, Inquirer Staff Writer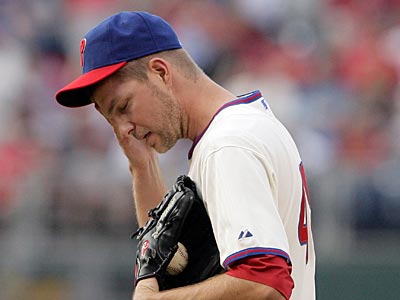 The Nationals stole four bases Thursday against the Phillies -- and a total of seven over the three-game series. Washington was caught once, in the third inning of Thursday's game, but Ryan Howard made a poor throw to second base, allowing Nyjer Morgan to take the bag.
This season, 11 of 13 would-be base stealers have successfully taken the extra bag against the Phillies. That's an 85 percent sucess rate, well above the major-league average of 76 percent. The 11 steals against the Phillies are tied for second-most in the majors.
Last season, the Phillies allowed a 72 percent stolen base success rate, which tied the major-league average.
Matt Gelb, Inquirer Staff Writer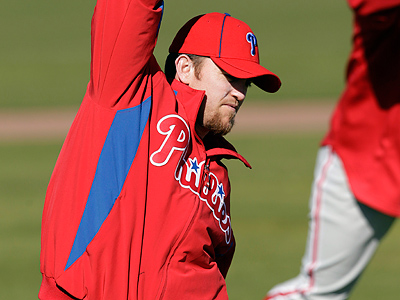 It's Ring Day at Citizens Bank Park, which means Phillies' rehabbing relievers Brad Lidge and J.C. Romero are in town to collect their bling. It's also a chance for the two to catch up with team doctor Michael Ciccotti and the rest of the Phillies brass.
And both are considerably optimistic about an imminent return.
Lidge pronounced himself 100 percent healthy following the cortisone shot in his right elbow and said he still has a little ways to go until he is 100 percent ready as a pitcher. The Phillies closer who is recovering from off-season elbow and knee surgeries said he is targeting the homestand that begins April 30 as a return date.
Matt Gelb, Inquirer Staff Writer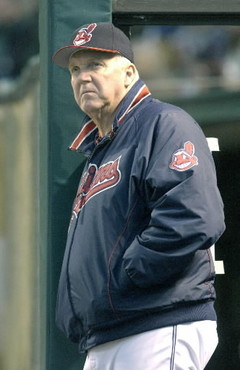 An interesting leftover from Phillies manager Charlie Manuel's talk with reporters Wednesday night: Manuel was asked about the hot start the Phillies are on. Instead of saying how great it is and everything, Manuel dipped into his story bank to issue a warning:
Things can change quickly. Very quickly.
In 2002, Manuel managed the Cleveland Indians. They began the season 11-1. Then they lost 15 of their next 17 to drop to 13-16. By the All-Star break, the Indians were 39-47 and Manuel was fired.
Bob Brookover, Inquirer Columnist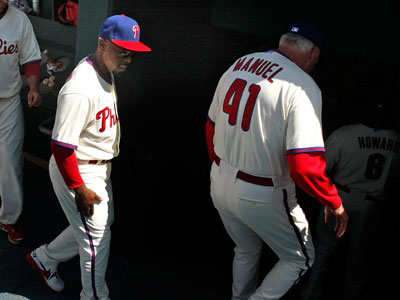 Jimmy Rollins, as expected, was placed on the 15-day disabled list by the Phillies Wednesday because of the strained right calf he suffered running wind sprints before Monday's home opener.
The Phillies have replaced Rollins on the roster by purchasing the contract of infielder Wilson Valdez from triple-A Lehigh Valley.
The MRI of Rollins' calf Tuesday revealed the shortstop has a strain between a Grade 1 and Grade 2. Rollins is walking around in a protective boot on his left foot. His stint on the D.L. is retroactive to Tuesday, which means he'll be eligible to return April 28 when the team is playing in San Francisco.
Matt Gelb, Inquirer Staff Writer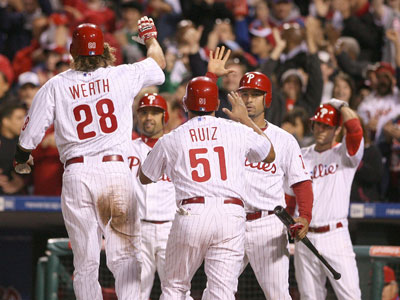 Join Matt Gelb for a live Phillies chat Thursday at 2 p.m. before the Phillies take on the Nationals from Citizens Bank Park.
Bob Brookover, Inquirer Columnist
Shortstop Jimmy Rollins said he learned a lesson from the first serious injury he suffered early in 2008, so he wasn't going to make the same mistake again with the strained right calf he suffered before Monday's season opener.
"I went through it a couple of years ago, going back and forth, not letting my ankle heal properly beginning," Rollins said Wednesday in reference to a sprained left ankle injury that he initially hoped he could play through. "When I did it this time, the D.L. wasn't the first thought. I thought maybe it's something that will feel much better tomorrow, but when they did the MRI and told me it was a 1 or 2 grade sprain, and that they usually heal pretty well, why take the chance if you have a full, able-bodied person who can go out there everyday and contribute where I couldn't."