Archive: March, 2012
Bob Brookover, Inquirer Columnist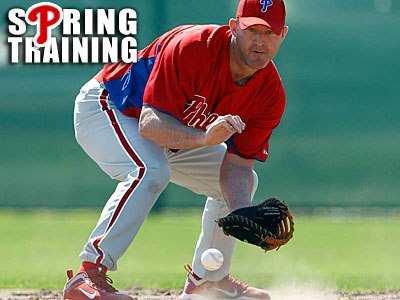 CLEARWATER, Fla. – If you've been waiting to see Jim Thome play first base, tune into the Phillies' televised game Sunday against the Baltimore Orioles.
After a couple weeks of reacquainting himself with the position during minor-league games at the Carpenter Complex, Thome will make his first Grapefruit League appearance in the Phillies' split-squad game with Baltimore at Bright House Field.
"I'm ready for the big show," Thome said. "I feel good."
Matt Gelb, Inquirer Staff Writer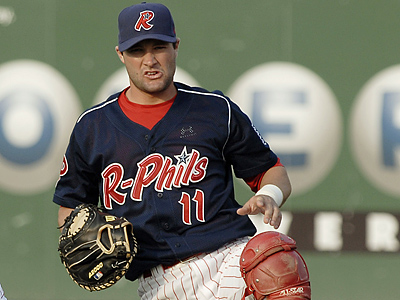 CLEARWATER, Fla. — When Tim Kennelly finished his work at minor-league camp Thursday afternoon, he was summoned inside the Carpenter Complex. There, he was told to pack up and head next door. He's with the big leaguers now.
How's that for a surprise?
"Absolutely," Kennelly said.
Philly.com Sports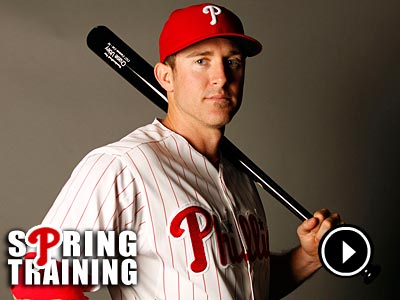 Video: Chase Utley returned to Phillies camp on Friday and is expected to address the media on Sunday. The Inquirer's Bob Brookover reports on that and more from Clearwater.
Bob Brookover, Inquirer Columnist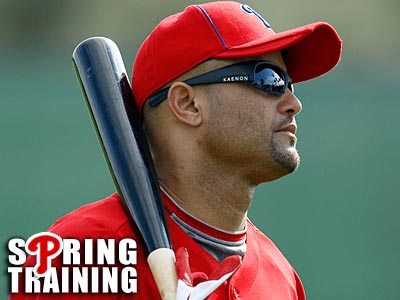 CLEARWATER, Fla. -- Placido Polanco took a big step toward returning from a sprained ring finger on his left hand when he participated in batting practice Thursday morning at Bright House Field.
"I felt pretty good hitting," said Polanco, who has been out of the lineup since Sunday after he jammed his finger diving back into first base on an attempted pickoff throw. "It hurts a little bit."
Polanco's injured finger was wrapped in tape, but most of the swelling is gone, according to Polanco. He said he will not be able to return to the lineup until he has less pain gripping the bat, but he will continue to take batting practice.
Matt Gelb, Inquirer Staff Writer
CLEARWATER, Fla. — Rich Dubee will often chide those who make inferences from his pitching schedule. But usually, the piece of paper he tacks to the board in the middle of the Phillies clubhouse is a good view into the pitching coach's mind.
And right now, Dubee's schedule indicates he could split up his lefthanded starters, Cliff Lee and Cole Hamels.
Dubee, as usual, played coy.
Matt Gelb, Inquirer Staff Writer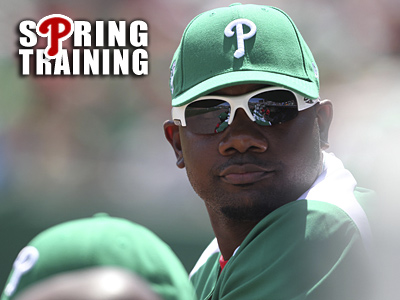 CLEARWATER, Fla. — Ryan Howard wore two sneakers Thursday morning.
That's sort of a big deal, but not really. Until Howard doesn't wear the boot during his activities in the field, he's still constrained by it. The wound is healing enough to the point where Howard can at least walk without aggravating the area.
It's been 24 days since Howard underwent a procedure to clean the wound from his left Achilles surgery. He's been doing workouts for about week now. Nothing has been too strenuous because of the boot. And whether he must start from scratch once the boot officially comes off is up for debate depending on who is doing the talking.
Matt Gelb, Inquirer Staff Writer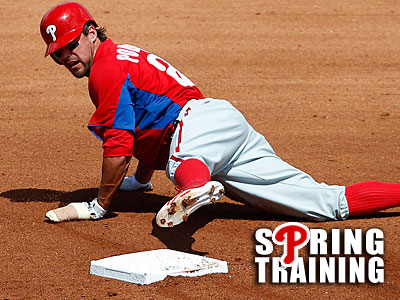 CLEARWATER, Fla. — While reporting on the story that appears in Thursday's Inquirer about Charlie Manuel's desire for situational ball, the manager had some interesting insight into the decision that lies ahead regarding the fifth outfielder job.
One of Juan Pierre and Scott Podsednik is a near lock to make the team out of camp. Both have earned significant playing time this spring and figure to play regularly in the next nine days. Pierre is 9 for 32 (.281) at the plate and 2 for 4 in stolen bases. Podsednik is 14 for 36 (.389) and 5 for 5 in steals. Five of Podsednik's hits are doubles; Pierre has no extra-base hits.
It's obvious Podsednik has had the better spring. But, as mentioned in this space before, Pierre has an edge because Podsednik can be sent to the minors.
Philly.com Sports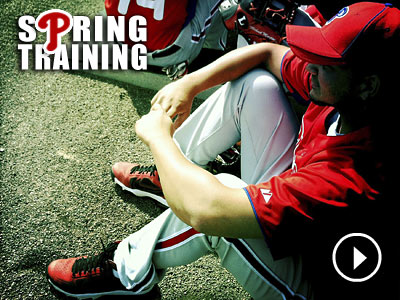 Video: The Inquirer's Matt Gelb and Bob Brookover report on the latest Phillies injuries and discuss the team's need for a righthanded bat off the bench in this week's edition of That's Baseball.