Archive: November, 2008
Todd Zolecki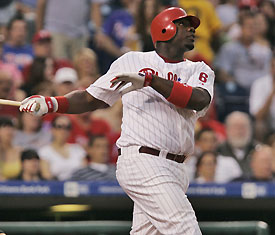 There were 32 voters for the National League's Most Valuable Player Award.
Ryan Howard received votes from 31 of them.
Let that sink in for a moment. Thirty-one of 32 voters put Howard somewhere on their ballot, which has room for 10 players. But one voter didn't think Howard, who led the majors in home runs (48) and RBIs (146) and led his team to its second consecutive National League East championship (keep in mind these votes come before the postseason), even ranked among the top 10 most valuable players in the National League.
Todd Zolecki
Ruben Amaro Jr. has finalized his front office staff.
A baseball source said last night that Amaro will hire Scott Proefrock, Baltimore's director of baseball administration, as an assistant general manager. An announcement could come today.
Proefrock joins Benny Looper and Chuck Lamar, whom Amaro already has named assistant general managers. Proefrock will assume the role Amaro held under former general managers Ed Wade and Pat Gillick, which was handling negotiations for big-league contracts and the general make up of the big-league roster. Proefrock was the assistant general manager for Tampa Bay from 1998-2005, when Lamar served as Tampa Bay's GM. He also worked with Lamar with the Atlanta Braves from 1991-95.
Todd Zolecki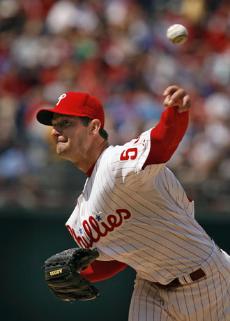 Ruben Amaro Jr.'s No. 1 objective is re-signing Jamie Moyer.
"If we re-sign Moyer, likely we'll turn our attention to something else," Amaro said.
In other words, the Derek Lowes and Brad Pennys of the world are not next on Amaro's list. The Phillies will have four-fifths of their rotation complete if Moyer returns: Cole Hamels, Brett Myers, Joe Blanton and Moyer. Amaro said the fifth spot will be an open competition of youngsters: Kyle Kendrick, J.A. Happ, Carlos Carrasco and Drew Carpenter. Amaro didn't say it, but I suppose Adam Eaton could compete for the job, if he is in camp. But I would be surprised if Eaton makes the rotation, despite the fact he is owed $8.5 million next year. He has pitched terribly in two seasons with the Phillies (he also went 0-5 with a 7.02 ERA in seven starts in the minor leagues this year), although he told Murray Chass that he wasn't sure why he didn't pitch in September when he rejoined the team.
Todd Zolecki
It seems everybody is dying for Phillies coverage these days, huh?
But because Saturday's are slow days at the old Phillies Zone, we'll do something fun (oh, and easy). The Bill James Handbook 2009 has a Career Targets chapter, which gives probabilities that players reach certain milestones in their careers. The method takes into account a player's age and performance level in predicting the possibility they attain certain statistics. Take these for what they're worth, but they're at least fun to look at.
Oh, and don't worry. We've got a Phillies story in Sunday's Inquirer. Actually, it's already in our early Sunday edition, which can be found at Wawas and supermarkets and such today.
Todd Zolecki
The Phillies have named Mick Billmeyer their bullpen coach.

Billmeyer, 44, has been a member of the Phillies' coaching staff for the past five years (2004-08) as the catching instructor. Before that he was the club's minor league catching coordinator (2000-03) and the Angels' bullpen/workout coordinator (1994-99).

Ramon Henderson, the team's former bullpen coach, has been re-assigned to a minor league coaching position. Henderson, 45, spent 11 seasons (1998-2008) as the team's bullpen coach before taking a leave of absence this past year for personal reasons.
Todd Zolecki
Mike Arbuckle is joining the Kansas City Royals.
ESPN.com reported today that Arbuckle, the former Phillies' assistant general manager, will be a senior adviser to general manager Dayton Moore. Arbuckle has a home in nearby Liberty, Mo., so this will give him a chance to sleep in his own bed more often. Arbuckle led the player development operation for the Phillies when they drafted Chase Utley, Ryan Howard, Cole Hamels and others. The Royals certainly could use Arbuckle to unearth similar talents for them.
Arbuckle left the Phillies after he was told Ruben Amaro Jr. would get the GM job in Philadelphia. But because of his tremendous track record there was no doubt he would land on his feet elsewhere.
Todd Zolecki
The Phillies were a hot ticket in 2008 but could be even hotter in 2009.
They also will be more expensive.
The Phillies, who set franchise records in attendance (3,422,583) and sellouts (50) at Citizens Bank Park during the regular season, will raise single-game ticket prices in most areas in the ballpark.
Todd Zolecki
Major League Baseball announces its Louisville Silver Slugger awards at 4 p.m. today.
I'm guessing Chase Utley will win a Silver Slugger at second base because his .915 OPS led the National League. He also led qualifying NL second basemen in average (.292), home runs (33) and RBIs (104). Ryan Howard also has a good shot winning at first base. He led the majors in home runs (48) and RBIs (146), although Albert Pujols (1.114) and Lance Berkman (.986) had a better OPS than Howard (.881).
*